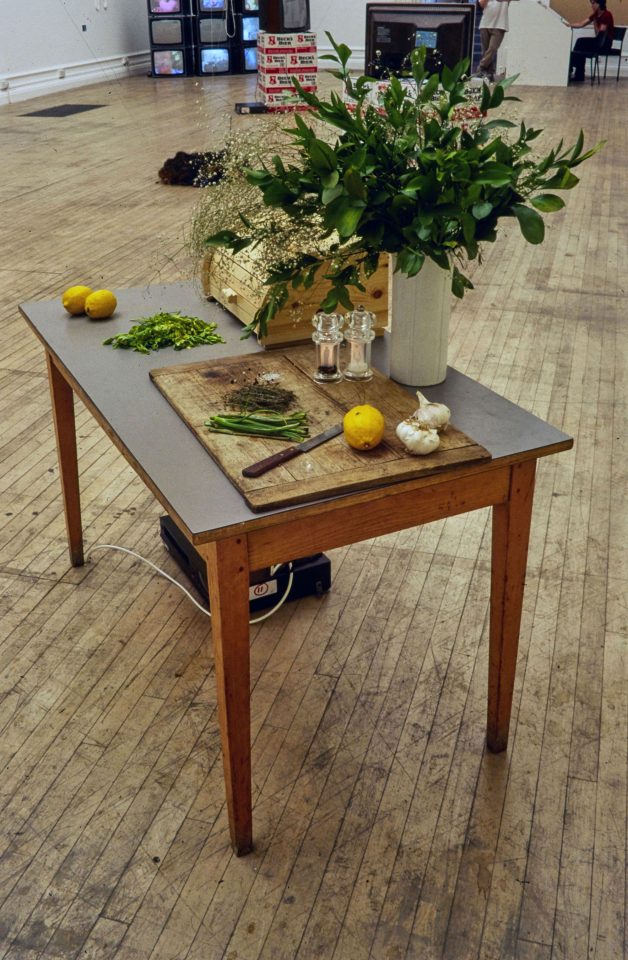 Karaoke was put together from scratch in seven days by the twenty artists who were involved in its creation. The artists came from four countries 'Germany, Switzerland, Scotland and England' and all stayed in London for the week that the exhibition was being installed. The project was overseen by Georg Herold, an established artist and one of the pioneers of conceptual art in Germany.
The central idea of Karaoke was to get artists to exhibit new work created entirely during the period of the installation either in collaboration with other artists or in response to the atmosphere generated by having many artists from different countries working alongside each other.
Karaoke: 4 for 4 and 2 to 2 follow on from an exhibition which took place at the Portikus Gallery in Frankfurt last summer. Every four years, Portikus organises an exhibition in conjunction with the (Football) World Cup. In 1994, it was decided to have two teams of 11 artists each from England and Germany (who were later joined by a number of 'subs' from each country) putting a collaborative exhibition together in ten days. The exhibition was called Karaoke World Cup Football.
This exhibition is the 'return leg' of Karaoke World Cup Football. Scarce of the artists who were involved in the previous show have also participated directly in this one, and others have lent videos for the 'video wall'.
The two Karaoke projects have functioned very differently from regular group shows. There is no preset theme and the work which is eventually exhibited is a product of the actual process of collaboration between artists during the installation period. The resulting exhibition gives the viewer a window onto the way that contemporary artists work, and (it is hoped) provides an insight into the nature of artistic creativity.
Artists
Biefer & Zgraggen, Urs Fischer, Franz Wanner, David Allen, Roddy Buchanan, Jacqueline Donachie, Douglas Gordon, (e.)Twin Gabriel, Liebscher-Lehanka, Max Mohr, Angela Bulloch, Mat Collishaw, Abigail Lane, Georgina Starr.