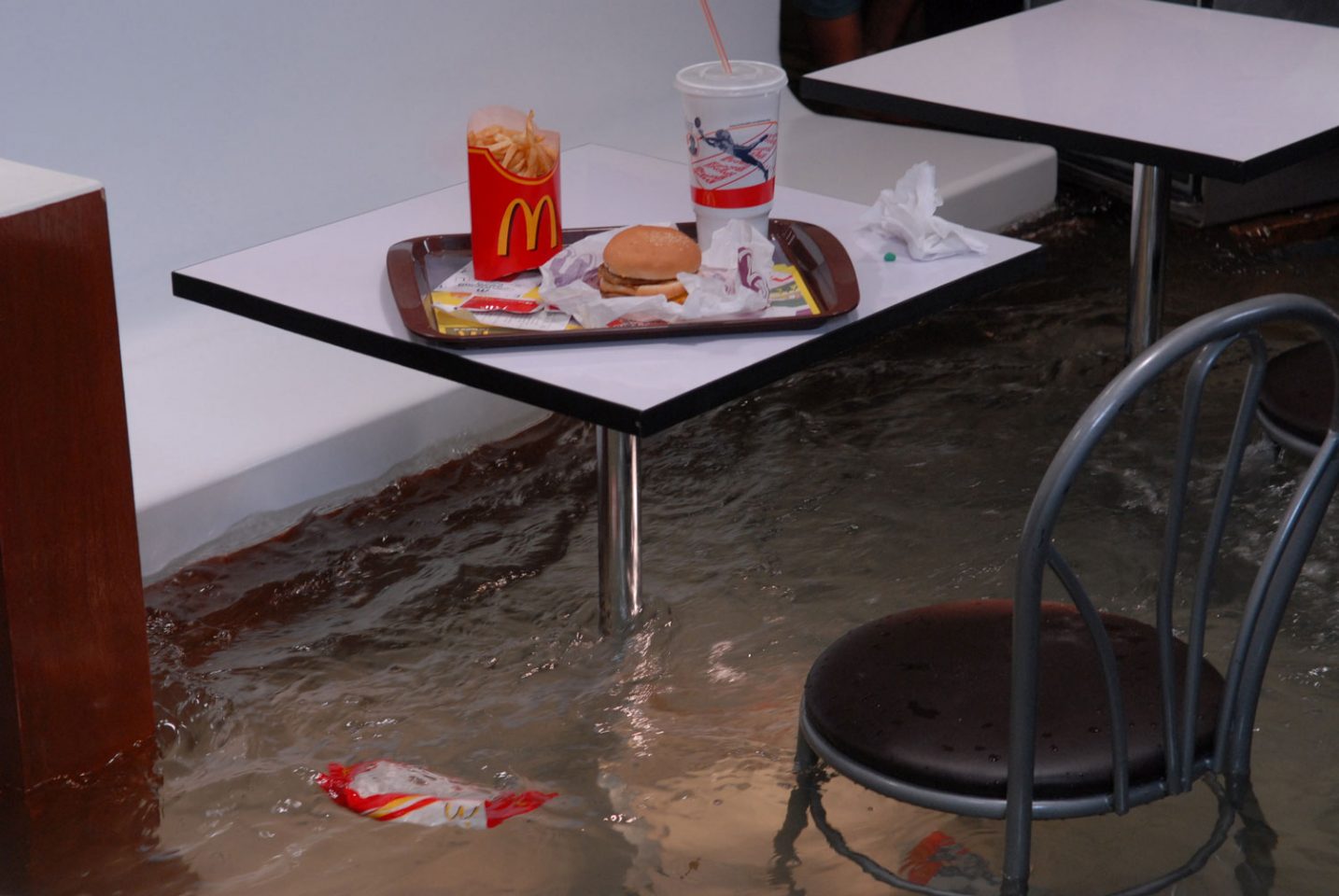 The South London Gallery presents a new film work by Danish collective Superflex entitled Flooded McDonald's. Despite their international track record over the past 15 years, this will be their first solo show in London. From large-scale installations, through to long-term process-based projects and, more recently, films, Superflex's work is founded in economic and political awareness. They create works inspired by the points where definitions and possibilities of art become blurred.
Flooded McDonald's is a new film work in which a convincing life-size replica of the interior of a McDonald's burger bar, without any customers or staff present, gradually floods with water. Furniture is lifted up by the water, trays of food and drinks start to float around, electrics short circuit and eventually the space becomes completely submerged.
Flooded McDonald's is Superflex's second film, the first, entitled Burning Car, 2008, made in the wake of the civil unrest in Paris and Copenhagen in 2007, shows a dead-pan observation of a car going up in flames. Both films avoid the high drama of disaster movies, but never quite echo a documentary style, making their position within established frameworks of cinematic genres or of artists' films intentionally ambiguous. Without being didactic, Flooded McDonald's hints at the consumer-driven power and influence, but also impotence, of large multinationals in the face of climate change. Without apportioning blame, the film questions with whom ultimate responsibility lies.
Superflex describe their practice as the provision of 'tools' which affect or influence their social or economic context. Previous projects include paying visitors to enter their exhibition, the development and marketing of a new beverage – Free Beer – and the production of a self-sufficient, portable biogas unit to provide energy for a family. Their projects are often rooted in their particular local context and invite participation from the visitor. Superflex work outside traditional art contexts collaborating with designers, engineers, businesses and marketers on projects which have the potential for social or economic change. As such they remain difficult to pigeonhole yet continue to be innovative in their approach to engaging with current issues.