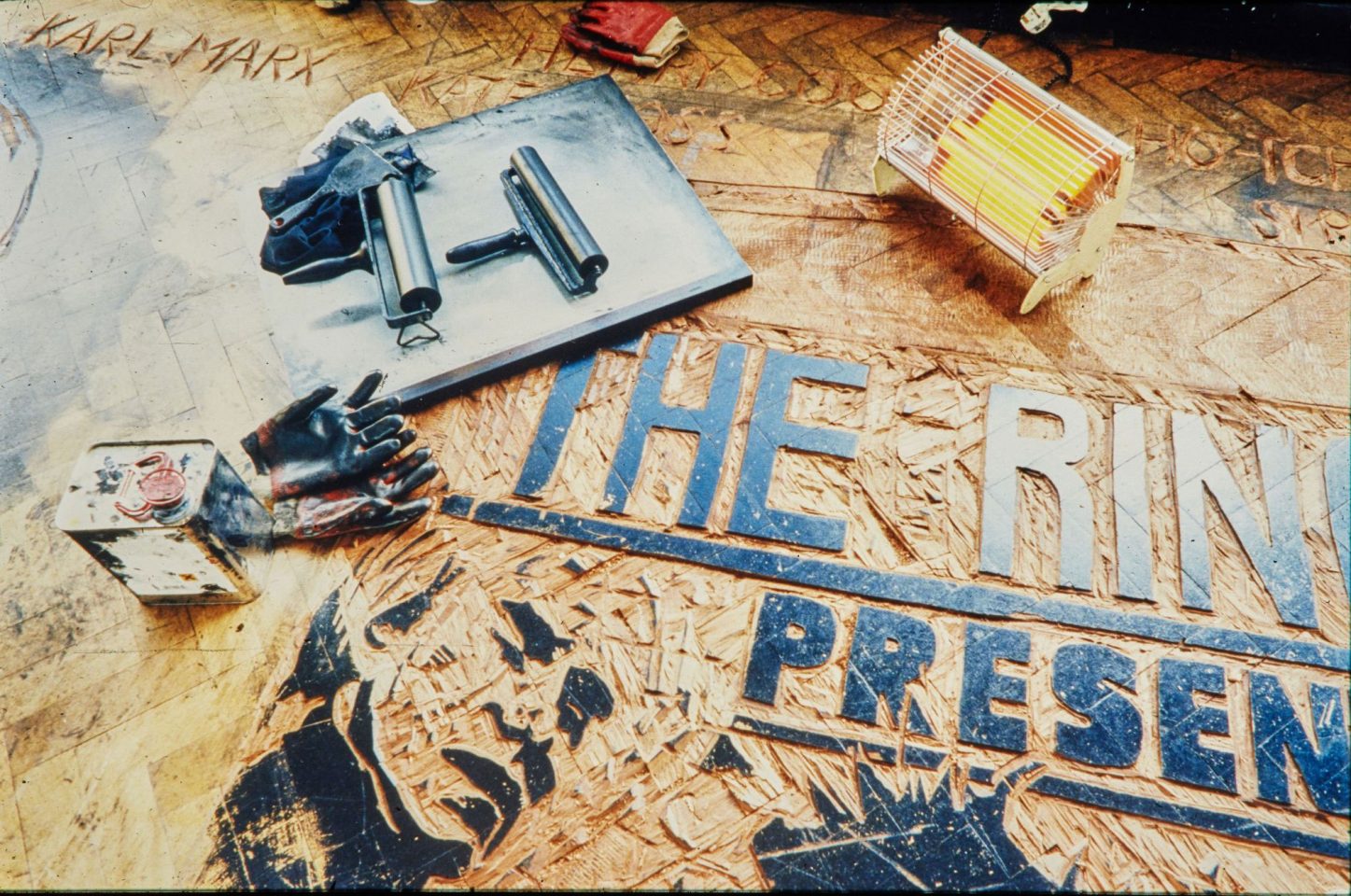 For the past five months the German artist Thomas Kilpper has been making an artwork on the tenth floor of Orbit House, an abandoned office block in Blackfriars. The core of the work is a record-breaking four hundred metre woodcut, cut directly into the mahogany parquet floor of the building – the biggest woodcut in the world.
The woodcut has been formed from memories of the varied histories of the site now occupied by Orbit House. Kilpper has interwoven these histories with pictures that he has introduced – gleaned from the snatches of conversations and trains of thought that he has followed. Over 80 portraits are intertwined within the four hundred square metres, including pictures from Kilpper's own biography. The result is a fascinating narrative on the importance of social history and remembering.
The story begins with an 18th Century octagonal chapel that used to occupy the site. The chapel was built by the charismatic Reverend Rowland Hill, who was known to draw congregations of over 1000 to his services. The chapel was eventually abandoned and the building briefly became one of London's first cinemas then, more notoriously, the first popular boxing arena known as The Ring. From 1910 to 1940, The Ring played host to some of the most famous boxers in London. This illustrious period ended in 1940, when the chapel was destroyed in the Blitz.
Orbit House itself was built by the Ministry of Defence in the 1960s, to house their Printing Offices. It then fell into the hands of the British Library, who used it to house their vast Oriental Collection. Orbit House is now set to make way for one of South London's largest private developments. Kilpper's physical and labour intensive intervention with the fabric of Orbit House has given space for a moment of reflection before the site moves into its next phase.
For the launch of The Ring, the full size (400 square metre) print taken from the woodcut will be suspended from the facade of Orbit House. There will be access to the building to view the woodcut and individual prints of some of the images, which will be strung up in the space throughout the launch and subsequent two week period.