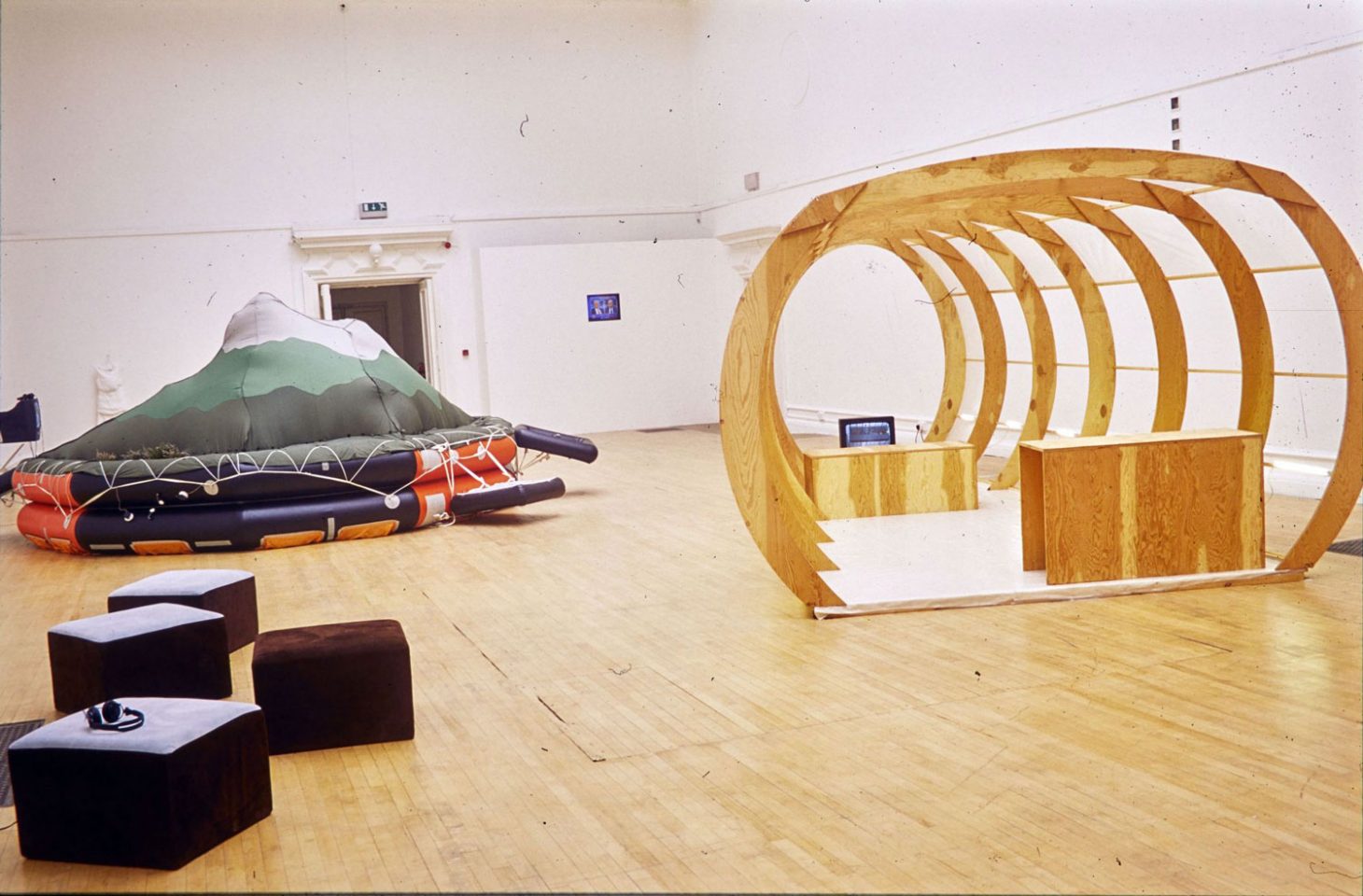 We are always and never at home. Being in transit is a part of our everyday lives. We are forever moving from one point to another, helped on our way by cars, buses, tubes or planes. We cross boundaries, work in one city and live in another, sustain long-distance friendships and weekend relationships. From the mobile phone to the world wide web, technology persuades us to take our worlds with us wherever we go, blurring the boundaries between public and private. Yet, we continue to be limited by our physical existence, and can only dream of being instantly 'transmitted' to our chosen destination.
The artists in Urban Nomads are concerned with mobile lifestyles. They produce work in one place, but are influenced by another, and have now been brought together in an exhibition at South London Gallery. All base their nomadic art practices on performative interventions in the urban environment.
Christine Hill is constantly on business trips on behalf of her 'label' Volksboutique. In London she is showing her recent red handbags. Pia Greschner has chosen the transitional space of Kansai Airport in Japan as the setting for her video work. James Welburn and Matthias Kispert are constructing a soundscape 'tunnel' with sonic material from Croatia to Mexico. Sketching the relationship between an urban planner and a web designer, Moira Zoitl's film highlights different approaches to work and travel. Sandra Becker 01 explores physical presence in virtual space. Nelly Agassi tries to communicate with the everyday urban nomad on London Underground platforms. Swantje Schmidt works with dancers in public spaces, the choreography being orchestrated by the architecture. Daniel Pflumm's sign outside the Gallery plays with the omnipresence of corporate identities. Zoe Walker & Neil Bromwich suggest taking our private paradise as inflatable objects with us wherever we go. Artlab are creating temporary structures to house artworks in the Gallery space.
Artists
Nelly Agassi, Artlab Charlotte Cullinan and Jeanine Richards, Sandra Becker 01, Pia Greschner, Christine Hill, Daniel Pflumm, Swantje Schmidt, Zoe Walker and Neil Bromwich, James Welburn and Matthias Kispert, Moira Zoitl.