Over 2019-2020, the South London Gallery (SLG) collaborated with University of the Arts London BA Interior and Spatial Design students to design a new commission for our Sunday Spot Play Space.
Out of ten submissions, students Chloe Bailey and Anna Yue Ru were selected to co-develop the Play Space commission for summer 2020.
They worked in collaboration to co-design a materials kit of modular units including wooden blocks, pipes, tyres and balls that would each week create a new installation including a maze, a circus, a camp and a solar system for families to play with and to explore.
Due to Covid-19, the commission was not physically realised. Here, however, we are pleased to share Chloe and Anna's designs and inspiration for the commission, including an extract from a longer interview with Chloe which can be read in full on the UAL website.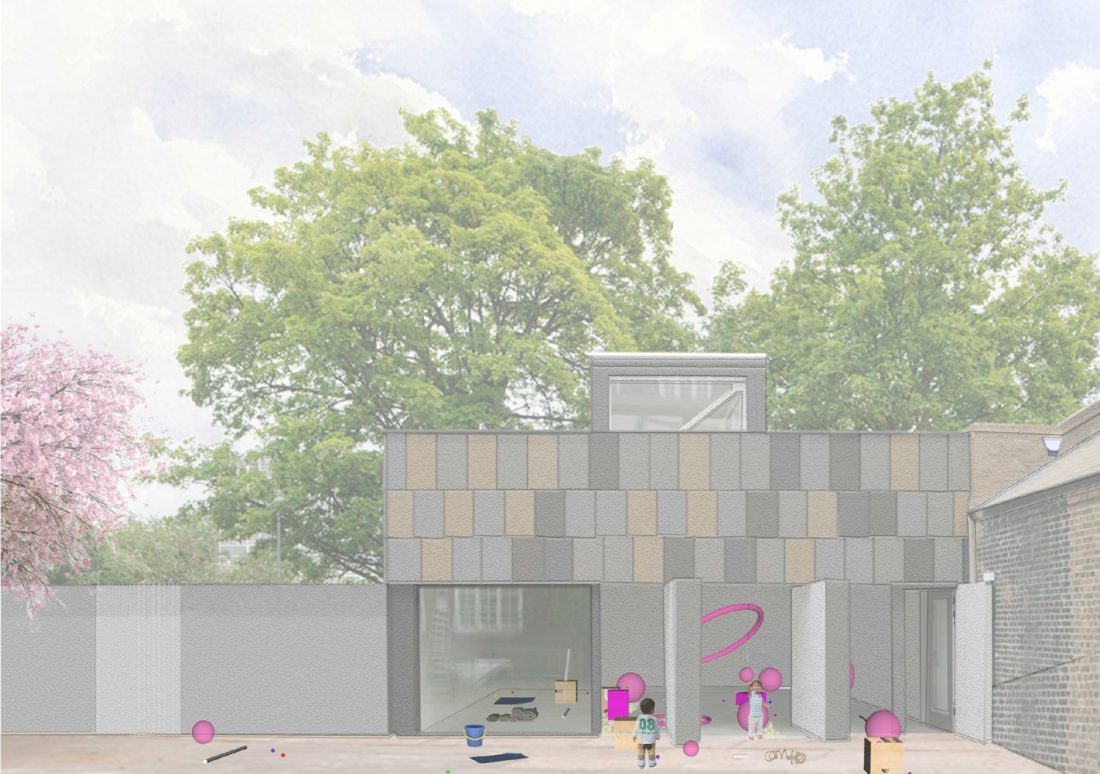 WHAT WERE THE INSPIRATIONS AND IDEAS BEHIND YOUR SUNDAY SPOT PLAY SPACE COMMISSION?
Anna Yue Ru: We proposed a series of interactive play elements to be set up in the space for children to explore with their natural creativity and inventiveness. The design was based on the Theory of loose parts (Simon Nicholson, 1971). The idea is that loose parts materials can be moved around, carried, combined, lined up, designed and redesigned, taken apart and put back together in multiple ways.
I designed the space to create a playful atmosphere and environment that brings multi-sensory experiences for the children, not only from the size, shape and colour but also the richness and variety characteristics of both man-made and natural materials: smooth and rough, translucent and transparent, wet and dry… which invites children to explore the play space in creative ways.
My inspiration came from an exploration of the area surrounding the South London Gallery. Using the city as a playground, we experimented with ways of play involving our 'body' with 'urban fabric', at the same time, I discovered the surprisingly large amount of waste on the street. This includes artificial materials such as plastics, rubber and foam which take up to a thousand years to decompose, as well as falling leaves and tree branches from the natural world. So I had this idea for children to learn through play, in order to share the importance of preserving the environment, and raise the awareness of recycling and reusing for the next generation.
The main colour tone I chose is pink. According to colour psychology, it attracts children's attention and encourages their playful energy. In order to fulfil the curiosity of children under the age of 5, small-sized play elements were designed for them to develop dexterity. I also designed activities for those up to the age of 12 to make their own play balls from recycled materials.
Anna Yue Ru's response is an extract from a longer interview by Sarah McLean in the What's On UAL magazine, March 2020 issue.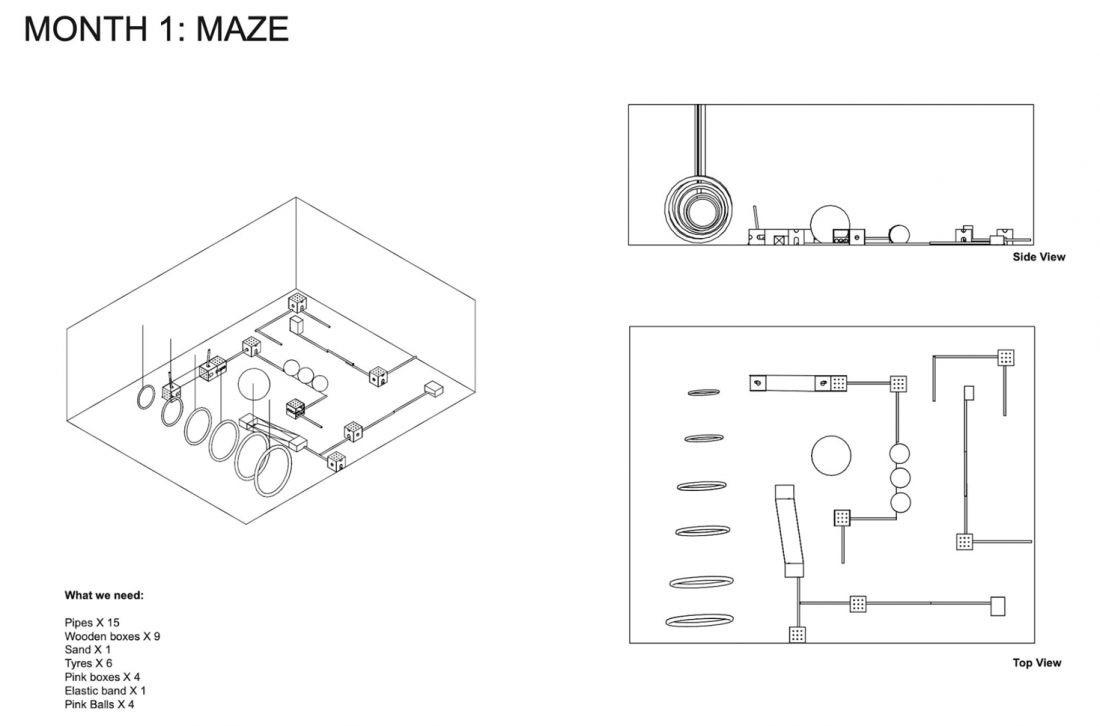 WHAT WERE THE INSPIRATIONS AND IDEAS BEHIND YOUR SUNDAY SPOT PLAY SPACE COMMISSION?
Chloe Bailey: My inspiration for the play space came from two places. Initially I started the project exploring different ways of playing: I went on a walk nearby and played a series of different games to get my ideas flowing. Themes that arose in this walk were the ideas of hand eye coordination and connection in terms of bringing people together, and I decided to take these themes forward within my initial design.
I wanted to bring the children together to work alongside each other and learn by creating a game of their own. This game was a childhood game we all know well, 'the buzz wire game'. I wanted to encourage the children to work together to build a 1:1 buzz wire maze out of drainpipes and other materials, and then work together to get from one side of a maze to the other.
At testing stage I realised that my aspirations were too advanced for the age level of the children, and that they wouldn't be able to build unaided, so I needed to think about how my design elements could be used in different ways – I had created sand boxes to allow for the pipes to stand; however, the sand came out of the boxes and the children were using them to draw patterns on the floor. They would also lean the pipes on chairs and then let the ping pong balls roll down them.
It was insightful to let the children dictate the importance of the materials. Testing informed my design further allowing me to create alterations to help facilitate the children in their creative play. I was able to design wooden structures that would act like scaffolding for the drainpipes, and these would allow the children to mimic the behaviours they had shown with the chair.
Chloe Bailey's response is from a longer interview with Emily Mulenga, titled 'The Power of Play', on the UAL website. Click here to read the full interview.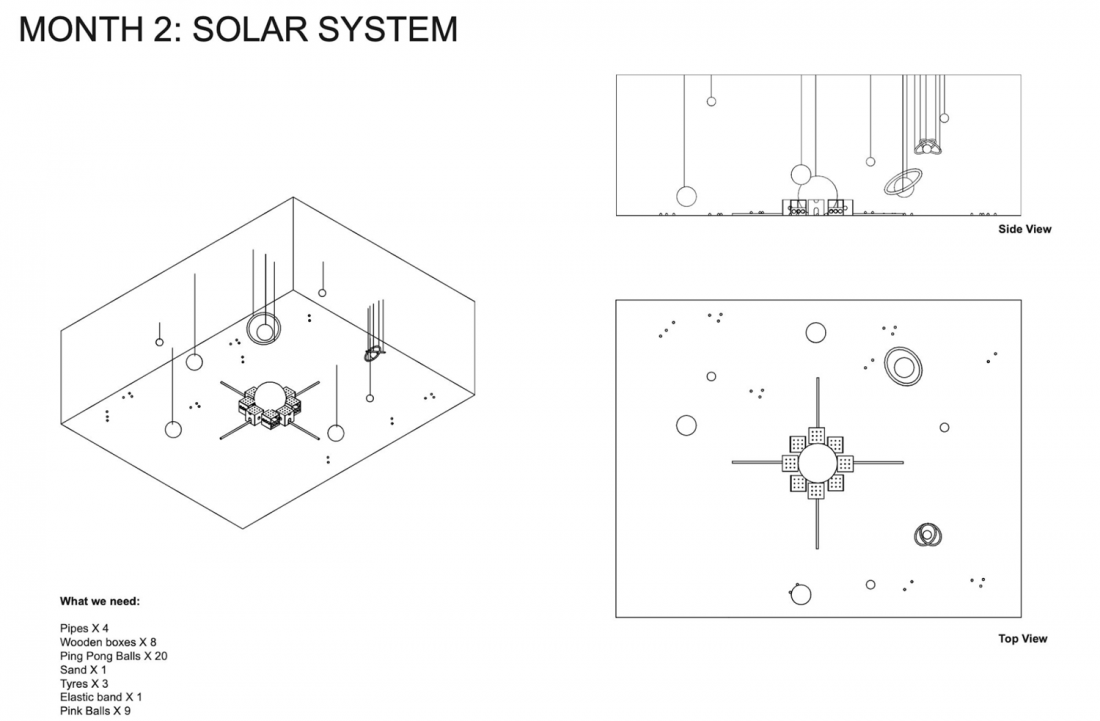 About
Sunday Spot Play Space is a series of artist-designed family commissions that takes over the Clore Studio on Sunday afternoons, creating an interactive environment for young children and their parents or guardians to explore. Sunday Spot is currently on hold while social distancing and other health and safety measures are in place.
Chloe Bailey's practice is centred around themes of play and community. Through physical making, testing and drawing, she looks to create new narratives for unused spaces, making these spaces destinations for multiple activities to take place.
Anna Yue Ru is a spatial designer and educator. Her practice focuses on the intersection between nature and the built environment. She is interested in engaging young people in the process of design through play and making. She has worked collaboratively in various museums, galleries and institutions, and she runs the Little Architects Programme at Suzhou Museum.