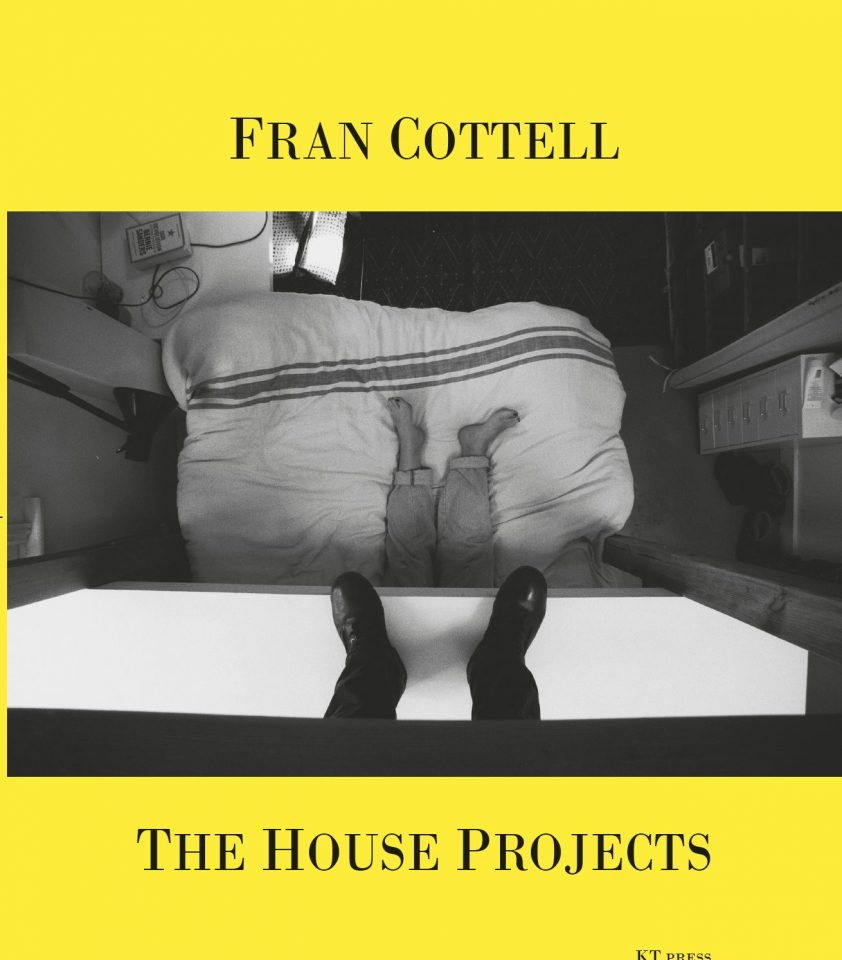 Join us for the book launch of Fran Cottell: The House Projects (KT Press, 2021).
This free event will run from 7-9pm, and will include an in-conversation session with the artist Cottell and Katy Deepwell, editor of KT Press from 7.30pm.
Over the last twenty years, Cottell has produced a series of increasingly provocative live installations displaying the contents, visitors and occupants of her house as offsite projects for CGP London, (now Southwark Park Galleries 2001-11) and Raven Row (56 Artillery Lane 2017). The House Projects are a series of time-based art works that question how to show everyday lived experiences outside of the fixed frame of the art institution in order to preserve life, or rather the breath of 'aliveness'. In the spirit of an active and lively conversation, her work seeks to challenge hierarchies to produce a dynamic democracy in which everyone changes and exchanges points of view. Introduced by the artist's own reflective account of producing these interventions, this book is packed with visual documentation and includes an essay by feminist art critic Katy Deepwell, alongside responses to Cottell's work by visitors, collaborators and family members.
The House Projects (KT Press, 2021) will be available to purchase from The South London Gallery bookshop.
BIOGRAPHY
Fran Cottell, an artist based in London, is a Senior Lecturer at Camberwell College of Arts. She studied Fine Art at the University of Reading and Goldsmiths College. She has a background in painting, public art, feminism, clothing, environmental, domestic and curatorial projects; producing performance and installations since the 1970s. She has featured in performance art festivals, exhibited and lectured about her work worldwide. Her work has been presented at the Architectural Association, South London Gallery, Whitechapel Gallery, Camden Art Centre, London, Ulster Museum, Belfast, the Ikon Gallery, Birmingham and other institutions nationally. 
Recent projects include the installation Hi PERFORMANCE/FLOAT for the CHOHW's (Come Hell or High Water) Holding the Foreshore, Limehouse, a performance: The Swimming Pool for You Burn Me, Freud Museum, 2020 London, and archive material for Exercising Freedom: Experiments in Art and Education at Whitechapel Gallery, October 5 2020- 21 March 2021 
Recent publications include, FranCottell/Julia Kristeva for 'Salon For A Speculative Future' Edited by Monika Oechsler with Sharon Kivland MA BIBLIOTHEQUE 2020. 
Writing with Marianne Mueller in chapters 'From Pain to Pleasure: Panopticon Dreams and Pentagon Petal, BENTHAM and the ARTS', UCL PRESS 2020 and 'From House to Square: Three Social Spatial Experiments, 'Architecture in Effect : Rethinking the Social in Architecture: Making Effects'. Actar 2018.
ACCESS
Seating will be available
The room will be dark with a projector screen in use
A microphone will be in use
Room capacity is 40 persons