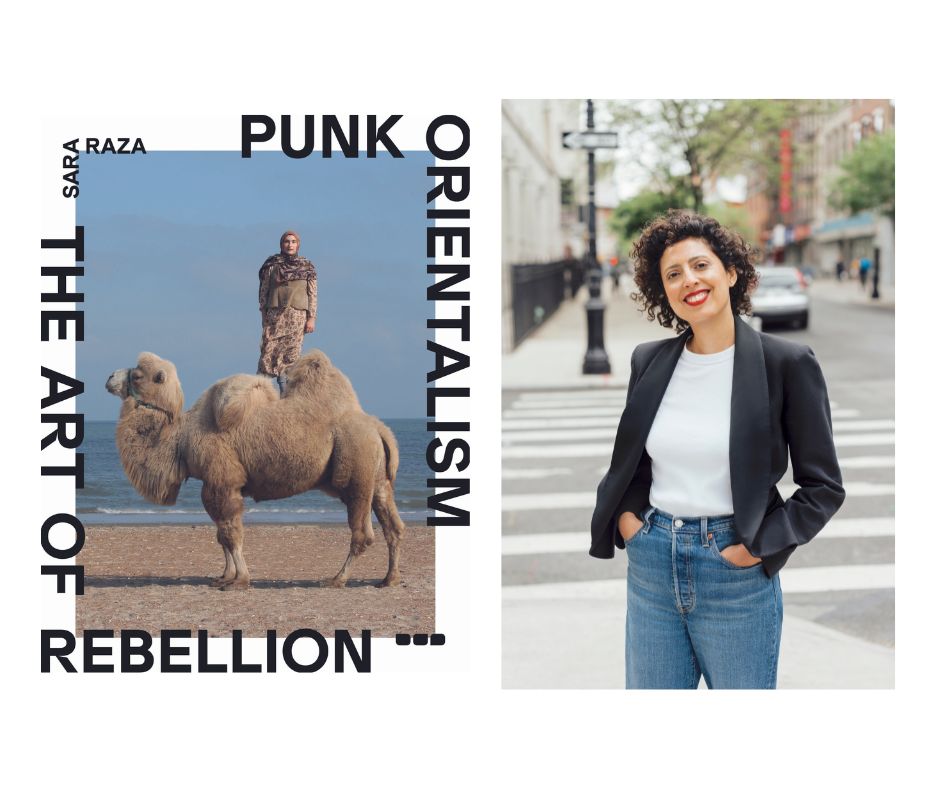 Join us to celebrate the release of curator and writer Sara Raza's new book, Punk Orientalism: The Art of Rebellion, published by Black Dog Press. Raza will discuss the publication at the South London Gallery Bookshop in conversation with Catherine Wood, Tate Modern's Director of Programme. 
This timely book explores revolutionary artistic practices centred on the spaces and places associated with the former Soviet Union. It focuses particularly on Central Asia and the Caucasus during and after the Cold War, as well as looking at the USSR's complex relationship with the Arab world, Iran and Turkey.
Inspired by punk methodology, the writing takes up a fractured, poetic form. The book includes art and artworks by over 30 contemporary art practitioners who have challenged state and academic policies, mapped new territories and formed new artistic movements. 
About Sara Raza
Award-winning curator and writer Sara Raza is a specialist in global art and visual cultures from a postcolonial and post-Soviet perspective. Raza has curated exhibitions and projects for international museums, biennials and festivals, including the Solomon R. Guggenheim Museum (New York), Galleria d'Arte Moderna (Milan), Rubin Museum of Art (New York), Mathaf: Arab Museum of Modern Art (Doha, Qatar), the MacKenzie Art Gallery (Saskatchewan, Canada), Maraya Art Centre, (Sharjah), the Tashkent Biennale (Uzbekistan), the 55th Venice Biennale, and the 3rd Baku Public Art Festival (Azerbaijan), among others. She lives and works in New York City, where she teaches on the MA Curatorial Practices Program at the SVA and BA and MA courses at New York University's Media Cultures and Communications Dept and New York University's Interactive Telecommunications Program where she is a Red Burns Fellow.
About Catherine Wood
Catherine Wood was recently appointed Director of Programme at Tate Modern, having formerly been Senior Curator of International Art (Performance) in which role she was responsible for researching, collecting and programming art rooted in performance in the museum. Wood was the curator of Cecilia Vicuna's 2022 Hyundai Turbine Hall commission The Brainforest Quipu, she organized Ei Arakawa's interactive Turbine Hall project, after Yoshihara Jiro, Please Draw Freely in 2021; initiated Tate Modern's annual Live Exhibition in the Tanks, with Andrea Lissoni, featuringartists including Faustin Linyekula, Anne Imhof, Fujiko Nakaya, Isabel Lewis, Joan Jonas and Jumana Emil Abboud; and curated the 2018-19 Hyundai commission for the Turbine Hall with the Cuban artist, Tania Bruguera. Wood co-curated the Rauschenberg retrospective at Tate Modern in 2017. Previous exhibitions include A Bigger Splash: Painting after Performance in 2012, The World as a Stage at Tate Modern in 2007 and the online broadcast project, "BMW Tate Live: Performance Room" in 2011. Outside of Tate, Wood curated Pablo Bronstein's Carousel at OGR, Turin, in 2019, Yvonne Rainer Dance Works for Raven Row in London in 2013, and is author of Yvonne Rainer: The Mind is a Muscle (2007, Afterall/MIT press) and "Performance in Contemporary Art" (Tate Publishing, 2018).
Access
The café and the bookshop are both wheelchair accessible.
Seating is available if needed.
A quiet space is also available – please speak to a member of staff on the evening if needed.
For any other access requirements please email nadia@southlondongallery.org