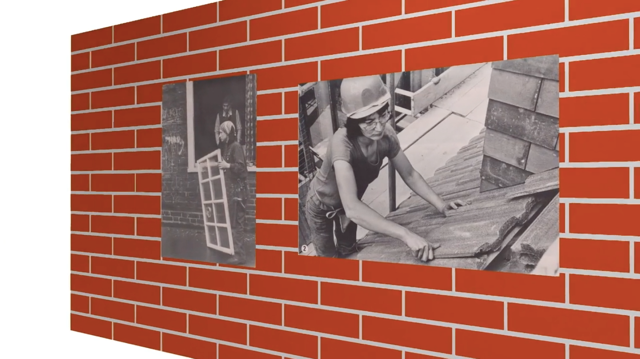 Clore Studio, Main Building
Building Space is a two-part event organised by Jupiter Woods in partnership with the South London Gallery, on the occasion of Winnie Herbstein's solo exhibition Brace at Jupiter Woods (3 May – 2 Jun 2019).
Brace expands Herbstein 's ongoing research into gendered labour and workspaces, including the typically masculine territory of the building site. The project also continues the artist's and Jupiter Woods' mutual research on historical and contemporary forms of alternative feminist organising in relation to architecture and the formation of space.
Two events place Winnie Herbstein's research in dialogue with other works and practitioners, including Ayo Akingbade (artist), Rianna Jade Parker (curator and writer), Frances Bradshaw (Co-founder, Matrix Feminist Architectural Co-operative) and Charlotte Procter (Cinenova).
For the first event, organised with Charlotte Procter (Cinenova), a screening of the 1984 film Bitter Wages by Audrey Droisen and the Women and Work Hazards Group, and Herbstein's film Studwork (2018) is followed by a conversation on tolerance and collaboration, tooling and dexterity with Winnie Herbstein, Charlotte Procter (Cinenova) and Gin Dunscombe (artist), chaired by Katrina Black (Jupiter Woods).
Biographies
Winnie Herbstein (b. 1989 in London) graduated from the Glasgow School of Art and works primarily in video, text and sculpture. Recent work has considered gendered spaces and materials, whilst thinking about ways in which we can live our lives differently. Solo shows include: STUDWORK, Glasgow International (2018); Riprap, Atelier am Ecke. Düsseldorf, Germany (2018); Before I could speak, X spoke, Outpost Gallery. Norwich, England (2017); Soft Shoulder, SWG3 Gallery. Glasgow, Scotland (2016). Group Exhibitions include: Social Event, Glasgow International (2018); Citizens, Hospitalfield Arts. Arbroath, Scotland (2017); Domestic Observations, Jace Space, Los Angeles (2016).
Gin Dunscombe trained as a carpenter and joiner as soon as the first Equal Opportunities legislation was passed in England. An active Trade Unionist, she worked in the building industry for 10 years. She co-founded Southwark Women's Training Workshop, which for many years provided City and Guilds standard training for local residents. She works independently as a coach, mentor and facilitator to individuals, teams, organisations and whole systems in the public, not-for-profit and private sectors through the practice she founded twenty five years ago. She completed an MA (Fine Art) at Camberwell and Chelsea Colleges of Art in 2013.
Charlotte Procter is an archivist, film programmer and Collection Manager at LUX. Since 2013 she has been part of the Cinenova Working Group, a collective that oversees the work of preservation and distribution of the feminist film collection Cinenova. She is a founding member of the co-operatively run social centre DIY Space for London where she played a small part in the collective building of the space and has programmed numerous screenings and live events there. She continues to work on collaborative projects foregrounding feminist and radical media with a particular interest in the distribution and activation of archival material.