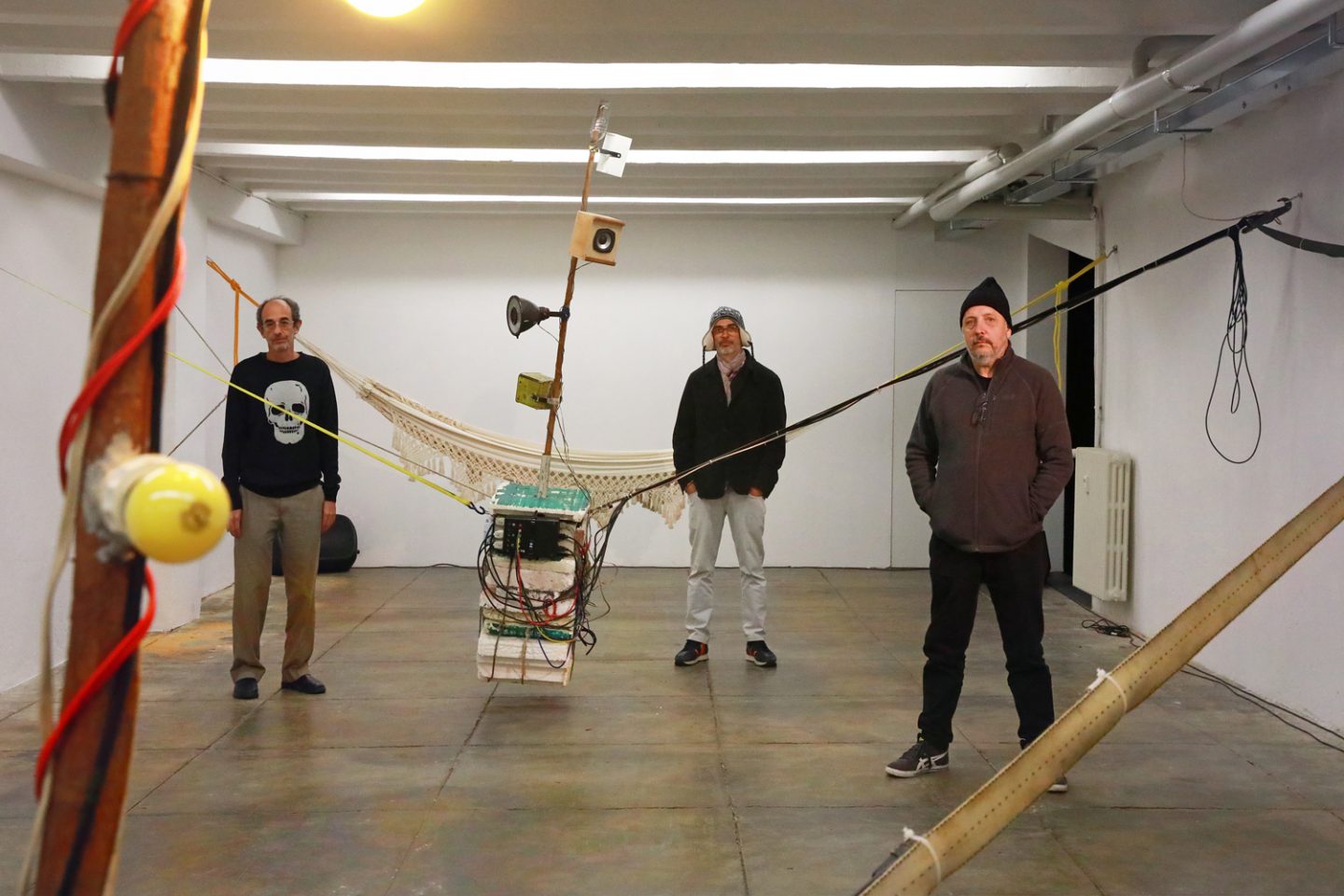 Chelpa Ferro present a durational performance in Luiz Zerbini's exhibition. Chelpa Ferro is a band and artist collective founded in the 1990s by artists Barrão, Sérgio Mekler and Luiz Zerbini. Based in Rio de Janeiro, Chelpa Ferro's eclectic and visually impactful performances combine sculpture, music and everyday objects.
BIOGRAPHY
Chelpa Ferro is an art group formed in 1995 by the Brazilian artists Barrão, Luiz Zerbini and Sergio Mekler. Barrão made a name for himself in the 1980s, by using banal materials, from refrigerator components, to television parts and other fragments of household appliances, to create sculptures with a sense of humour. Luiz Zerbini is one of the most recognized Brazilian painters and Sergio Mekler is one of the most sought after editors of video and cinema in Brazil. Chelpa Ferro is an old colloquial Portuguese term for money, chosen by the artists because of its sound. The group use every day objects to create sculptures, installations and music performances which explore the dynamics of sound.
Chelpa Ferro have exhibited extensively in galleries and museums, both in Brazil and Internationally. The group have also participated in art biennials, São Paulo in 2004 and Venice in 2005 when they represented Brazil. Chelpa Ferro have released four albums and played live concerts in the UK, United States and Europe. In 2010 the group was awarded the Nam June Paik Award, International Media Art Award of the Arts Foundation of North Rhine, Westphalia, Germany.