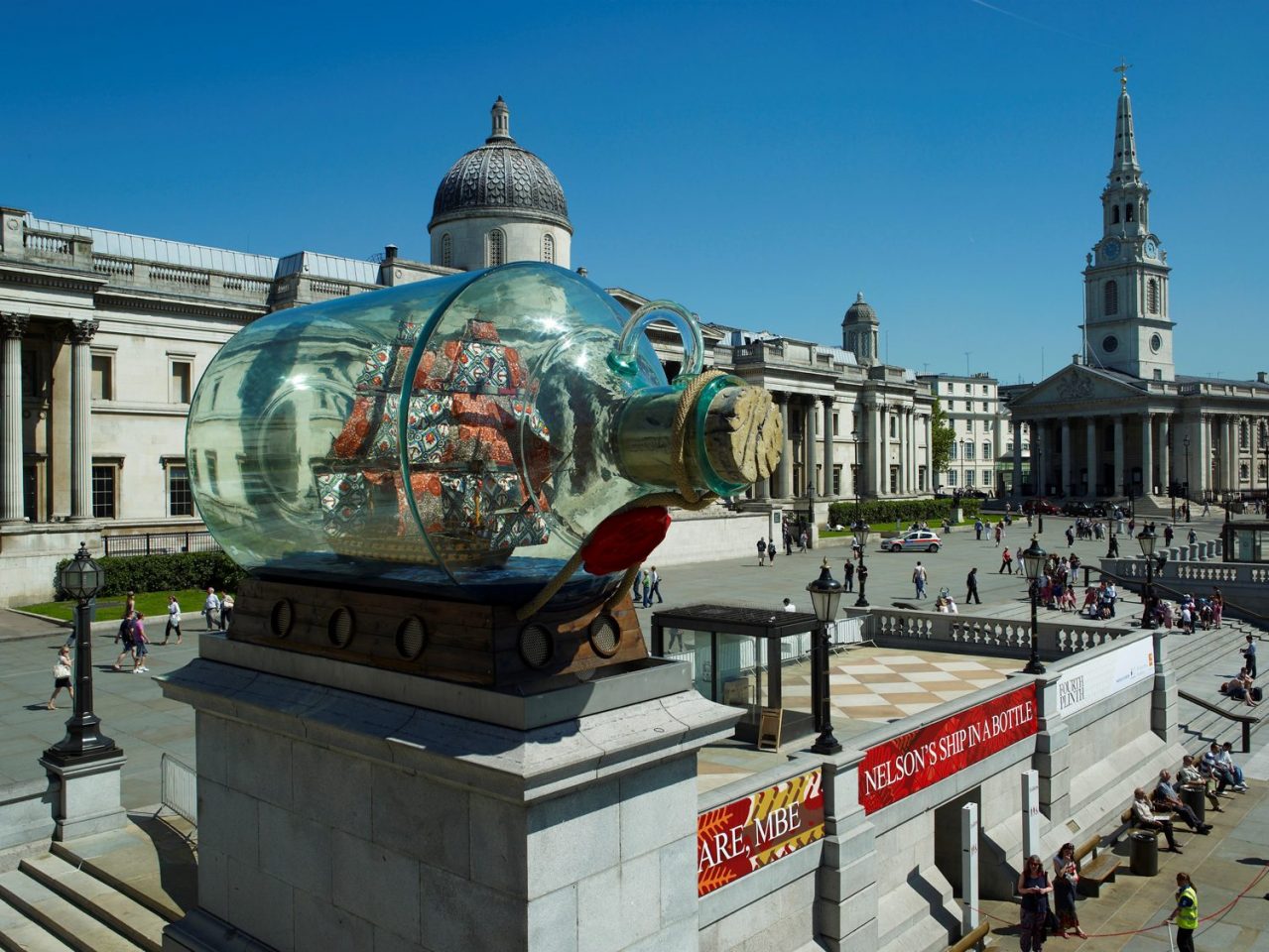 What are the politics of public monuments?
Join us for an online panel discussion examining the relationships between public space, British history and Black Lives Matter, with artist Yinka Shonibare CBE, art historian Dr Elizabeth Robles and Southwark Councillor Johnson Situ, hosted by art historian Dr Edwin Coomasaru. 
In June 2020 Black Lives Matter protesters toppled a statue of slave trader Edward Colston and threw it into Bristol harbour. The removal of public statues is criticised as 'erasing history', but history itself is never final or resolved. Toppling monuments reveals history as contested, complicated and bound up in questions of power: whether written from above by those who erected memorials, below by those who pulled them down, or by artists creating new works of public art.
What keeps a statue up, and what changes for it to be torn down? What are the relationships between symbols and the violent structures of inequality and oppression that persist today? 
Watch the recording of this event here:
ACCESS
The event will last approximately 1 hour and 15 minutes.
There will be no breaks.
Audience members will not be visible during the event.
The event will not be captioned.
A recording of the event with captions will be made available on YouTube at a later date.
The SLG takes event moderation very seriously. As such, to prevent the possibility of any offensive or inappropriate comments being shared during our online events, the chat function is disabled and only panellists are able to speak throughout. Attendees are warmly invited to use the Q&A functionality to ask questions, which are visible for the event hosts only.
ABOUT
Convergence is an ongoing series of critical conversations, screenings and written commissions, facilitated by the SLG and co-curated and hosted by invited guests. 
Yinka Shonibare CBE (RA) is one of the world's foremost artists. He was born in London and moved to Lagos, Nigeria at the age of three, before returning to London to study. Describing himself as a 'post-colonial hybrid', Shonibare creates work that explores issues of race and class through the media of sculpture, painting, photography, film, tapestries and public works. His practice questions the meaning of cultural and national definitions, and his trademark material is the brightly coloured 'African' batik fabric he buys in London. Shonibare's works are included in prominent collections internationally. He recently announced the development of his new artist residency in Lagos, Nigeria, due to open in 2022.
Dr Elizabeth Robles is a researcher and Lecturer in Contemporary Art in the History of Art Department at the University of Bristol. She is particularly interested in the formation of ideas around 'black art' across the twentieth century and is currently a British Academy Postdoctoral Fellow working on a project entitled 'Making Waves: Black Artists & 'Black Art' in Britain from 1962-1982′.  Most recently she co-edited the exhibition publication The Place is Here: The Work of Black Artists in 1980s Britain (Sternberg, 2019) alongside curator Nick Aikens. 
Councillor Johnson Situ is Southwark Council's cabinet member for Growth, Development and Planning. He leads on sustainable regeneration, planning policy consultation and engagement with communities and strategic transport. He is responsible for leading the council's regeneration programmes across the borough.  Prior to joining the cabinet he worked for an international development charity. Cllr Situ is currently leading an anti-racist audit of statues and street names in the borough. 
Dr Edwin Coomasaru is a Research Fellow at the Paul Mellon Centre, working on race, gender and sexuality in contemporary British art. After he received his PhD from the Courtauld Institute of Art, he was awarded a Sackler Postdoctoral Fellowship for 2018-19. He has contributed to The Irish Times, Irish Studies Review, The Irish Review, Photoworks Annual, Burlington Contemporary, Architectural Review, the exhibition catalogue for Masculinities: Liberation through Photography (Barbican, 2020); and is currently editing a volume for Courtauld Books Online on Imagining the Apocalypse. He co-convenes the Courtauld's Gender and Sexuality Research Group.