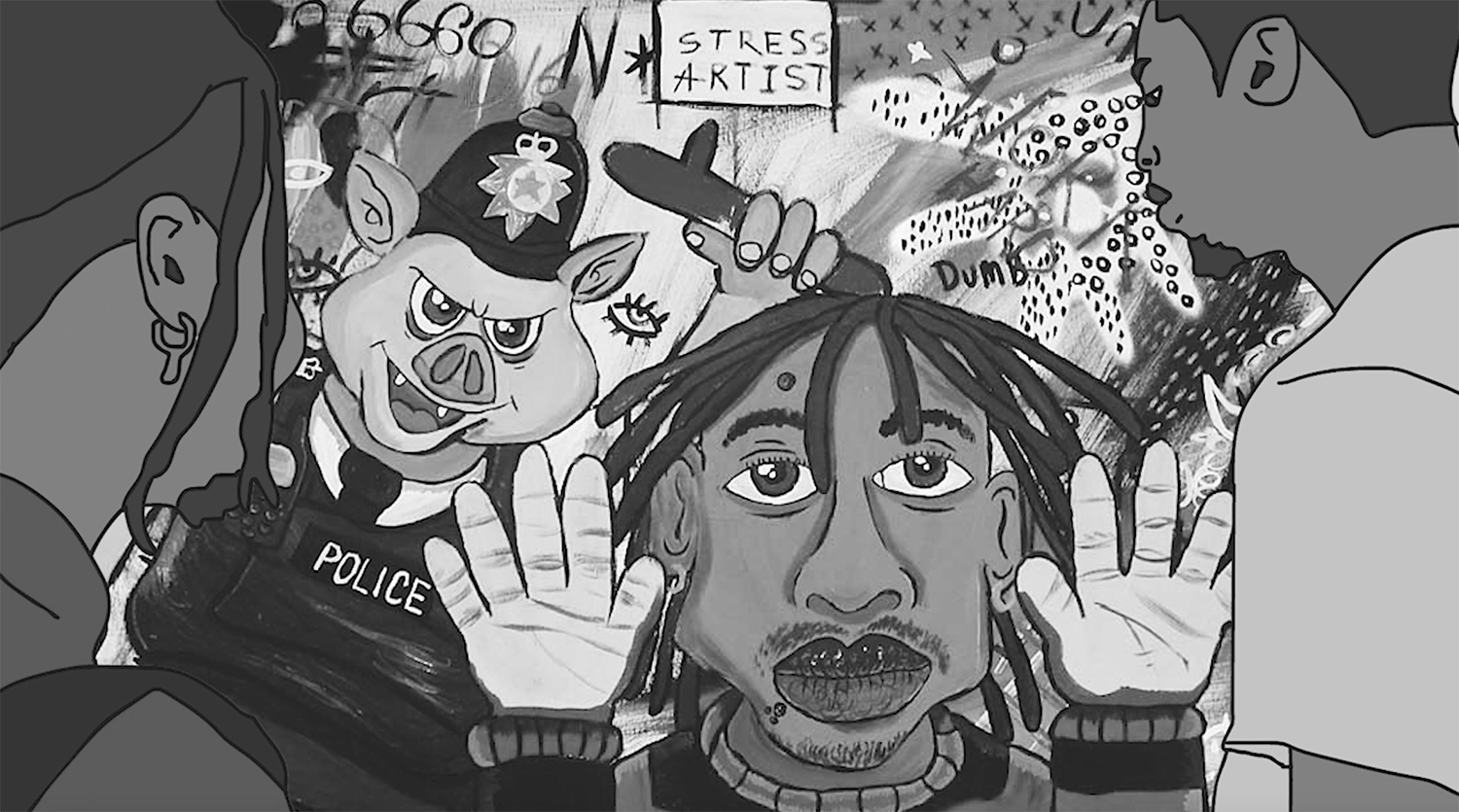 Artist Djofray Makumbu premieres his new film Hello Mr Officer in this two-day screening followed by an in-conversation with the artist at 4pm on Saturday.  
In 2020, Djofray won the inaugural Goldsmiths Exhibitions Hub commission, in partnership with the London Community Video Archive (LCVA), to make Hello Mr Officer. Hello Mr Officer is a moving image work that navigates the everyday experiences of young Black men from across London who are frequently stopped, searched, and harassed by the police. The work uses stop motion, watercolour and rotoscope alongside archive material from The People's Account (1987), a documentary about the Broadwater Farm riot in Tottenham, North London, made by Ceddo Film Collective and held in the LCVA. 
Please book a free ticket for the conversation at 4pm on Saturday with Djofray, Rehana Zaman and Maybelle Peters.
Please note the film is 23 minutes long and will play on the hour and half hour.
BIOGRAPHY
Djofray Makumbu is a British Congolese artist born and based in East London. He often works with friends and family when making his work which draws on his personal experiences and those of people close to him. Recent works have focused on the shame and stigma of mental health difficulties, the pressures and violence of inner city life, from the perspective of young people, and the joy of music and dancing. Djofray loves to mix up different techniques combining stop motion animation, video footage, hand drawn and painted elements, in moving image which are sometimes presented alongside live performances, such as dance or scripted scenes. Each element in the work is carefully self-made, from hand built sets and hand stitched garments for Claymation characters, to soundtracks that are developed closely with Djofray's brother. 
In 2020, Djofray won a Goldsmiths Exhibitions Hub commission, in partnership with the London Community Video Archive. Recent solo shows include Brixton Library, London in 2019. Djofray graduated from BA Fine Art programme at Goldsmiths in 2018 and was awarded the Alumno/SPACE Studio Bursary as a result of his degree show exhibition. 
Maybelle Peters is a London based artist and filmmaker mainly working primarily in film and CGI. Her interdisciplinary practice focuses on storytelling using documentary, historical events, literature and oral narratives. She gained her bachelor's degree in Animation at Farnham where she made her first commissioned film for BBC2. Her Channel 4 commissioned film, Mama Lou has been shown extensively at animation festivals including Annecy, Ottawa and the Edinburgh Film Festival as well as broadcast television. Her work was shown as part of 'The Place is Here' exhibition at Nottingham Contemporary and South London Gallery in 2017. She is the recipient of the inaugural Womxn of Colour Art Award 2020 and a PhD candidate at the University for the Creative Arts, England.
Rehana Zaman is an artist from Heckmondwike based in London. Her work speaks to the entanglement of personal experience and social life, where moments of intimacy are framed against cultural orthodoxies and state coercion. Conversation and cooperative methods sit at the heart of her practice. She has exhibited widely in the UK and Internationally. Presentations include British Art Show 9 (Touring), Trinity Square Video, Toronto (Solo), Borås International Sculpture Biennial (Sweden), Berwick Film & Media Arts Festival; Artist Film International Whitechapel, London, Dhaka Art Summit, Bangladesh, Bergen Kunsthall, Norway; Kochi-Muziris Biennale 2018; Sheffield Doc/Fest; Oberhausen Film Festival and Serpentine Projects, London, (forthcoming 2022). In 2019 she co-edited Tongues with Taylor Le Melle, published by PSS and was shortlisted for the Film London Jarman Award. She is currently a board member of not/nowhere artist workers cooperative and LUX who also distribute her films.
ACCESS
The room will be dark

 

The film is 23 minutes long. The talk on Saturday will last 1hr 30min 

The film

 is subtitled