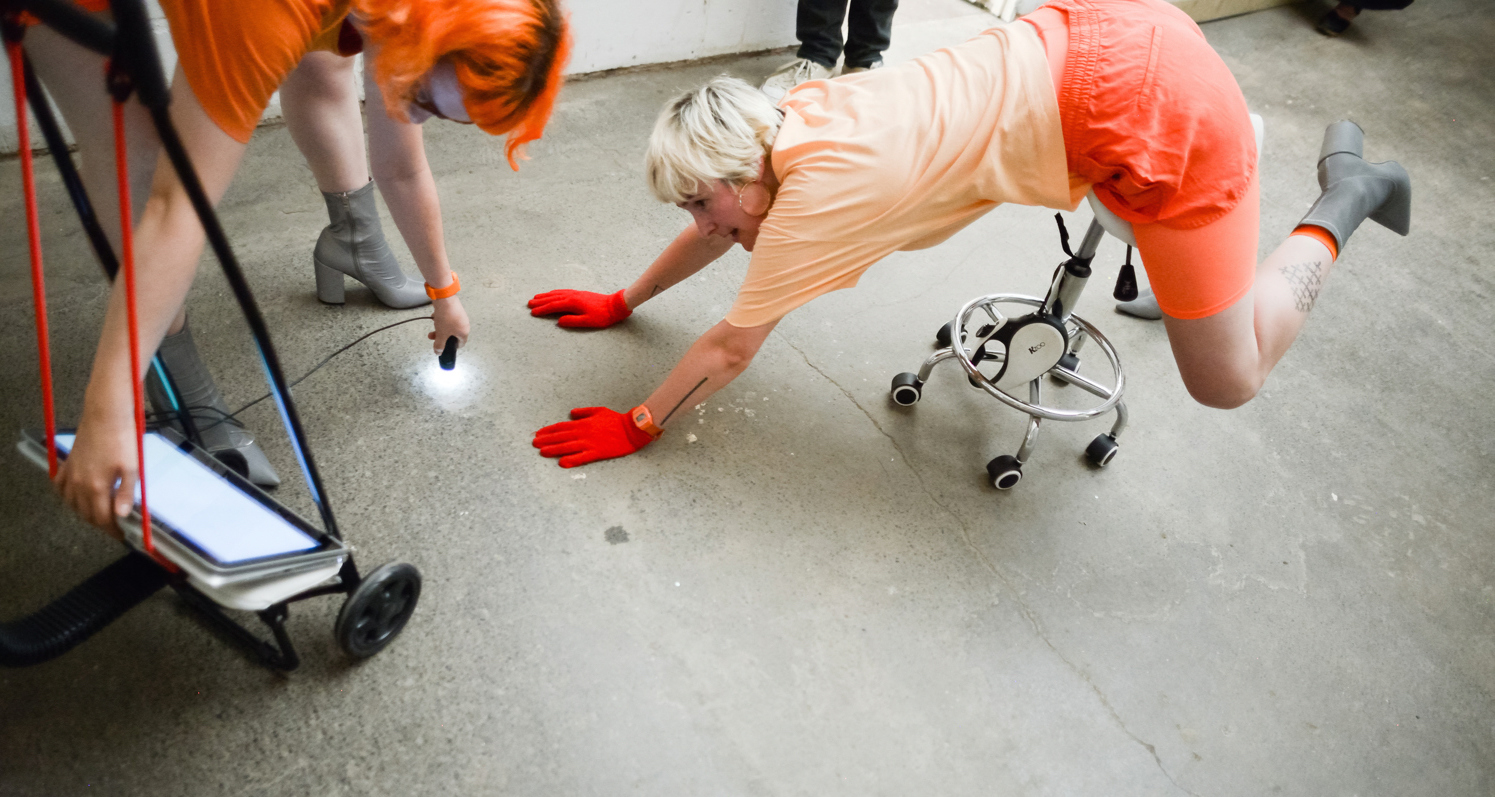 As part of Art Licks Weekend 2019, join us at the SLG for a showcase of new performance, sculpture and video work by members of Extra Ordinary People (EOP), the associate programme run by Eastside Projects, Birmingham.
Artists Ambie Drew, Lucy Hutchinson, Emily Roderick and Emily Warner and Luke Routledge explore alternative realities and digital dystopias through their work, and offer multiple readings of 'interdependence', the theme of Art Licks 2019.
ABOUT
EOP is an associate programme run by Eastside Projects, Birmingham, that supports the development of work, ideas, connections and careers. It produces a dynamic programme of opportunities and events for artists, writers, curators and designers at all stages of their careers.
Ambie Drew is a filmmaker based in the West Midlands. Her practice explores fabricated femininity, gender and identity in the digital age through her alter ego. Manipulating herself through the use of beauty tools and products she plays on amplified, kitsch and stereotypical femininities, and analyses the consumption of beauty, capturing the visceral and grotesque nature of feminine rituals. This takes form as a series of short, experimental films that are presented as large, multi-screen installations.
Lucy Hutchinson is a visual artist based in London. Her research-based practice looks at the relationship between technological histories and futures, the occult, economics and the body. She works in CGI, 3D printing, moving image and drawing and uses multiple visual tools, often collaborating with academics, practitioners and members of the public.
Emily Roderick is an artist from Warwickshire, now based in London. Her practice amalgamates the body and technology, enjoying their clunky relationships and addictive entanglements. These newly formed relationships are played out through performance.
Luke Routledge is an artist based in Birmingham. His practice is primarily sculptural, with figures, creatures and objects made from a variety of building and craft materials populating a speculative fictional universe. Drawing upon art history, philosophy and contemporary culture, he creates a possible world with theatrical inhabitants that is simultaneously ancient and futuristic.
Emily Warner is an artist, performance maker, and facilitator working between Birmingham and London. She prioritises process and collaboration, to devise performative work that examines the interplay between body, movement and language.
ACCESS
The event is not seated but chairs are available upon request.
The room will be dimly lit for a projection.
For more information on access at the SLG please read here.