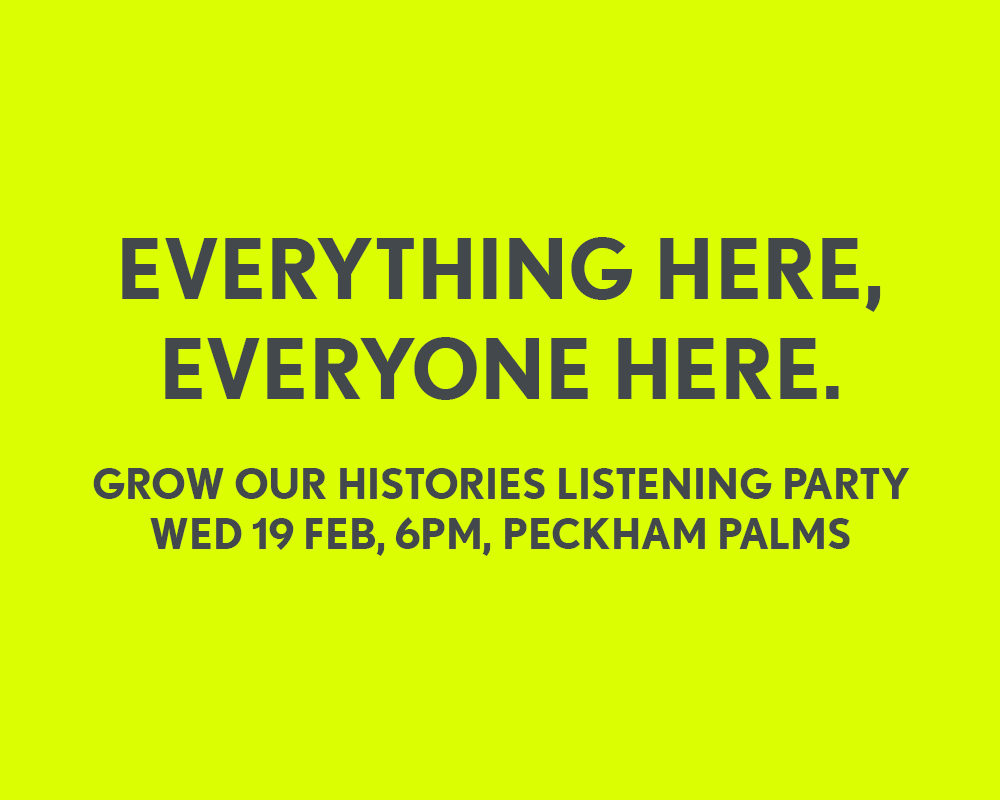 PECKHAM PALMS ARCADE, 1-14 BOURNEMOUTH CLOSE, SE15 4PB
Spend an evening listening to stories of Rye Lane at Peckham Palms.
Collected over the past 18 months as part of Grow Our Histories, listen to some of the 50 stories gathered through the project and read through the transcribed traces of conversations with shopkeepers, market-traders and residents.
This event is an opportunity to bring the Peckham community together to share the stories gathered so far, and to contribute your own stories and help us map out whose voices are missing and plan who we should interview next.
The evening will also feature a free, drop-in children's workshop hosted by the Big Family Press, the South London Gallery's child-led printing press. Children are invited to make their own publications based on their experiences of living on and around Rye Lane.
ABOUT
Grow Our Histories is a project led by the South London Gallery in partnership with the Peckham Townscape Heritage Initiative. The project involves interviewing people connected to Peckham and Rye Lane to share their memories and experiences of life along the famous high street and surrounding neighbourhood.
This event is the first opportunity to hear these collected oral histories, which will eventually be accessible online, in the SLG's Fire Station Archive and at Southwark Archives.
The event has been programmed by SLG Oral Histories Volunteer Marianne Noble, who has been volunteering with the SLG's Evidence of Us programme since November 2019 as part of the GEM Museum Learning Foundation Course.
For more information, please contact: Ben Messih, Heritage Education Manager ben@southlondongallery.org or phone 020 7703 6120
ACCESS
The venue is fully accessible.
A light vegetarian meal and non-alcoholic drinks are provided.
The Palms is located just behind Rye Lane in Peckham. It is a 4 minute walk from Peckham Rye Station. If you are coming from the station, turn right on Rye Lane, then left at Atwell Road, where the public toilets are.
Grow Our Histories is commissioned through the South London Gallery's critical heritage programme, Evidence of Us.