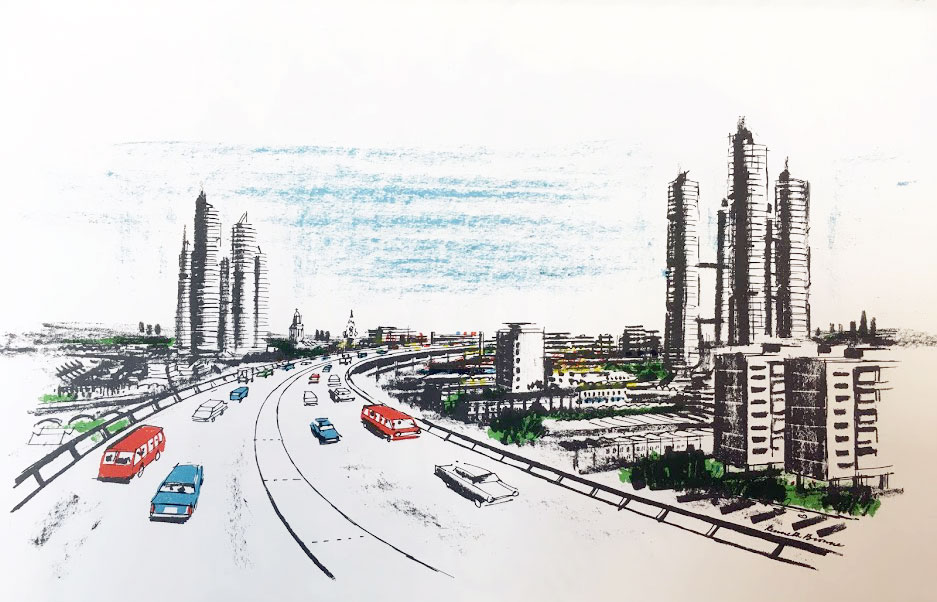 Clore Studio, Main Building
Histories in Focus is a new talks programme revealing otherwise overlooked or unknown heritage and histories in the area surrounding the South London Gallery, with a particular focus on the neighbourhoods of Peckham and Camberwell.
For this first event, Eileen Conn, Barry Jenkins and Wayne Asher highlight key moments of local resistance to top-down planning and ill-conceived public infrastructure projects.
PROGRAMME
Wayne Asher presents a talk about the failed plan to build a series of orbital motorways encircling London, known as the Ringways project. Asher discusses the resistance to the Ringways' abandoned South Cross route, which would have carved through the communities of Brixton, Peckham, Camberwell and New Cross and displaced tens of thousands of people.
Local activist Eileen Conn introduces the Peckham Action Group (PAG) and details their early history, covering the group's inception and activist approaches whilst acting in opposition to the proposed relocation of Southwark Town Hall and the widening of Peckham Road.
Local resident Barry Jenkins joins the SLG's Heritage Education Manager Ben Messih to look back at the Sink the Link campaign to stop the construction of a high-speed rail link through south London. The campaign against British Rail's plan ran from 1988 until the project was scrapped in 1991.
ABOUT
Eileen Conn has lived in Peckham since 1973. She is coordinator of Peckham Vision, a local citizens' action group meeting; coordinator of Southwark Planning Network for community groups; and an active member of Just Space, the London community network on planning and regeneration. She has received several awards for her community work, including an MBE.
Wayne Asher, author of Rings Around London (Capital Publishing, 2018), is a former journalist turned IT manager. His first book – A Very Political Railway – examined the near death and rebirth of the North London Line.
Barry Jenkins is a long-time Peckham resident and shopkeeper. He was closely involved in the campaign against the Rail Link (1989-91), including co-organising a march through central London in opposition to British Rail's plans.
ACCESS
Seating is available.
The room will be darkened at times to accommodate presentations.
The presentations will be approximately 20 minutes long and each followed by a panel discussion featuring all speakers.
There will be an opportunity for a comfort break in between each speaker.
Up to 60 people will attend the event.
Ear plugs, ear defenders, magnifying glasses and wheelchairs are all available.
For more information on access at the SLG please click here.