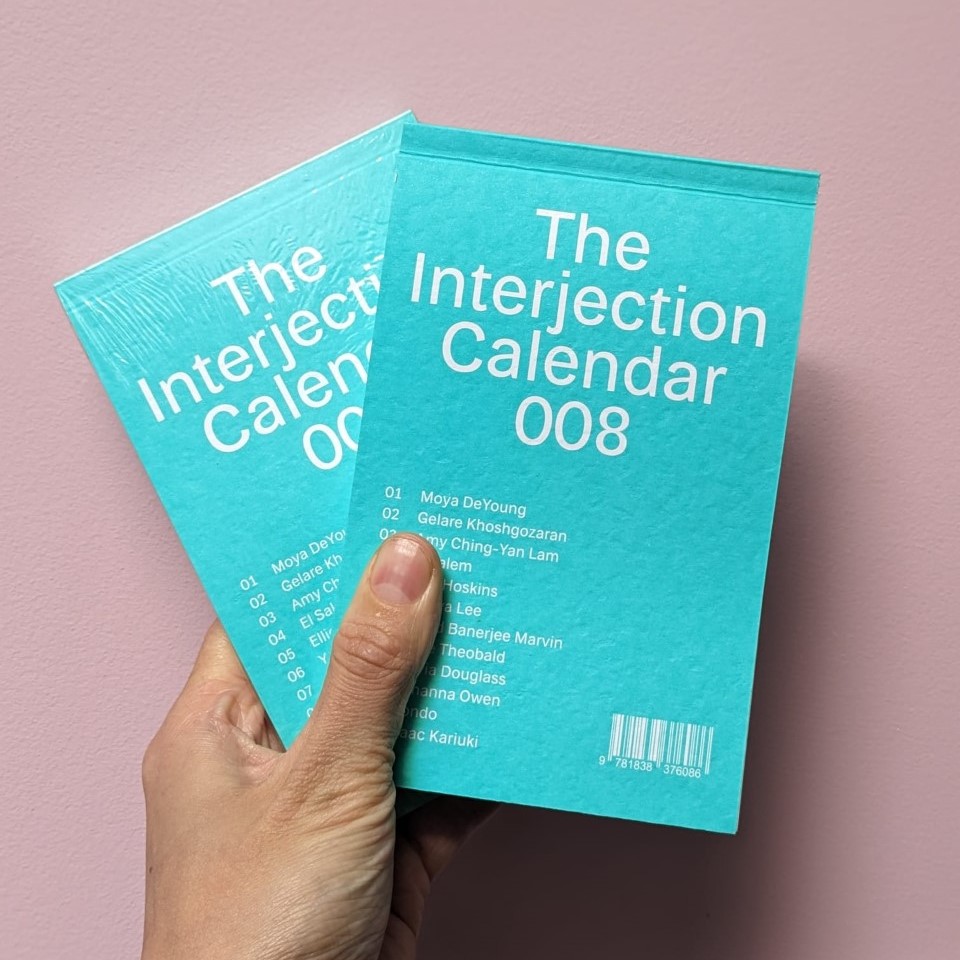 Come and celebrate the launch of the Interjection Calendar 008, guest edited by artist Onyeka Igwe.
Join us for a night of contributor performances from Olivia Douglass, Isaac Kariuki and Moya DeYoung, hosted by Montez Press.
The calendar maps out the year in contemporary art writing, by artists with cross-cultural and cross-media practices. This year, styles and themes range from poetry, autofiction, autobiography, our first ever essay published compiled from film stills, play scripts, fantasy and a journalistic exploration of the New York voguing scene.
Montez Press publish experimental work by artists, writers and thinkers with a focus on queer and intersectional feminist practices through the lens of artists' writing.
Contributors to the Interjection Calendar 008: Isaac Kariuki, Kondo, Johanna Owen, Olivia Douglass, Alice Theobald, Ingrid Banerjee Marvin, Yaniya Lee, Ellie Hoskins, El Salem, Amy Ching-Yan Lam, Gelare Khoshgozaran, Moya DeYoung.
BIOGRAPHIES
Onyeka Igwe is an artist and researcher working between cinema and installation, and born and based in London, UK. Through her work, Onyeka is animated by the question — how do we live together? — with particular interest in the ways the sensorial, spatial and non-canonical ways of knowing can provide answers to this question. Onyeka uses embodiment, voice, archives, narration and text to create structural 'figure-of-eights', a format that exposes a multiplicity of narratives. The work comprises untying strands and threads, anchored by a rhythmic editing style, as well as close attention to the dissonance, reflection and amplification that occurs between image and sound.
Isaac Kariuki is a visual artist and writer from Nairobi, based in London. His work centres on surveillance, language, borders, internet culture and the black market, in relation to the Global South. His work has taken the form of image, video, lectures, writing and performance. He has exhibited at the Tate Modern, Kadist (Paris) and the Kampala Art Biennale among others as well as holding lectures at the Tate Britain and Yale University. He is an Associate Lecturer of Fine Art Photography at Camberwell College of Arts and Digital Arts & Moving Image Tutor at the Art Academy London. He is the founder of Diaspora Drama a three-part publication exploring philosophical themes of the internet and technology. His writing has appeared in publications including Dazed Magazine, Garage and New York Magazine. 
Olivia Douglass is a British-Nigerian writer and poet. They are the author of Slow Tongue, a verse/lyric-essay hybrid that responds to the work of M. NourbeSe Philip. Their writing appears in publications including Bath Magg, Nothing Personal, and Prototype 2. A Barbican Young Poets Alumna, Olivia has been commissioned by the National Poetry Library (London) and Galleria Duarte Sequeira (Portugal), alongside curating reading rooms for Passa Porta Festival (Brussels) and reading at NoguerasBlanchard Gallery (Madrid)  They have held residencies with Talawa Theatre Company and Theatre Peckham, been shortlisted for the Rebecca Swift Foundation's Women Poet Prize 2020, and in 2021 was longlisted for a Jerwood Compton Poetry Fellowship. Olivia was the curator of Strange Echoes, at the Institute of Contemporary Arts (ICA) in 2022, a six-day Black experimental poetry convening. Their writing is concerned with articulating alternative visions of liberated Black queer experiences, away from colonial frameworks.
Moya DeYoung 
Moya DeYoung is a (sometimes) London based interdisciplinary writer, artist, producer and collaborator. Moya's practice stems from a background in health activism, medical anthropology and community public health first in Zimbabwe, and later, Palestine. An immigrant to the UK, Moya's work explores collective trauma, settler colonialism, erasure and the experience of daily violence caused by colonial contexts. This exploration has manifested in film, poetry, written word, critical theory, and workshops. Moya has produced works for the V&A, Somerset house, the National Portrait Gallery, Du Pont gallery in Washinton DC, and les Urbaines Lausanne, among others. The unifying features within Moya's practice are empathy, truth seeking, expressing subjugation and the sharing of experiences, with the aim of giving body and voice to marginalized communities.
Envisaged as the third iteration of the spirit of Lola Montez (Lola, Maria, Mario), Montez Press was formed in 2012. We have since commissioned and published experimental work by artists, writers and thinkers with a focus on queer and intersectional feminist practices through the lens of artists' writing. We are committed to curiosity, questioning established methods and systems, and engaging in open conversation and dialogue. Our methods are deeply collaborative. We seek to support unexpected creators, including those who may not receive institutional support due to social and economic systemic prejudices. We commit to a rigorous editorial process in our effort to produce work that takes risks and surprises and challenges the reader. 
ACCESS
Wheelchair Access and Disabled Toilets are available at this site.
This event is seated.
The room will be dark.
Please contact mail@southlondongallery.org with access requirements.