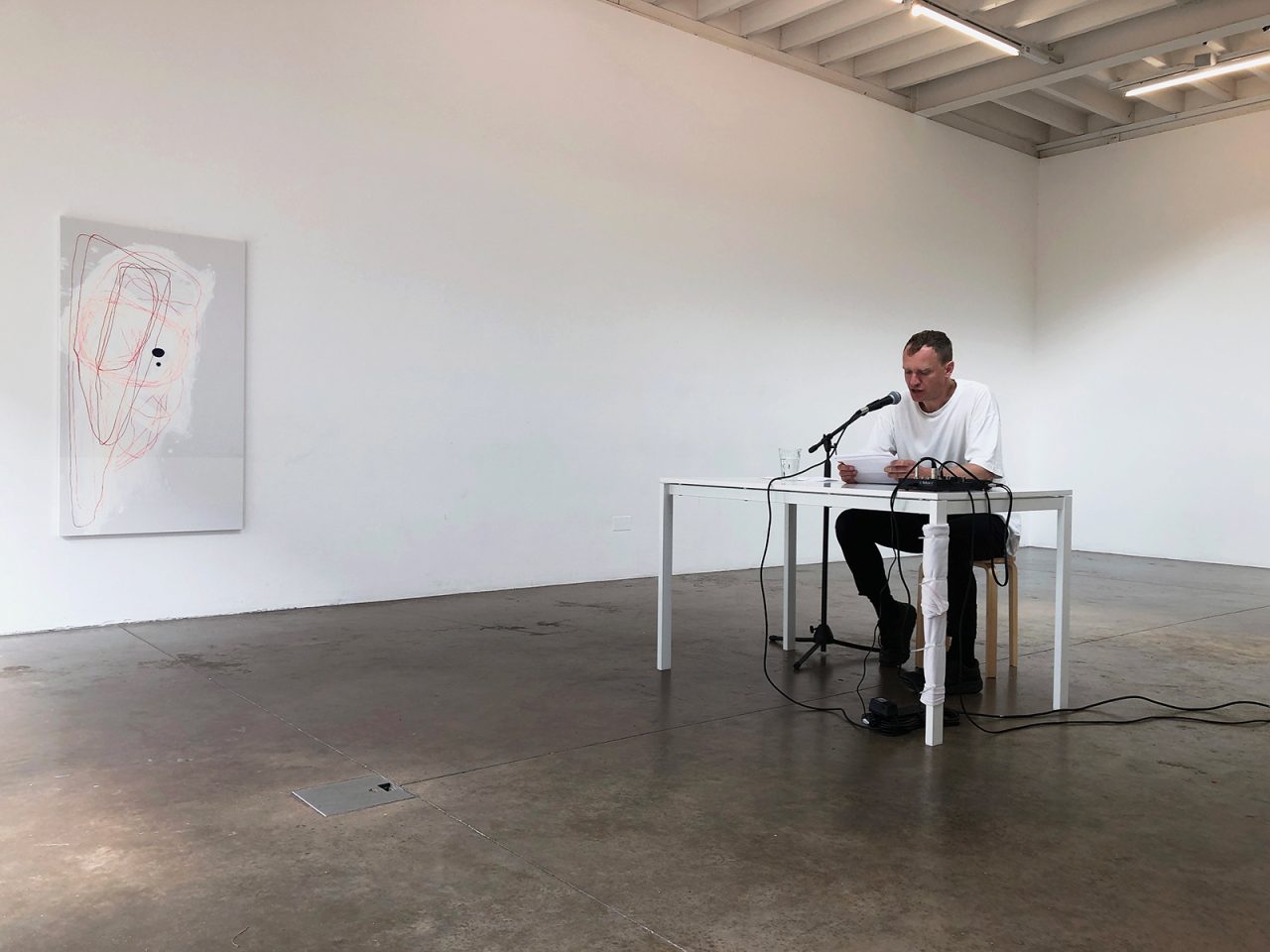 London- and Athens-based artist Jesper List Thomsen performs six readings of his text FREEEee (in progress) at a day-long event hosted in partnership with Parrhesiades, a multi-platform for artists working with language. Thomsen's hourly performance, part faux-lecture and part folk song, touches on concerns including the return of bling, the vernacular of the gym, inexorable futures, embodied agency and formative breathing. FREEEee (in progress) is a text Thomsen is developing in Paris under the stewardship of L'Esprit de L'Escalier.
Alongside these readings, Thomsen presents the painting 7dz7nax (2019). Its nine metre-long ink line, drawn and erased and redrawn indiscriminately, refers to the length of the average adult human digestive tract, starting from the mouth and ending at the anus. This first significant feature to form on the human embryo manifests in reverse to the function it later comes to serve.
Readings will take place on the hour at 12, 1, 2, 3, 4 and 5pm.
BIOGRAPHIES
Jesper List Thomsen is an artist and writer, and member of Am Nuden Da. Recent exhibitions and performances include BASE BASE etc., Hot Wheels Projects, Athens; A Talk in Two Parts with Painting, Grüner Salon, Volksbühne, Berlin; BASE BASE, Gasworks, London; A table made again for the first time, Bureau des Réalités, Brussels; A Social Body Event, Serpentine Gallery, London; Hollis and Money, ICA, London/ Künstlerhaus, Stuttgart; Hand and Mind, Grand Union, Birmingham; The boys the girls and the political, Lisson Gallery, London. A book-length collection of his texts was published by Juan de la Cosa/John of the Thing, Mexico City/London in 2018.
Parrhesiades is a multi-platform project, working with artists for whom language, either written, spoken or otherwise performed, is an important component in the construction of their work. As an online platform, a physical location in SE5, an annual reader and with institutional partners for live events and launches, Parrhesiades actively considers the circumstances and curatorial support such practices need and re-thinks the conditions of exhibition-making that this necessitates. No single aspect or route to the encounter with art is privileged as superior. Language, as an event, in its multiplicity, resides across all of Parrhesiades platforms equally.