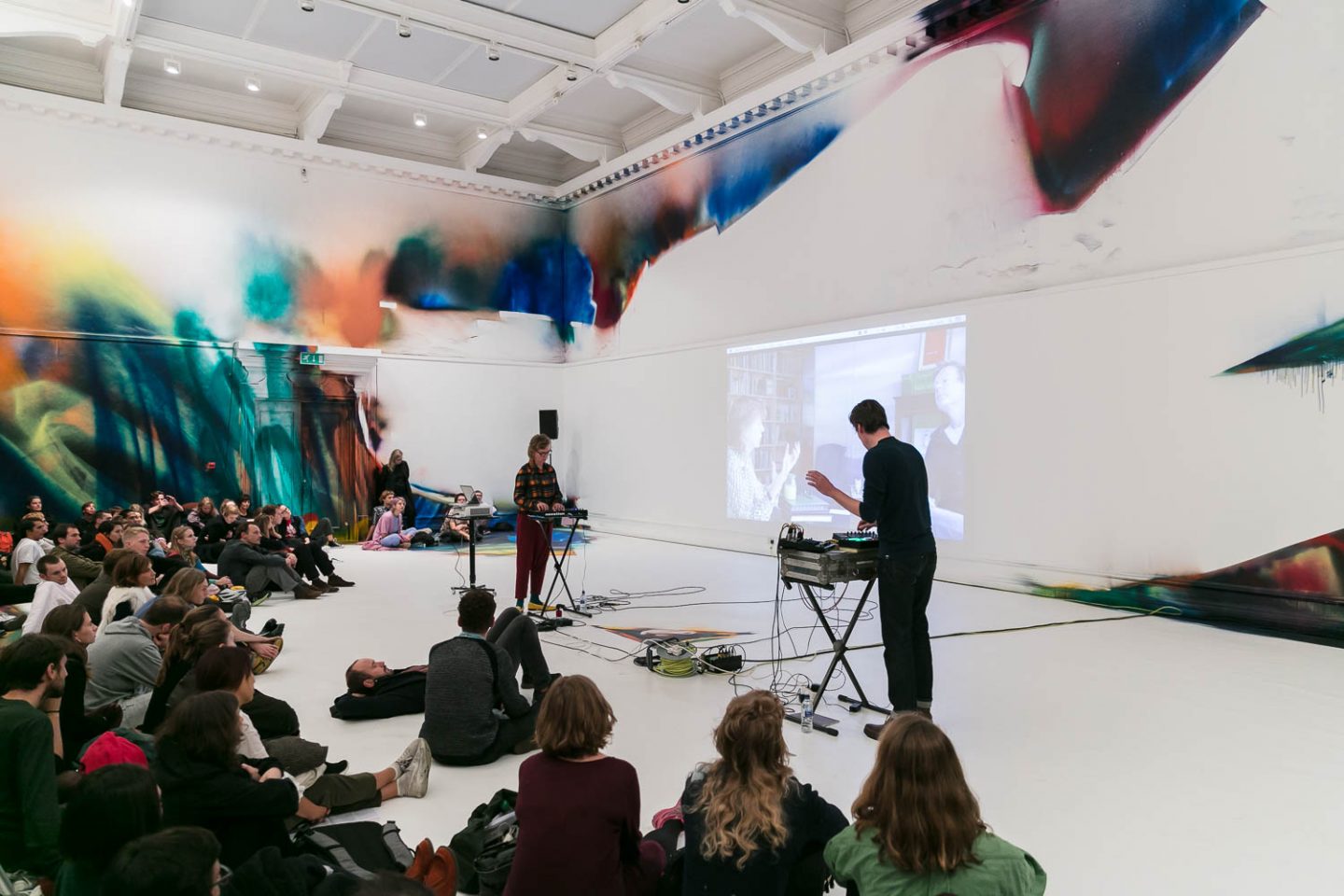 Katharina Grosse and musician Stefan Schneider (Kreidler, to rococo rot) present the UK premiere of Tiergarten, a performance based upon material from their recent collaborative LP named after the park in central Berlin. Playing together, the artists move between analogue synthesizers and spoken word, "interacting, communicating, contemplating, complementing each other through their instruments and intuitions".
BIOGRAPHIES

Katharina Grosse was born in 1961 in Freiberg, Germany, and now lives and works in Berlin. Her work has been featured in international solo and group exhibitions, as well as major arts projects and biennales. Grosse's most recent site-specific installations include Rockaway! for MoMA PS1's "Rockaway!" program (2016) and Untitled Trumpet for the 56th Biennale di Venezia (2015). Notable solo exhibitions include "Constructions à cru," Palais de Tokyo, Paris (2005); "Atoms Outside Eggs," Serralves, Museu de Arte Contemporânea, Porto (2007); "Hello Little Butterfly I Love You What's Your Name," ARKEN—Museum for Moderne Kunst, Copenhagen (2009); "Two younger women come in and pull out a table," De Pont Museum of Contemporary Art, The Netherlands; "WUNDERBLOCK," Nasher Sculpture Center, Dallas both (2013); "yes no why later," Garage Museum of Contemporary Art, Moscow (2015); and Museum Frieder Burda, Germany (2016).
Stefan Schneider (b.1961, lives and works Düsseldorf, Germany). Stefan Schneider has worked internationally as a musician and composer working primarily with electronic music since 1994. He is a founding member of the bands Kreidler (1994-99) and To Rococo Rot (1995-2014). Amongst his musical collaborations are those with Joachim Roedelius (Cluster), Dieter Moebius (Cluster), Bill Wells, Klaus Dinger (Kraftwerk, Neu!), Hauschka, Alexander Balanescu, St. Etienne, Arto Lindsay, Sofia Jernberg, Natascha Sadr-Haghighian and John McEntire (tortoise). Recent projects include music commissioned for Heinrich-Heine Allee, underground station, Düsseldorf (2016), the launch of the record label TAL (2016) and music for Dickicht, a theatre adaption of Berthold Brecht's Im Dickicht der Städte (2017). In 2016 he launched the record label TAL.