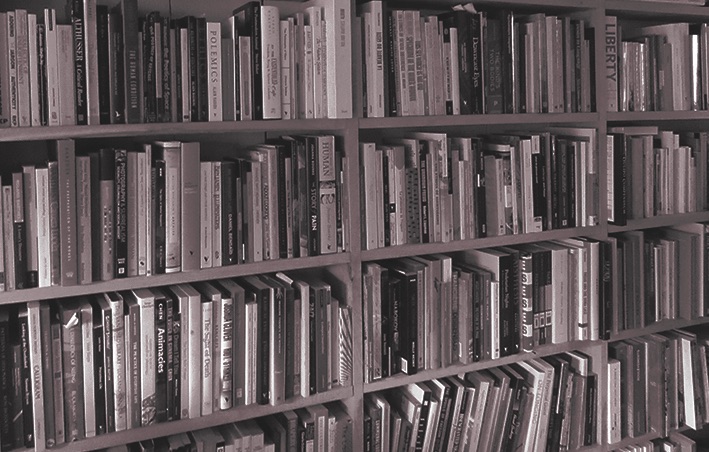 Join us for a book launch hosted by MA BIBLIOTHÈQUE, a not-for-profit publishing project by the artist and writer Sharon Kivland. At the SLG on 7 Dec, there will be six live readings by writers Murdo Macdonald, Timothy Mathews, Adrian Rifkin, Isabella Streffen and Simon Wortham in celebration of five new titles. Themes approached in the readings include: 
Museums and echoes,  
brutal meditations and the embrace of grief,
flirtations with library indexes and forgotten catalogues,
floating female bodies and silent protest,
the condition of narrative and slippery radiance 
The readings will run from at 6.30pm until 8:45pm with a 30 minute break at 7:30pm in the following order:
Isabella Streffen reading from FABULAE. HOW IT BEGINS
Murdo Macdonald reading from RUSKIN'S TRIANGLE
Timothy Mathews reading from THERE AND NOT HERE. CHRONICLES OF ART AND LOSS
Adrian Rifkin reading from FUTURE IMPERFECT
Simon Wortham reading from EARLY MASS
Isabella Streffen second reading from FABULAE. HOW IT BEGINS
Titles will be available to purchase on the night.
This event is free, but booking is advised.
In the South London Gallery Bookshop you'll find a curated selection of books, magazines, artists' editions, stationery and gifts. The Bookshop is committed to highlighting independent publishers and championing reading across all ages.
ABOUT MA BIBLIOTHÈQUE
MA BIBLIOTHÈQUE is a not-for-profit project by the artist and writer Sharon Kivland. The publications are modest yet attractive, and constitute her library, based on her purchase of a hundred ISBN numbers. In her role as The Editor, she invites authors she considers to be good readers, whom she would like to house in her library or to become her library, inhabited. She agrees with Nabokov that a good reader, a major reader, an active and creative reader, is a re-reader. She knows her writers and they know her, even when they have not yet met. They have read each other, or believe themselves to have done so. They are flirtatious, ruffling pages. She promises to do her best. The best is reading.
ACCESS
Event is seated.
Wheelchair Access and Disabled Toilets are available at this site.
For any other access requirements please email nadia@southlondongallery.org