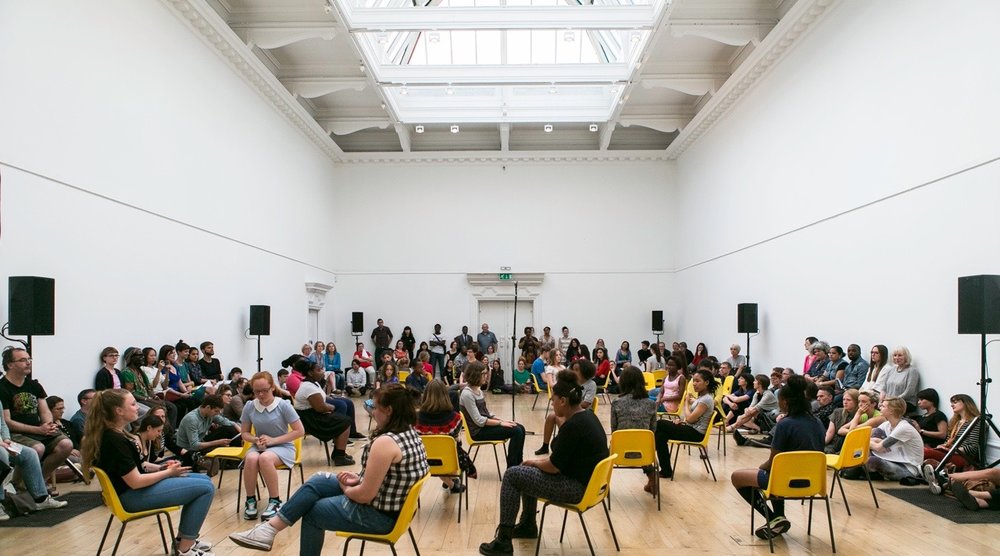 Composer Marina Rosenfeld presented the UK premiere of a sound installation and performance in the main gallery with the participation of local choirs including Centre for Young Musicians and Harris Academy Peckham.
Originally presented at MoMA in New York, Rosenfeld's dense composition for multiple voices within a complex of loudspeakers evoked the frequencies of the rainbow through translation and accumulation. Converting the common acronym roygbiv back into language, Rosenfeld exploited a series of plays on words and frequency, from the "blue" of 'R&B', to the possibility of reading letters r, o, y, and so on, as song lyrics, "Are…", "Oh…", "Why…". Participating choirs brought their voices and their own musical memories into a rich accumulation of song references, abstraction and unexpected spectralism.
Part of SLG Local which is sponsored by Bloomberg and also funded by the National Lottery through the Big Lottery Fund. 
Booking is essential. Book online or call 020 7703 6120.
Marina Rosenfeld is an American composer and artist based in New York. Known both as a composer of large-scale performances and an experimental turntablist working with hand-crafted dub plates, Rosenfeld has been a leading figure in the increasing hybridization between the domains of visual art and music. She has created solo, chamber and choral works, often mounted in monumental spaces, such as the Park Avenue Armory in New York and Western Australia's Midland Railway Workshops. In March 2014, the Orchestra of the Norwegian Navy premiered her first orchestral piece, distributed across the several galleries of the Bergen Kunsthall, for Norway's Borealis Festival. Recent solo projects include commissioned pieces for the Museum of Modern Art in New York; SPOR, Ultima, Wien Modern and Holland Festivals; and projects for the Liverpool, PERFORMA and Whitney Biennials. Rosenfeld studied Music at Harvard and the California Institute of the Arts. She joined the faculty of Bard College's MFA Program in Music/Sound in 2003 and has co-chaired the program since 2007.