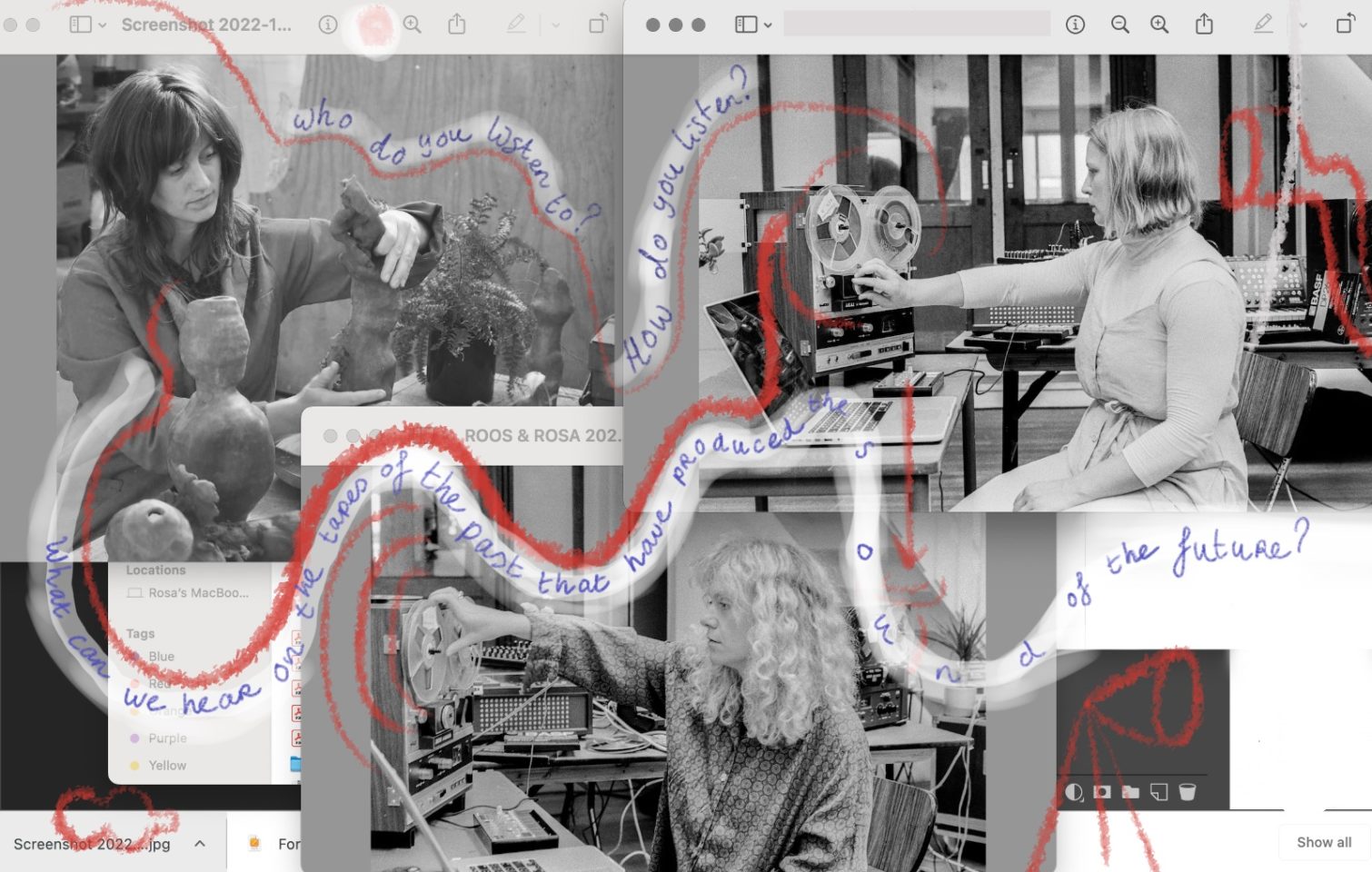 Artists exhibiting as part of Bloomberg New Contemporaries present a series of performances and participatory works across all of the spaces at the South London Gallery.
The event will have a focus on sound art and collective listening. Artists presenting include: Paola Estrella, Kneed – Ishwari Bhalerao and Leonie Rousham, bill daggs, Rosalie Wammes and Theresa Weber. Their works touch on themes in the exhibition such as the archive, storytelling and nostalgia. Together they explore whose voices are heard and who listens.
FULL PROGRAMME AND SCHEDULE
Paola Estrella
2:00pm, Clore Studio, Main Site (duration 15 min)
Expanding on the character of La Loca from the video A Timeless Parallel, the performance opens a portal to other ways of listening. La Loca communicates through rituals and intuition with dimensions that we can sometimes feel, but do not fully understand yet.
Theresa Weber
2:35pm, Clore Studio, Main Site (duration 20 min)
Moonlight Sonata is a collaborative lecture performance, which includes a sound piece by the sound artist Nathanael Amadou Kliebhan, and Theresa Weber's English and German readings. The work is an homage to Ludwig Van Beethoven. Most people do not know that Beethoven, as one of the idols within Western classic culture, had an ethnically mixed background. This is a powerful symbol that helps process Afro-German history and historical white washing.
Rosalie Wammes
3:10pm, Clore Studio, Main Site (duration 25 min)
In deep dark waves, sounds emerge in long pulsations from cracks in the earth – How do we listen and who do we listen to? This sound piece, a collaboration between Rosalie Wammes, Rosa Ronsdorf and Roos Pollmann, is an attempt to listen deeply to time, inspired by composer Éliane Radigue.
bill daggs
4pm, Main Gallery (duration 20 min)
spontaneous_sonic_eruptions is an improvisational investigation into an archive that dates back more than 20 years. The work explores the spectres of aural nostalgia, delays and the possibilities of time travel, sampling, loop [theory] and rhythmic hypnosis.
Kneed: Ishwari Bhalerao and Leonie Rousham
4:40pm, Fire Station, Attic (duration 55 min)
When you come, We Know we are Not Forgotten
We invite you to this Listening Tea Party, where we will be sharing a sound piece made in a North London care home, in collaboration with elderly residents, care professionals Cathy and Lynda and Magic Me. In response to the difficult covid years, this soundscape, filled with karaoke and storytelling, documents the care home as a space of imagination and is a celebration of the intimacy and tenderness of care work.
This event forms part of New Contemporaries Bridget Riley Artists' Professional Development Programme.