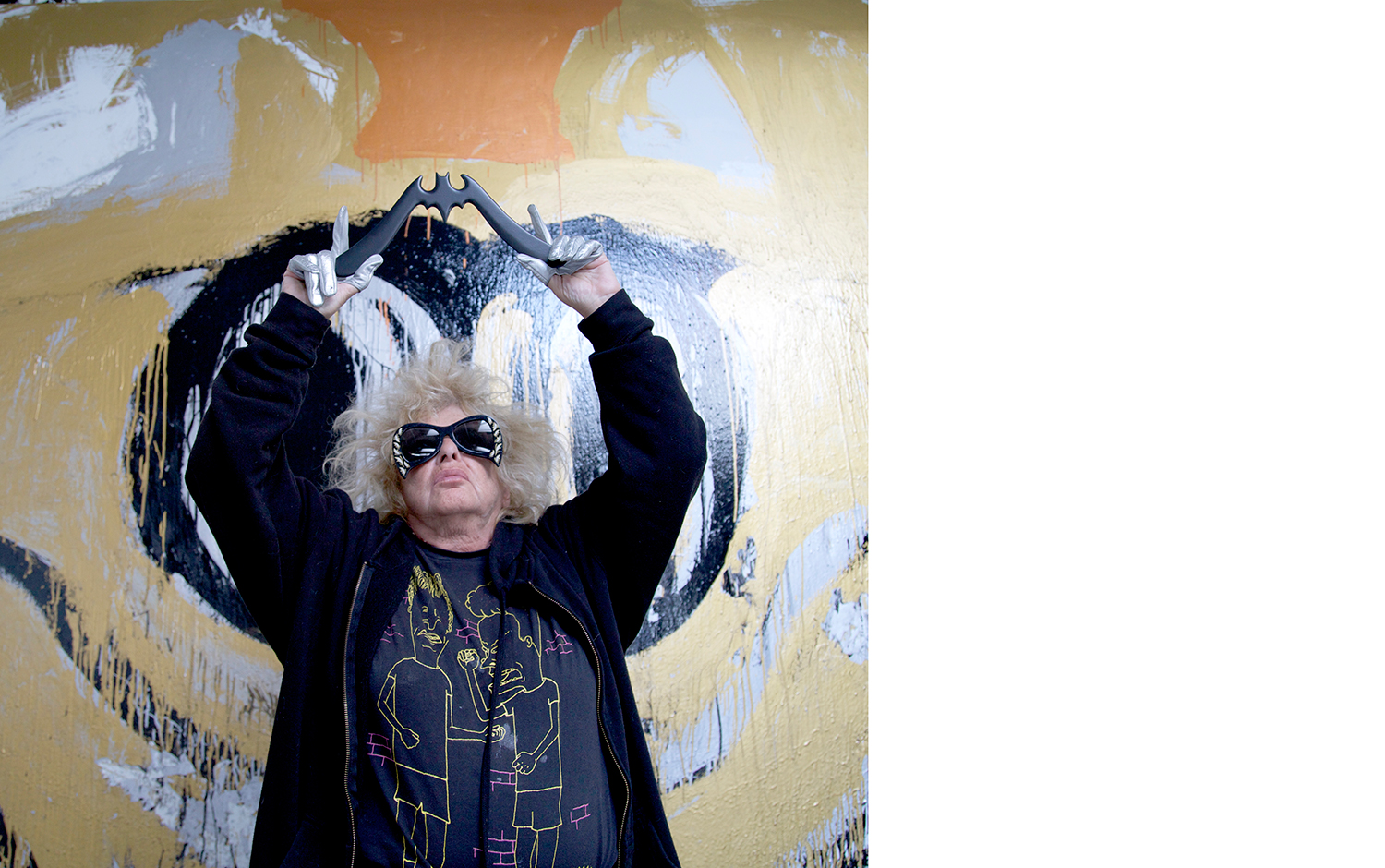 Camberwell College of Arts, Peckham Road Lecture Theatre
Joyce Pensato discusses her practice and Take Me to Your Leader, her most recent commission and largest work on paper to date, with editor, journalist and lecturer Gilda Williams. Pensato paints images of distorted cartoon characters and comic-book heroes that are both funny and sinister. Take Me to Your Leader has been created specially for KNOCK KNOCK, the opening show across the South London Gallery's new annexe in the former Peckham Road Fire Station and the Main Gallery, where the work is installed.
open—talks is a series of talks conceived by the SLG and Camberwell College of Arts offering an alternative curriculum that synthesises the current interests and research focus of both institutions.
Biographies
Joyce Pensato was born in 1941 in Brooklyn, New York, where she continues to live and work. Solo exhibitions include Museum of Contemporary Art, Chicago, IL, USA (2016); Kunstraum Innsbruck, Innsbruck, Austria (2016); Modern Art Museum of Fort Worth, TX, USA (2015); High Museum of Art, Atlanta, GA, USA (2014); Santa Monica Museum of Art, Santa Monica, CA, USA (2013); and Contemporary Art Museum St. Louis, MO, USA (2013), as well as recent group exhibitions at Wexner Center for the Arts, Columbus, USA (2017); Whitney Museum of American Art, New York, USA (2017); Aïshti Foundation, Jar el-Dib, Beirut, Lebanon (2016); Kunsten Museum of Modern Art Aalborg, Denmark (2016); and 'Empire State', curated by Alex Gartenfeld and Sir Norman Rosenthal at the Palazzo delle Esposizioni, Rome (2013). Pensato's work is in the permanent collections of the Museum of Modern Art, New York, NY, USA; SFMoMA, San Francisco, CA, USA; the Hammer Museum, Los Angeles, CA, USA; the Dallas Museum of Art, TX, USA; St Louis Art Museum, MO, USA and the FRAC des Pays de la Loire, France. She has won numerous awards including the Robert de Niro, Sr. Prize (2013), the Award of Merit Medal for Painting, given by the American Academy of Arts and Letters (2012), the Pollock-Krasner Foundation Award (1997) and the Guggenheim Fellowship (1996).
Dr Gilda Williams, editor, journalist, Goldsmiths lecturer on the MA Curating course and author of Writing About Contemporary Art. Gilda Williams is interested in the collective process — among artists, curators, art writers, gallerists, academics, collectors, museums and more — which results in the production of discourse in art. She sees her role in this process as a critic, teacher, editor and researcher of contemporary art. Williams has taught at Goldsmiths since 2008. She was Editor and Commissioning Editor (from 1997) for Contemporary Art at Phaidon Press 1994-2005, where she commissioned the 'Contemporary Artists' monographs, 'Themes and Movements' series of anthologies, and other books including Salon to Biennale: Exhibitions that Made Art History (2008). She is a London correspondent for Artforum, and has written for Art Monthly, The Guardian, Sight & Sound, Burlington, frieze and many more