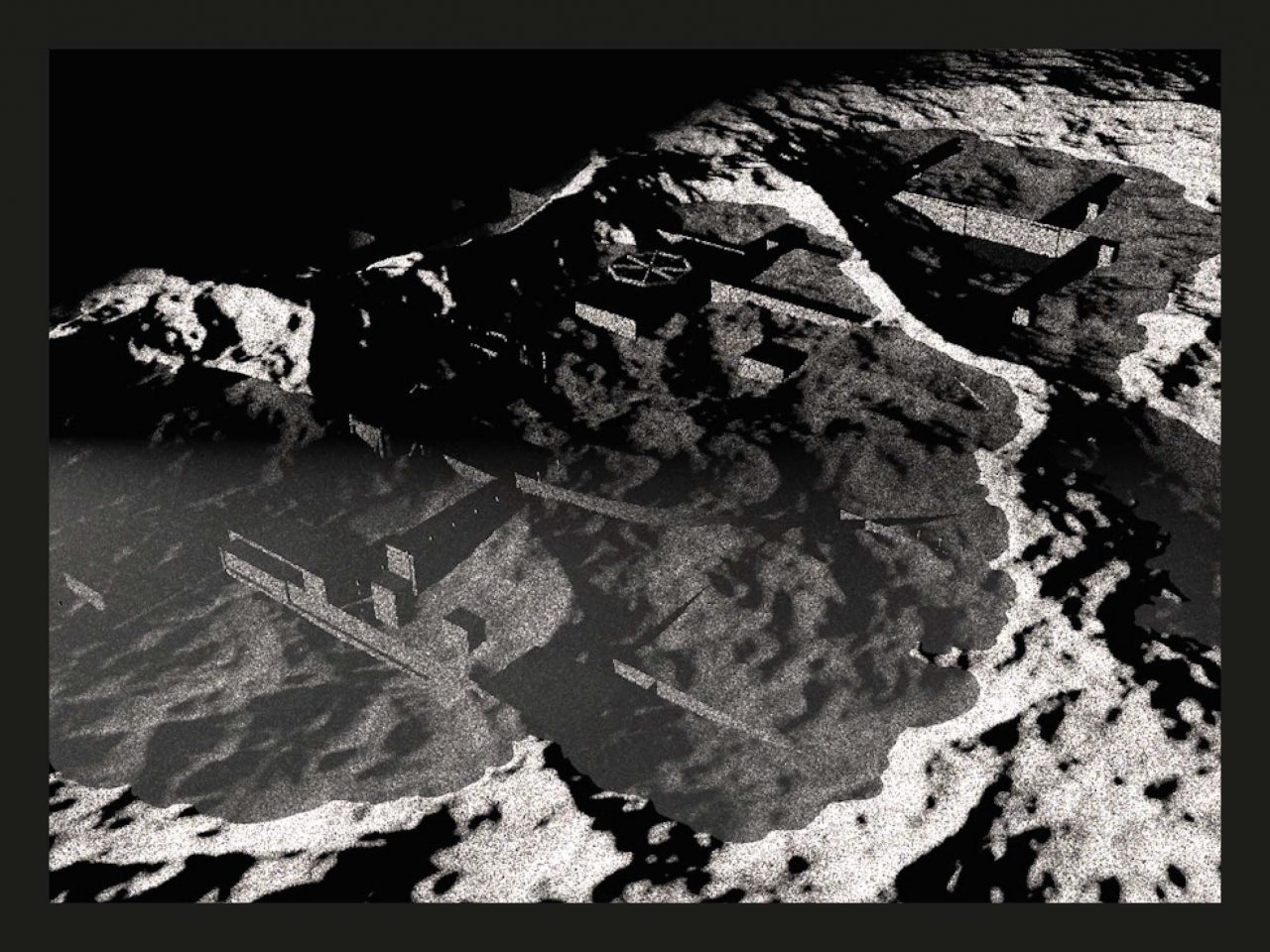 Silent Echoes is a new video installation and live performance by Dutch artist Dorine van Meel. Silent Echoes presents the viewer with a dystopian vision of a future, implying an unfolding ecological catastrophe. Projected on the gallery walls, images of industrial tools and corporate objects appear in distorted shapes, as silent echoes of a past, in which the course of history has not been reversed.
On 29 June at the South London Gallery, the video is accompanied by a soundtrack, produced and performed live by composer Sami El-Enany and recorded spoken word performances by artists, writers and activists Khairani Barokka and Dr. Jamaica Heolimeleikalani Osorio, as well as a live reading by van Meel. Their powerful stories and poems speak of resistance, endurance and cohabitation, and offer a hopeful view for our world in the face of apocalyptic themes relating to the climate crisis and uncertain futures. 
And darkness arrives early,
but who is there to witness.
The approaching shadows play,
a gentle dance of planets. 
BIOGRAPHIES
Dorine van Meel (1984) is a Dutch artist whose practice takes the form of video installations, performances, discursive projects and long-term collaborations. In her video work, digitally produced images are combined with composed soundtracks and texts read by the artist as well as other female narrators. Van Meel's solo work has been shown at the 10th Berlin Biennale for Contemporary Art (Berlin), the South London Gallery (London), W139 (Amsterdam), Transmediale (Berlin), Nottingham Contemporary (Nottingham), KW Institute for Contemporary Art (Berlin). In 2014 she became the fourth recipient of the Nina Stewart Artist Residency at the South London Gallery. She teaches at the Sandberg Instituut, the Rietveld Academie in Amsterdam and BARD College in Berlin. Her interest in discursive practices, feminist methodologies, and self-organised forms of collaborations is reflected within the collective projects she initiates. These include "A Farewell to progress" at KW in Berlin and the South London Gallery, "Decolonial Futures" together with Simangaliso Sibiya, Phumzile Twala, Ibrahim Cissé at the Sandberg Instituut and Framer Framed in Amsterdam, and, together with Rianna Jade Parker, "Gentle Dust" at Jupiter Woods in London and the Berlin Biennale X.
Sami El-Enany is a British Egyptian artist who works with sound, often negotiating the fringes of modern classical, electronica and field recording. His practice ranges widely from composition and sound design for screen, radio art, game design and record production. Recent works include Deadly Structures – a sound-only first-person exploration videogame produced by the ICA and the BBC, the film score for Walking With Shadows -the first LGBTQ+ Nollywood feature film ever made, and his debut album Opix, released on the London based Faith and Industry record label. His work has filled spaces including the Barbican, the National Theatre and the Tate and been recognised at the Africa Movie Academy Awards, BBC Drama Awards and the Audio Production Awards.
Khairani Barokka is a Minang-Javanese writer and artist from Jakarta, based in London, whose work centres disability justice as anticolonial praxis. She often focuses on ableist racism and patriarchy as affective flows in contemporary colonial violences, including in the fine art world and archives. Okka is the new incoming Editor of Modern Poetry in Translation, and previously worked at University of the Arts London. She holds a PhD by Practice in Visual Cultures from Goldsmiths, as an LPDP Scholar, and a Masters from NYU's Tisch School of the Arts, in their new media program, where she was a Tisch Departmental Fellow. Among her honours, she has been Modern Poetry in Translation's Inaugural Poet-in-Residence, a UNFPA Indonesian Young Leader Driving Social Change for arts practice and research, an Artforum Must-See, and Associate Artist at the National Centre for Writing (UK). Recent commissioners include Serpentine Galleries, Southbank Centre, and Wellcome Collection. Her books include Rope (Nine Arches), Indigenous Species (Tilted Axis), and, as co-editor, Stairs and Whispers: D/deaf and Disabled Poets Write Back (Nine Arches). Her most recent book is poetry collection Ultimatum Orangutan (Nine Arches), shortlisted for the Barbellion Prize.
Dr. Jamaica Heolimeleikalani Osorio is a Kanaka Maoli wahine artist / activist / scholar / storyteller born and raised in Pālolo Valley to parents Jonathan and Mary Osorio. Jamaica earned her PhD in English (Hawaiian literature) in 2018 from the University of Hawaiʻi at Mānoa. Currently, Jamaica is an Assistant Professor of Indigenous and Native Hawaiian Politics at the University of Hawaiʻi at Mānoa. Jamaica is a three-time national poetry champion, poetry mentor and a published author. In 2020 her poetry and activism were the subject of an award-winning film, This is the Way we Rise which premired at Sundance Film Festival in 2021. In 2022 she was a lead artist and Co-writer of the revolutionary VR Documentary, On the Morning You Wake (To the end of the world), that premiered at Sundance Film Festival 2022 and won the XR experience Jury award at SXSW 2022. She is a proud past Kaiāpuni student, Ford Dissertation (2017) and Post Doctoral (2022) Fellow, and a graduate of Kamehameha, Stanford University (BA) and New York University (MA). Her book Remembering our Intimacies: Moʻolelo, Aloha ʻĀina, and Ea was published in 2021 by The University of Minnesota Press.
ACCESS
The room is dark

 

There will be seating and floor cushions

 

The script will be available in print