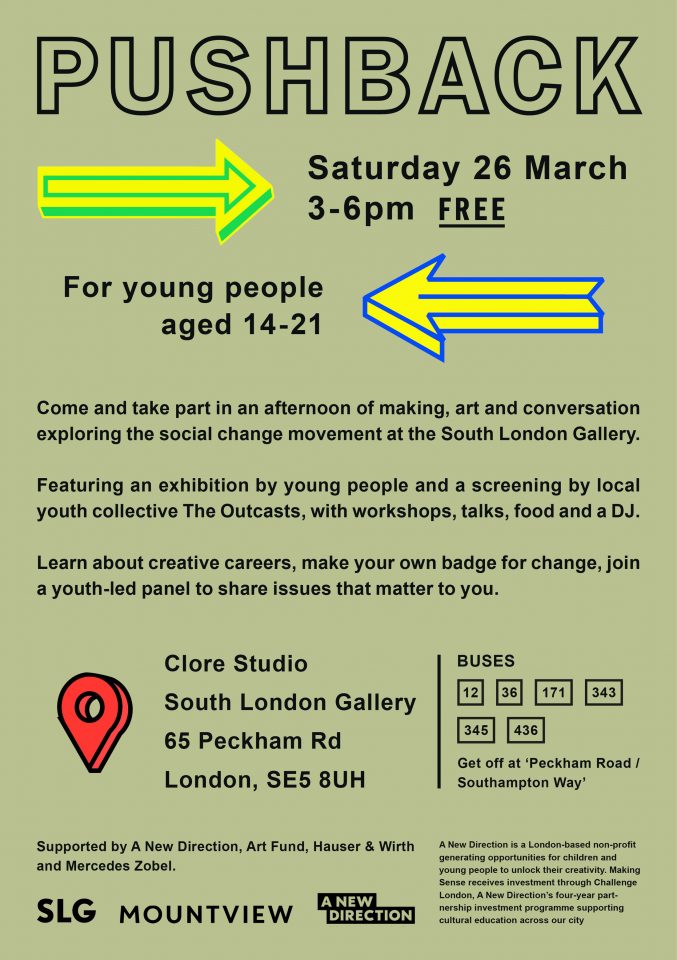 Come and take part in a free afternoon of making, art and conversation exploring the social change movement at the South London Gallery. 
Featuring an exhibition by young people and a screening by local youth collective The Outcasts, with workshops, talks, food and a DJ Collective BORN n BREAD, an all-female DJ collective from Peckham.
Learn about creative careers with Ollie Olanipekun, founder of digital creative agency Futurimpose, Shannie Mears, co-founder of The Elephant Room and Tyreis Holder, artist and poet.
Make your own badge for change and join a youth-led panel to share issues that matter to you. 
For young people aged 14-21.
BIOGRAPHIES
Ollie Olanipekun is a Creative Director based in north-east London. He is the founder of award-winning creative agency Superimpose / Futurimpose and has social responsibility at the core of his work. Empowering individuals and communities throughout his career, Ollie is committed to supporting this audience as well as building smoother pathways into the creative industries for the next generation of 'non-traditional' creatives. Ollie is also a founder of Flock Together, the UK's first birdwatching collective for people of colour. 
Tyreis Holder is an artist, poet and visual storyteller from South London with heritage reigning from Jamaica / St Vincent. She works heavily in mediums pertaining to installation, textiles, performance, poetry, sculpture and sound. Her practice centres around explorations of self and identity, the relationship with the mind, particularly with regards to navigating colonial spaces. Her primary grounds for exploration looks at how textiles pose as poetic language, functioning as a healing device – specifically in regards to trauma experienced by Black women.
Shannie Mears is Head of Talent at The Elephant Room, a creative advertising agency addressing the industry's lack of diversity – the 'elephant in the room'. Shannie co-founded the agency in 2017 when she was still an intern at global advertising agency, Iris Worldwide, with co-founder and former Iris CEO Dan Saxby. Since then, Shannie has worked with a number of global brands including Uber, Converse, Chivas, and Disney, to name a few. She has been named Management Today's 35 under 35 Young Woman in Business as well as Oystercatchers Champion for Change. She is a visiting lecturer at Kingston University, and previously sat on the Race Disparity Advisory Board at No.10.