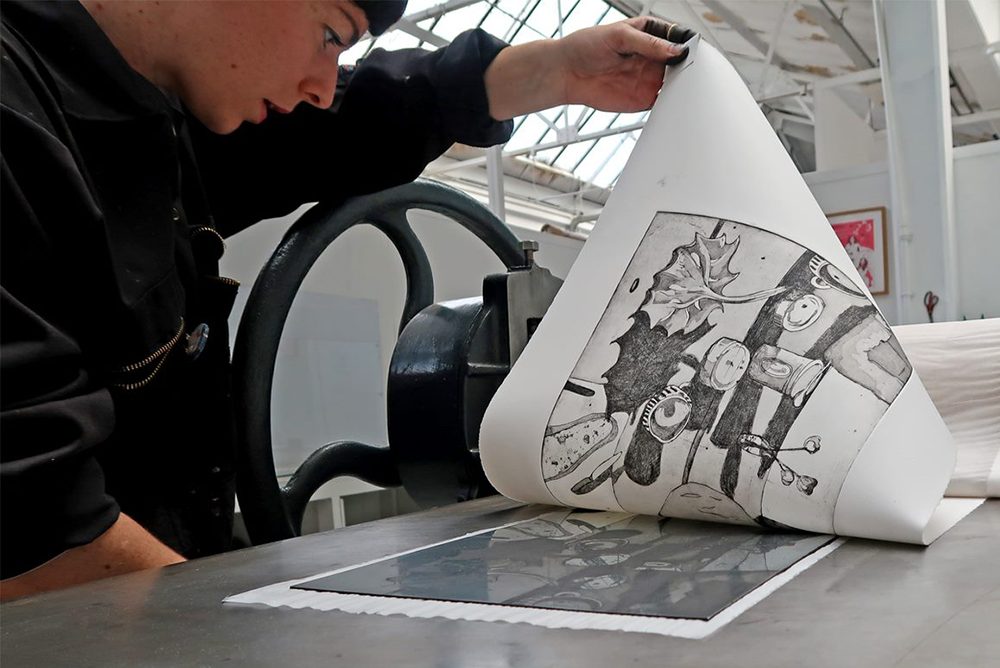 Fire Station Gallery, Attic
This 6 week course provides students with an introduction to intaglio printmaking. The opposite of relief printing, the intaglio technique is where marks are made by incising into the printing plate. At the end of the 6 weeks the students will have produced 8-10 prints that showcase the progression of techniques they have learnt.
Techniques include:
• how to ink up a plate
• how to use an etching press
• line techniques used by master printers to build depth, tone and contrast
• how to use etching and roulette tools effectively to manipulate areas of tonal contrast on surfaces
The course is led by Rebecca Danning from Art Hub Studios.
ACCESS
• Each session is two hours long.
• Seating is available.
• The workshop involves hands-on making. It is low noise.
• The event takes place on the third floor which is accessible via a lift.
• Ear plugs, ear defenders, magnifying glasses and wheelchairs are all available.
Concessions are available for SLG Members, students, over 60s, unwaged and disabled visitors. Proof or ID for each concession will need to be shown upon collection of tickets.
Please note, all tickets purchased through the South London Gallery's website are non-refundable. We therefore ask you to please double-check your availability before purchasing any tickets. In the case of an event being cancelled we are able to offer a refund.