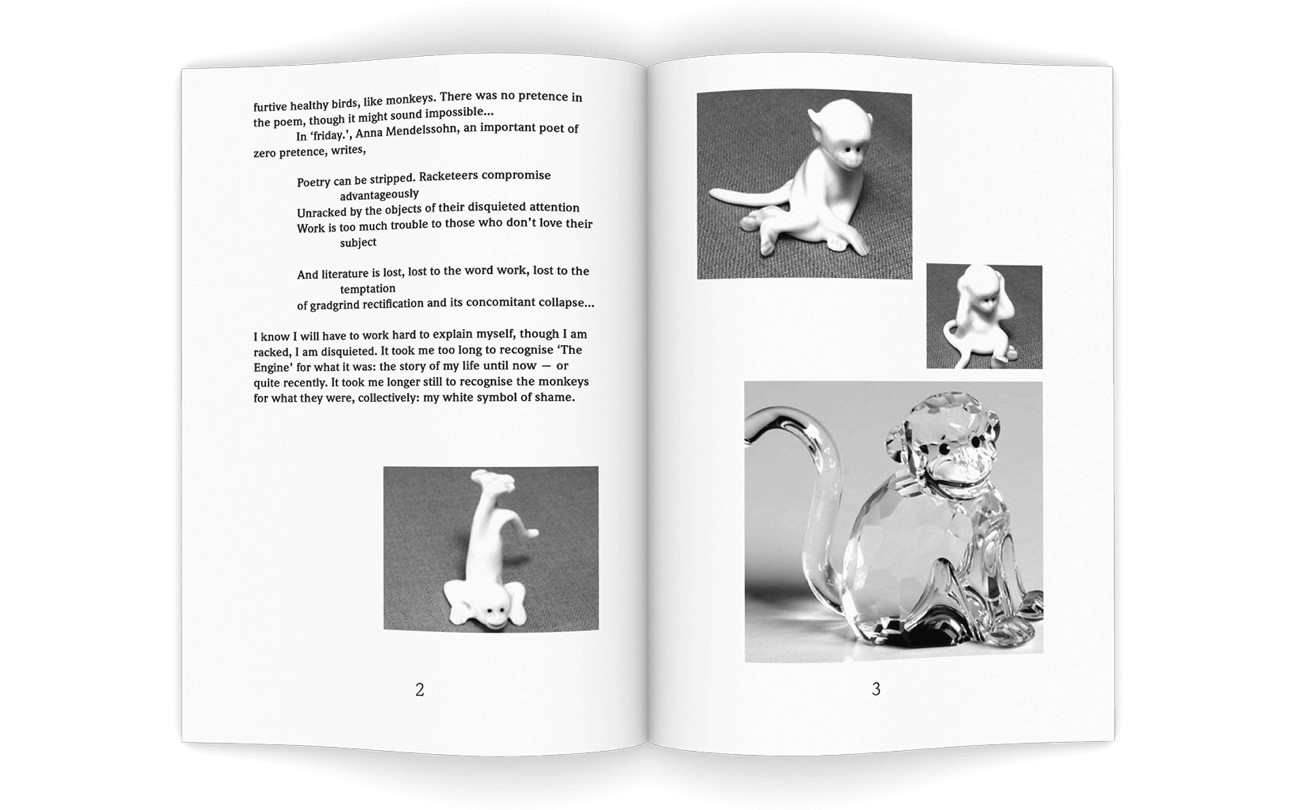 Join us for the launch of small white monkeys (Book Works, 2017). With readings from Sophie Collins, Megan Nolan, and Rachael Allen.
small white monkeys by Sophie Collins is a fragmented essay, including poems and images, on self-expression, self-help and shame. Beginning with the image of the small white monkeys, the text examines the author's relationship with shame through a series of short studies on, amongst other things, cats, hair as a metonym for the self in poetry and fiction, and perceptions of sexual violence.
Made through research into Glasgow Women's Library's Archive Collections and Lending Library, small white monkeys incorporates material from the library's archives and the work of female creators past and present, including Anna Mendelssohn, Jean Rhys, Selima Hill, Adrian Piper, June Jordan, Denise Riley, Carolee Schneemann, Vahni Capildeo and Veronica Forrest-Thomson.
This event is fully booked. If you would like to be added to the waiting list, please contact mail@southlondongallery.org.
BIOGRAPHIES
Sophie Collins is co-editor of tender, an online arts quarterly, and editor of Currently & Emotion (Test Centre, 2016), an anthology of contemporary poetry translations. Following small white monkeys, her latest publication is a debut collection of poems, Who Is Mary Sue?(Faber & Faber, 2018).
Megan Nolan is a widely published writer of essays, fiction and reviews. Readings and performances have been commissioned across the U.K. and Ireland, including at the Irish Museum of Modern Art, Cubitt, and Wysing Arts Centre. Her work has also appeared internationally, at Hyper Local Festival in Buenos Aires and the Sandberg Institute's 'Wandering School' in Milan. She is currently working on her first book of creative non-fiction concerned with the subjection of female identity in romantic relationships and body dysphoria.
Rachael Allen is the poetry editor at Granta, co-editor at the poetry press Clinic and of online journal tender. A pamphlet of her poems was published as part of the Faber New Poets scheme, and her first collection will be published by Faber in 2019. She is the recipient of an Eric Gregory award and New Writing North's Andrew Waterhouse award.