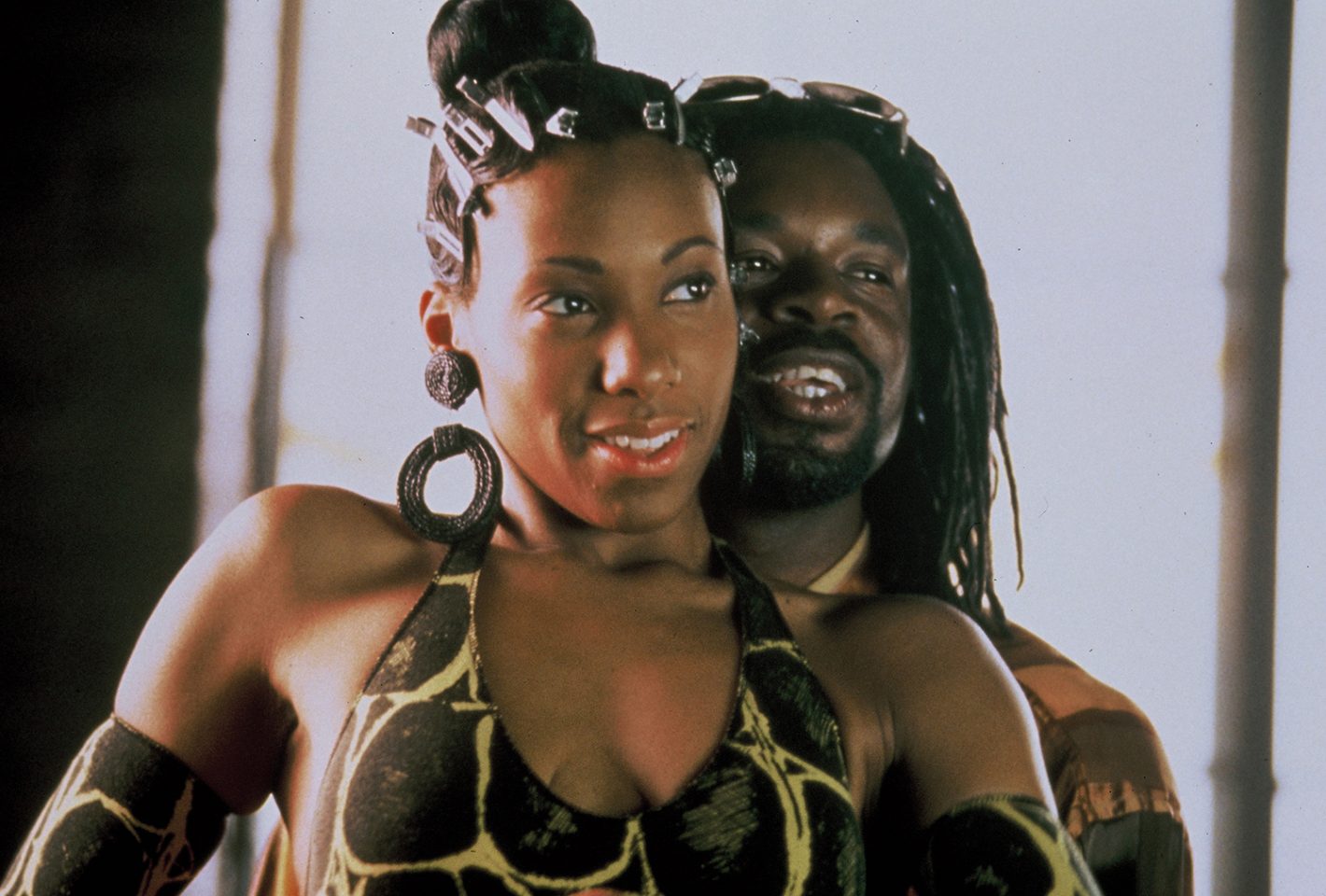 Babymother (1998) is an energetic declaration of British Caribbean Dancehall culture, and is widely considered to be the first Black British musical. The film is alive with the vibe of late-1990s Black British youth culture, set in the heart of north west London. 
In Jamaican Patois, a woman who is a 'babymother' has a special status for the child's father. The film follows Anita, (Anjela Lauren Smith) who has style, energy and attitude, with an ambition to become the local Dancehall star. Before she can triumph on stage, she has to prove herself– and she has some growing up to do along the way. 
The screening is introduced by lead actor Anjela Lauren Smith, with the Curator of South by South, Tega Okiti. 
BIOGRAPHIES
Tega Okiti is a writer and independent film and moving image programmer. Currently based in London, Tega is completing a practice-based Master's thesis exploring the concept of fugitivity from the Black Radical Tradition. Tega has programmed and delivered exhibitions at LUX, BFI London Film Festival, Film Africa and No Direct Flight.  
Julian Henriques has credits as a writer-director for the feature film Babymother, a ragga musical, the improvised short drama We the Ragamuffin and as a producer with numerous BBC and Channel Four documentaries; a sound artist with the sculpture Knots & Donuts at the Tate Modern and performances at the International Dub Gathering and other festivals. He was a founding editor of the Ideology & Consciousness journal and an author with others of Changing the Subject and author of Sonic Bodies and Sonic Media (forthcoming). Henriques is a Professor in the Department of Media, Communications and Cultural Studies Dept, Goldsmiths, University of London where he convenes the MA in Cultural Studies and he is Principal Investigator of the ERC Sonic Street Technologies research project.   
Parminder Vir OBE is an expert on African entrepreneurship and partnership development, an award-winning film and television producer, and an advocate for arts and culture. While at the Tony Elumelu Foundation as the CEO from 2014 – 2019, she designed and implemented an ambitious Pan-African, holistic entrepreneurship programme, providing training, mentoring, seed capital, access to networks and markets, impacting over 10,000 African entrepreneurs across 54 African countries. For over two decades she enjoyed a distinguished career as a film and television producer with BBC, Carlton Television, as well as the CEO of her own production company, Formation Films through which she produced Babymother. She has served as a non-executive director for the Department of Culture and Sports, the UK Film Council and the UK India Business Council. In 2002, she was awarded an OBE for services to the broadcasting and film industry.
Anjela Lauren Smith is a British Actress/Writer whose career in entertainment spans 30 years. Anjela was at the forefront of British Fashion as a model during the 90s and also performed as a dancer with groups such as Soul II Soul,  Paul Weller, Lucas  and toured with Jazz funk band Barrie K Sharpe & Diana Brown. Anjela is most recognised for Anita, the lead character in the Film4 feature Babymother,  for Greenwich Meantime/G:MT and Guy Ritchie's Revolver. Babymother is heavily cited as one of the top Black British Films. Anjela's repertoire includes Musical-Drama, Comedy and Crime Thrillers. She has also worked behind the scenes as a production assistant, casting assistant and casting director on music videos including Grammy winning Best video 'Swallowed' (Bush) and 'Wannabe' (Spice Girls). Recent work includes the BAFTA nominated LGBTQ film One to One and playing Dinah Wilson in EastEnders in a storyline where her character suffers from MS. Anjela has produced and written 2 short films and has worked voluntarily in her community for the last 15 years with young people, the homeless and currently for a Disability charity.
ACCESS
Film rated 15.
Wheelchair – Wheelchair Access and/or Disabled Toilets are available at this site. 
Please contact lily@southlondongallery.org with access requirements.
The film is captioned.
Run time is 82 mins.