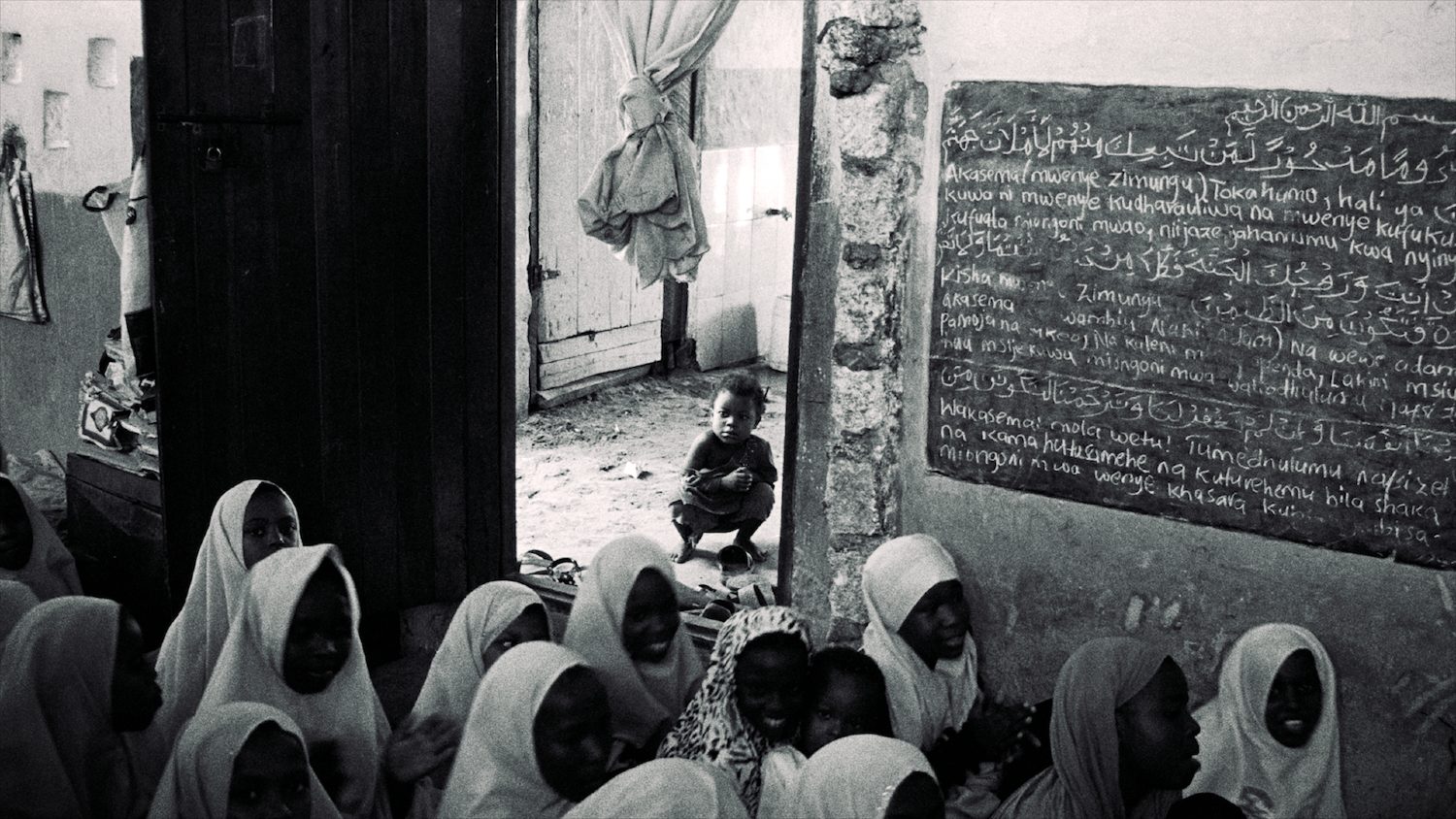 Join us for this evening of South by South film screenings, selected by New Contemporaries artist Zethu Maseko.
Zethu has chosen films that explore identity through spirituality and interconnectedness with the land. The central film New Moon follows filmmaker and photographer, Philippa Ndisi-Herrmann as she embarks on a journey to the stone town of Lamu. A gigantic port project threatens to disrupt the natural rhythm of the Island off the coast of Kenya, however there is also disruption within Philippa's new internal spiritual awareness.
Ndisi-Herrmann tackles the contradictions of being a liberal woman embracing Islam and grappling with the complexities of her chosen faith. Her search takes her to Raya and her young son, Ahmed. In their home she finds a narrative anchor and a more personal entry point into the mysteries of Lamu. Fragments of Lamu life unfold like chapters in a book: a man scaling a fish, children bathing by a dock, a baptism, a visual diary of a woman not entirely sure of where she is headed.
These themes along with ancestry, Afrofuturism and mythology run throughout the screening.
Running order
Tebogo Ribane and Kokona Ribane, Celestial Being / Remembrance of Our Divinity, 2 min 18 sec
Zethu Maseko, Ukudansa, 3 min 23 sec
Philippa Ndisi-Herrmann, New Moon, 71 min
Tebogo Ribane, Kokona Ribane and Zethu Zizwe Ruby Maseko, Zuggans, 2 min 28 sec
Access
All films by Tebogo and Kokona Ribane are subtitled and a transcript of the film New Moon is available, please email lily@southlondongallery.org

The 

screening

 will last one hour and 

20 minutes

 
ABOUT
South by South is the SLG's quarterly programme of bold and innovative cinema from Africa and the diaspora.
Tebogo Ribane and Kokona Ribane are part of the Dear Ribane Creative Collective along with their sibling Manthe Ribane. Together they combine design, fashion, performance, music and dance to create immersive shows that have been performed to audiences worldwide. As a production company, they have worked on international campaigns for leading global brands. They are based in Johannesburg, South Africa.
Philippa Ndisi-Herrmann considers herself a griot using the medium of film. Born in Bonn, West-Germany, and raised beneath the tall, tall trees of Nairobi, Kenya, Philippa works within fiction, documentary and film essays. Fascinated by childhood, memory and ancestry, she believes that through empowering our stories, we honour our lineage and venerate the cosmos that supports us. Her films have screened at numerous film festivals worldwide including Kurzfilmtage Oberhausen and Clermont-Ferrand. Philippa is best known for Seeds, winner of The Ecumenical Jury Prize at Internationale Short Film Festival Oberhausen 2017 and New Moon, winner of Best Documentary at Oscar Qualifying, Durban International Film Festival 2018. An alumna of Berlinale Talents 2016, IDFA Summer School 2013 (Amsterdam), Produire au Sud (Nantes), she is also a fellow of RAW Académie 2016 (Dakar). Philippa is based in London.
Zethu Maseko's work explores ancient and contemporary mythology in relation to identity. She practises indigenising her internal and external conversation around the human experience, specifically concerning water and interconnectedness with the land. She works across performance, film, costume, tapestry, sound and often delivers workshops. Zethu describes herself as a cultural worker, artist, curator and is founder and practising member of North London Creative Resistance. She graduated from Goldsmiths, University of London in 2020 with a First Class BA (Hons) in Fine Art and on graduating was awarded the Nicholas and Andrie Tooth Travelling Scholarship and selected for New Contemporaries 2020.