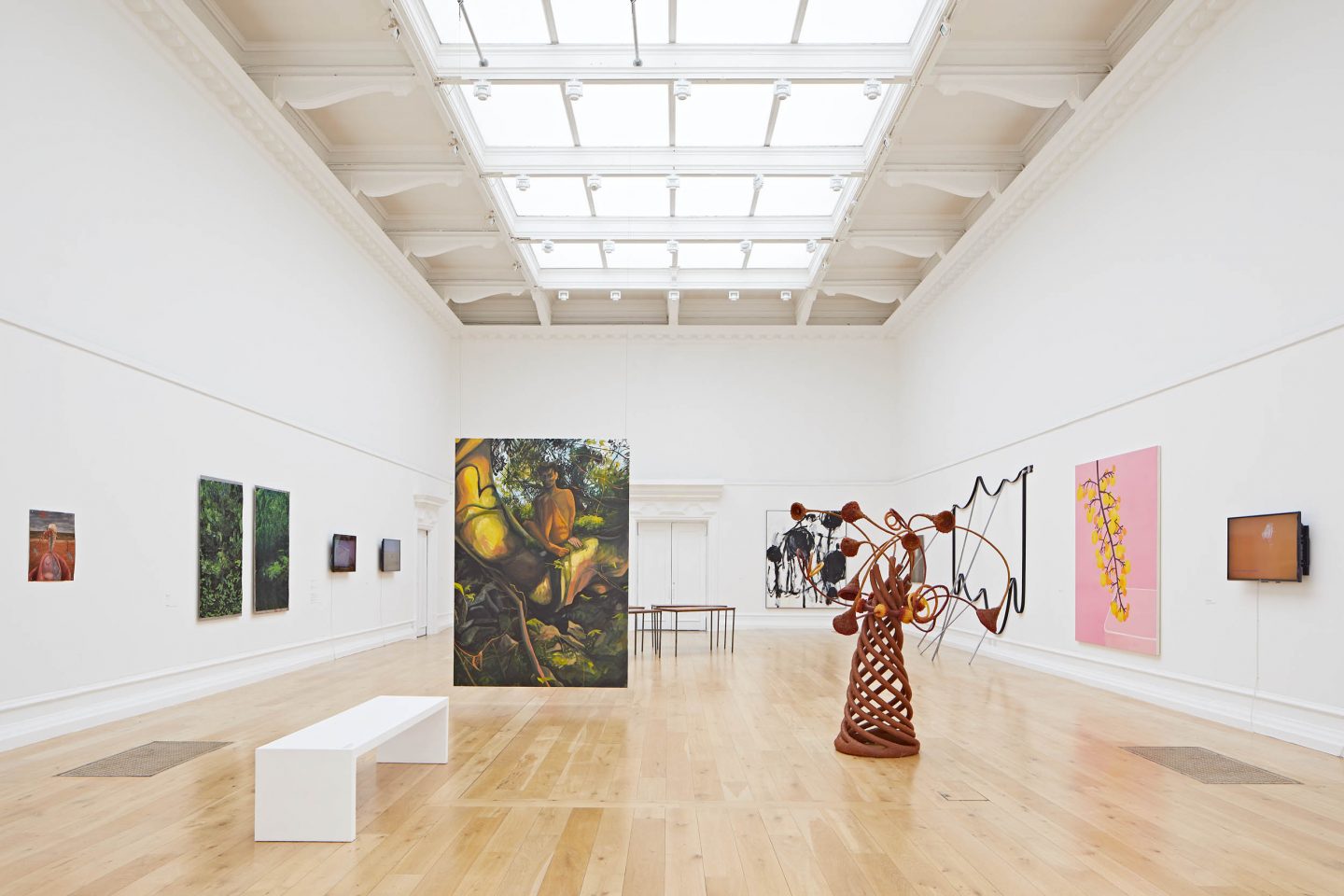 Free exhibition
Main Gallery & Fire Station Galleries
The annual open submission exhibition returns to the South London Gallery for the third consecutive edition, offering a preview of some of the most exciting practices of the next generation.
The 36 emerging artists were selected from over fifteen hundred applications by a panel of guest selectors, which this year included internationally renowned artists Alexandre da Cunha, Anthea Hamilton and Linder.
On show are works that include drawing, painting, sculpture, installation, sound and moving image.
The artists selected for Bloomberg New Contemporaries 2020 are: Sangbum Ahn, Ned Armstrong, Paul Barlow, Alexandre Canonico, Chen Sizuo, Nicole Coson, Gabriella Davies, Lúcás Dillon, Ufuoma Essi, Jake Grewal, Clara Hastrup, Nimmi Hutnik, Lily Kemp, Maria Mahfooz, Zethu Zizwe Ruby Maseko, Rene Matić, Cat McClay and Éiméar McClay, Liam Mertens, Edwin Mingard, Kimie Minobe, Karabo Monareng, Pablo Paillole, Jung Min Park, Anne Carney Raines, Anika Roach, Jung Yun Roh, Shamica Ruddock, Sophie Ruigrok,  Kirsty Sim, Anna-Rose Stefatou, Orfeo O'Leary Tagiuri, Giorgio van Meerwijk, Ahren Warner, Ashleigh Williams and Charlie Yetton.
Please be aware that a small number of the film works on display contain nudity and sexual references.
Bloomberg New Contemporaries 2020 Digital Platform
For 2020, New Contemporaries has launched a specially created digital platform showcasing the work of the 36 selected artists. Developed in dialogue with the artists and designed by Hato Press, the platform provides an opportunity to see some of the UK's most dynamic contemporary art practices. Alongside artists' images, texts, sounds and moving image work, new content such as workshops, artist blogs and vlogs and other digital projects will be added over the coming months.
Access
The ground floor of the Fire Station has low lighting, all other spaces are well lit.
The ground floor of the Fire Station has intermittent loud mechanical noise.
Please bring your own headphones as this exhibition features video works. If you are unable to bring your own headphones a small number will be available from our gallery assistants, which are cleaned before and after use.
There is seating available for watching films.
The total watch length of all the films is three hours.
All films with speech have subtitles.
Large print exhibition guides are available.
Ear plugs, ear defenders, magnifying glasses and wheelchairs are all available.
For more information on access at the SLG please click here.

Additional thanks to Jed and Ariane Donnelly.