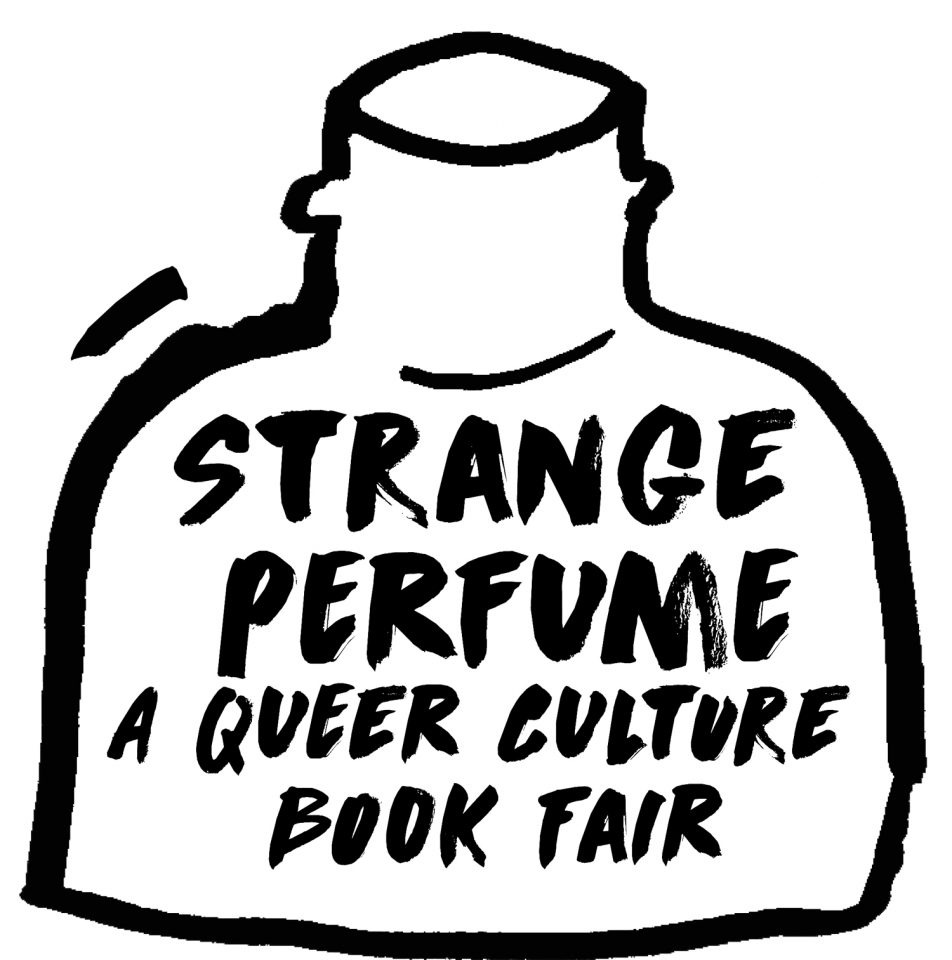 Strange Perfume is an LGBTQIA book fair that hosts stands from an international mix of independent publishers and artists, selling queer fiction, critical and political writing, drawing and printmaking. A programme of performances, readings and workshops takes place across the weekend.
EVENTS PROGRAMME
FRI 14 JUN – SAT 15 JUN
HANNAH DAWN HENDERSON
WHITE CUBICLE
TOILET
An installation drawing on elements of the script and set of Smoke, a film-in-progress concerned with loss and mourning.
SAT 15 JUN
12PM
SOPHIE SEITA
A KINDER, GENTLER AVANT-GARDE: QUEER & FEMINIST MAGAZINES
APPROX ONE HOUR
Artist and academic Sophie Seita will be giving a talk about feminist and queer avant-garde magazines, with examples ranging from the 1980s into the present.
1PM
DAVID LOCK
APPROX 30 MINUTES
David Lock will present a slideshow of his misfit paintings whilst reading from the texts of several queer icons, including his uncle Joe Orton.
2PM
CAMP BOOKS
500 YEARS OF QUEER PRINTING
APPROX 30 MINUTES
This talk and ritual will consider the meaning of queerness as it has intersected with printed media over the long course of their mutually empowering histories.
3PM
IAN GILES
AFTER BUTT
34 MINUTES
In After BUTT (2018), Ian Giles considers the history and cultural legacy of the magazine BUTT (2001-11), a publication made for and by gay men.
Followed by a Q&A with Ian Giles and Beth Bramich.
5PM
SHELLEY MARLOW
READING
APPROX 30 MINUTES
Marlow is the author of Two Augusts In a Row In a Row which has been published in three editions by Publication Studio Portland (2015); an artist's edition by Publication Studio Hudson (2015) and a second artist's edition by Publication Studio London in collaboration with the London Centre for Book Arts (2018).
6PM–9PM
AFTERPARTY
THE CHATEAU
A NIGHT WITH:
Lily Cheetah Nicol
Leo Francis O'Donnell
The Chateau
29-33 Camberwell Church Street
Camberwell
London SE5 8TR
SUN 16 JUN
1PM–4PM
POTLUCK PICNIC WITH THE FEMINIST PRINT NETWORK
THE BOWER
Feminist Print Network Social which will include a potluck picnic and readings from feminist printing history by members.
The Bower
Brunswick Park
Camberwell
London SE5 7RH