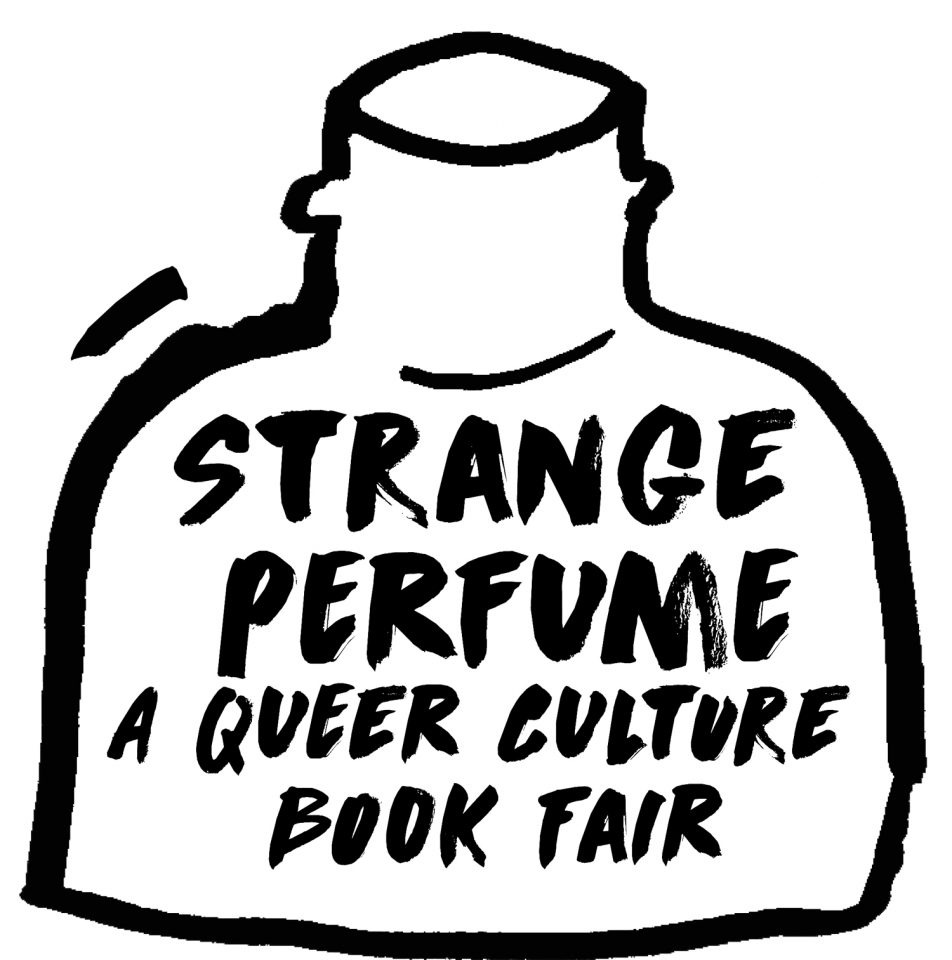 Strange Perfume is a LGBTQIA book fair that focuses primarily on artists books and printed matter. Taking place across two days, the fair will feature stands from an international mix of independent publishers and artists, selling queer fiction, critical and political writing, drawing and printmaking. Alongside this, a programme of performances, readings and workshops on Saturday will reflect the diversity of queer artists' publishing, including activist, historical and more recent work.
BOOK STANDS
Travis Alabanza, Soofiya Andry, Alex Margo Arden, Alex Barrett, Burning House Books, AA Bronson, Katie Della-Valle, Tiffany R Chan, Simon English, Caspar Heinemann, Sarah Joy Ford, Ian Giles, Ms Kevin Le Grand, Hannah Quinlan & Rosie Hastings, Fox Irving, Tom Kemp, Natasha Lall, Huw Lemmey, Rachel Littlewood, Rudy Loewe, Georgia Lucas-Going, Alex Lundstrom, Dawn Mellor, Madison Moore, Amy Pennington, Mrs Paterson's Press, Megan Pickering, Emily Pope, Silver Press. Synchronise Witches Press, George Reiner, Jack Scott, Sina Sparrow, Failed States, Janina Sabaliauskaite & Jade Sweeting, Jenkin Van Zyl, Rose Walsh, John Walter, Clawson & Ward, Liv Winter, Behind The X, Sisters Uncut, Vagina Dentata Zine.
WORKSHOPS
Saturday, 11.30am – 12.15pm & 1.45 – 2.30pm
Four 20 minute one-on-one queer counselling sessions with Relational Dynamics coach Paul Sammut of White Cubicle and Book Works. Sign-up sheets will be available at the fair or to book in advance please email sammut.paul@gmail.com
12.15 – 1pm
Soft Covers: Queer Feminist Publishing, led by Flora Dunster, Helena Reckitt, Kefiloe Siwisa and Amy Tobin, explores queer feminist publications as sites of critical community and world-building. This workshop introduces germinal periodicals from the UK, US and Italy from the 1970s and 1980s, including Heresies, Quim, Square Peg and Sotto-sopra, in tandem with publishing projects by contemporary collectives.
2.30 – 3.15pm
Sarah Shin (Silver Press/Verso) and Kishani Widyaratna (Picador/The White Review) lead a workshop on communities of care and Audre Lorde: what can we do about harassment and assault in literary and cultural scenes?
3.45 – 4.40pm
Writer Jeremy Atherton Lin leads Pheromones and Other Flowers: Writing Smell in Queer Narrative and Criticism, a workshop of visceral aromas in literature and a series of writing exercises conjuring scents that evoke, disturb, distinguish and arouse.
TALKS
Saturday, 12.30 – 1pm
A spoken word/poetry drag performance by artist James Morgan.
2 – 2.30pm
Artists Rosie Hastings and Hannah Quinlan talk to Paul Clinton about their UK Gay Bar Directory, the relationship between art and community, and representations of queer women in the arts.
3.15 – 3.45pm
Artist Prem Sahib reads from a personal selection of their favourite queer writers.
4.30 – 5pm
Musician Susanne Oberbeck, aka No Bra, will be reading from and talking about Hogg by Samuel R Delany.
5 – 5.30pm
AA Bronson — artist, founding member of General Idea and Art Metropole, Toronto, and director for many years of Printed Matter Inc. as well as the NY and LA Art Book Fairs — talks to Paul Clinton about the use of occult texts in his art, his involvement in artists' books, General Idea's FILE magazine, and his early queer communal publication Loving Couch Press.
SCREENINGS
Throughout Saturday, curator/researcher and life-long queer punk Irene Revell offers a soundtrack for the zine fair itself via her playlist Amazon ABC for Magnetic Psychopomp. With one musician/artist for each letter of the alphabet, the music is selected for foot-tapping at the ultimate fantasy lesbian bar, and was devised for artist Richard John Jones' short-lived Moby Dyke bar in Munich. A brief introduction to the project and its relationship to the precarity of queer nightlife, plus a listing of each recording and reasons for its inclusion, is available via the eponymous minizine produced specially for Strange Perfume.
Prem Sahib's slideshow of images from the recently closed Chariots gay saunas in Shoreditch and Waterloo will also be showing.