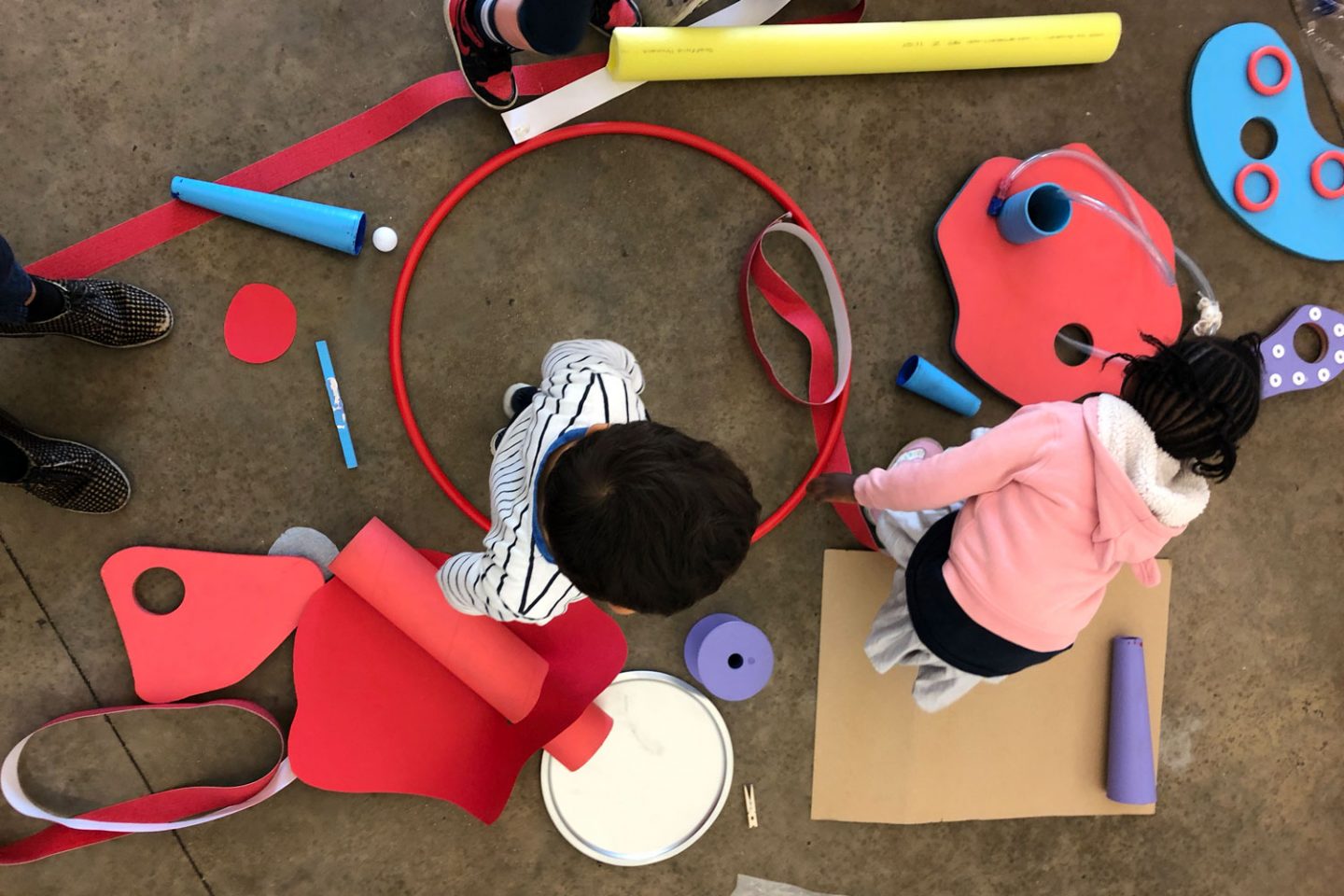 Create a carnival at home with artist Natalie Zervou-Kerruish! Join us for this online event and make an experimental carnival float representing your family or community.
Using upturned furniture, easy-access materials and your own bodies, we will create something celebratory and unexpected. The session will culminate in a family procession! Perfect for children aged 3-12.
Materials
You will need:
A piece of furniture
Tinfoil
Kitchen utensils
String or an alternative: shoelaces, ribbons, wrapping ribbon, wire
Paper
Pens
Sticks
Colourful fabric (could be clothing items, scarves)
Pegs if you have any
Any other craft materials available
If there's anything that you don't have, feel free to bring along your own alternatives.
Access
We are going to use the free online platform Zoom. You can use Zoom via your laptop, PC and Mac or you can download the app for free for your tablets and smartphones following this link: https://zoom.us/download
Once you have registered, the Zoom link will be emailed to you before the workshop. If you do not receive this, contact Leah leah@southlondongallery.org who will send you the link.
Click on the link provided to join the meeting and you will enter a Waiting Room. Attendees will be admitted to the live workshop at the start of the session.
If you have any problems with using Zoom, please contact Leah leah@southlondongallery.org who will happily help however possible.
By booking this session you are consenting to have your camera on in order to participate in collaborative activities.
The sessions will not be captioned.
About
This activity is intended for children under adult supervision. The sessions are open to all, but designed for children aged 3-12 years old and their parents or guardians.
Natalie Zervou-Kerruish has been selected to design our next Sunday Spot Play Space commission. This workshop provides a taster, watch this space!
Natalie Zervou-Kerruish is an artist and researcher interested in the wordless language of sculpture and movement. Both these are fundamental in the artist's ongoing sculptural enquiry into the corporeal and connective qualities inherent in everyday materials. Theatrical, tactile and playful, her work is conscious of the impact the human body has in relation to sculpture and space. When collaborating with others, she is interested in the exchange, the transitional and all things partial. Recent research stems from the symbols and philosophies connected to her Greek heritage, alienation and voicelessness.