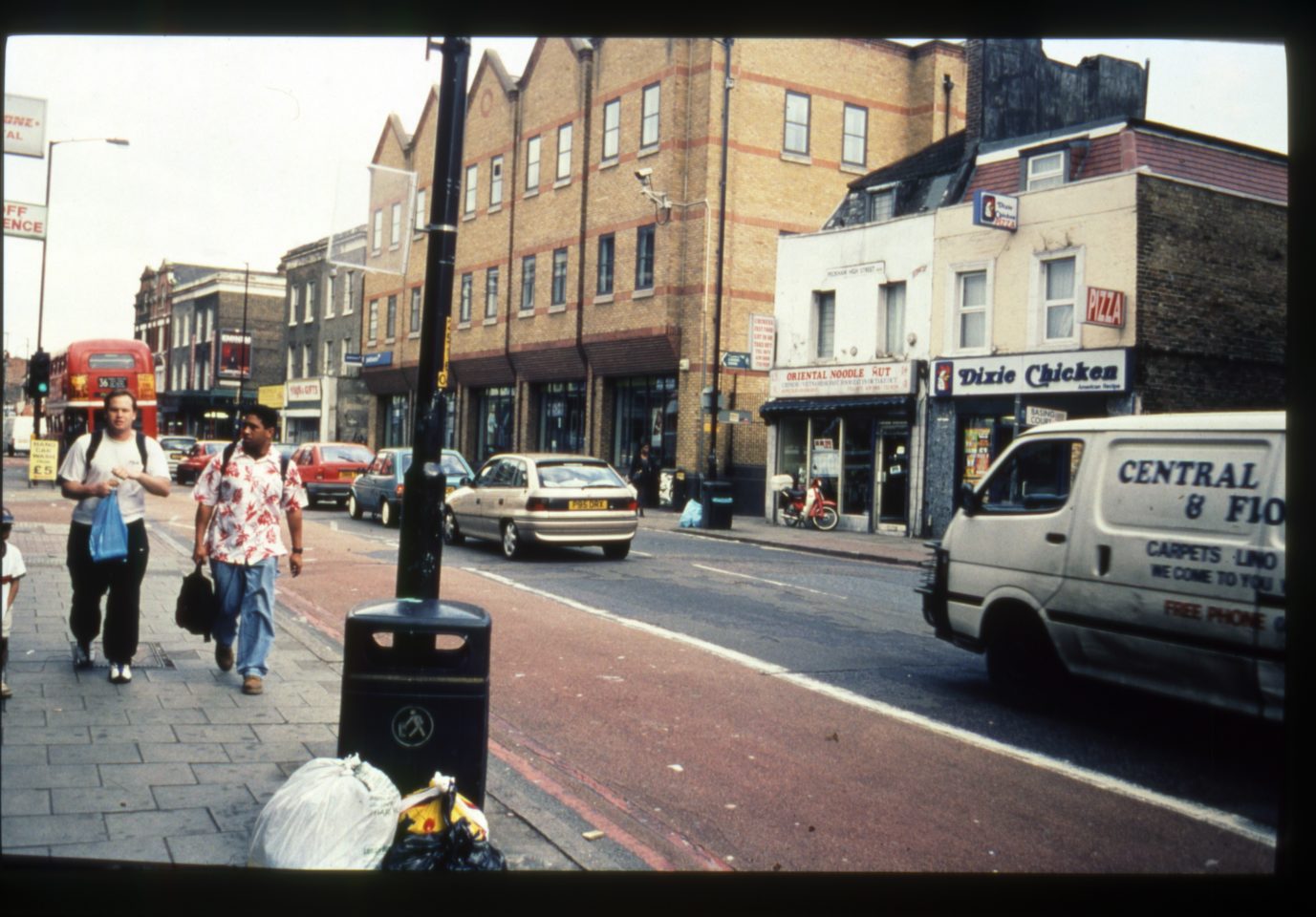 CLORE STUDIO, SOUTH LONDON GALLERY
Join us for a panel discussion and live music event to celebrate the 50th anniversary of 20 Sites n Years.
20 Sites n Years is a durational art work by artist Tom Phillips (1937-2022). Every year since 1973, Phillips photographed the same 20 locations in a half mile radius around his studio in Peckham. 
The images capture changes in the culture and politics of a small neighbourhood that is part of a global city. When seen together, the photographs reveal the quirky and sometimes inexplicable effects of human beings on their surroundings. The film-maker Jake Auerbach documented the project in a film in 2016 and the work is also in the South London Gallery art collection. This event also celebrates the life and work of Tom Phillips, after his passing last year
The discussion includes contributions from friends, artists and collaborators exploring the ongoing significance of 20 Sites n Years. 
SCHEDULE AND CONTRIBUTORS
2-2.30pm – Music
2.30-3.30pm – Panel discussion with Louisa Buck, Robert Hewison, John Walters and Chloe Dewe Mathews. Including a screening of a short extract from Jake Auerbach's film.
3.30-4pm – Music
ABOUT TOM PHILLIPS
Tom Phillips was born in 1937 in south London. He was educated at St Catherine's College, Oxford and Camberwell School of Art, when as a student he first showed work at South London Gallery.
An internationally established artist, prominent Royal Academician, curator, collector and composer, he lived and worked all his life in south London.
Phillips is known, among many achievements, for his pioneering artist's book, A Humument, and for his work on Dante's Inferno, which he translated and Illustrated (as co-director, with Peter Greenaway, of the TV version, he won the Italia Prize).
Major retrospectives of his paintings have been held internationally, including at the National Portrait Gallery, The Yale Center, the Royal Academy of Arts, and the Musée d'Art Moderne, Paris.
Tom Phillips' works are held in specialist collections across the world, including the Sackner Archive of Concrete and Visual Poetry (University of Iowa Library), the Palazzo Butera (Palermo), National Gallery of Australia (Canberra), National Art Library (V&A, London), the Ashmolean Museum, Oxford. An archive of his papers is owned by the Bodleian Library, Oxford
CHLOE DEWE MATHEWS
Chloe Dewe Mathews is an artist, photographer, and filmmaker. Her work is internationally recognised, exhibiting at Tate Modern, Irish Museum of Modern Art and Staatliche Kunstsammlungen, Dresden; as well as being published widely in newspapers and magazines such as the Guardian, New Yorker, Financial Times and Le Monde.
She is the recipient of the Robert Gardner Fellowship in Photography from Harvard University's Peabody Museum of Archaeology & Ethnology, and her work is held in public collections such as the British Council Art Collection, the National Galleries of Scotland and the Irish State Art Collection.
Four monographs have been published on her work: Shot at Dawn (Ivorypress, 2014), Caspian: the Elements (Aperture / Peabody Press, 2018), In Search of Frankenstein (Kodoji Press, 2018) and Thames Log (Loose Joints / Martin Parr Foundation, 2021).