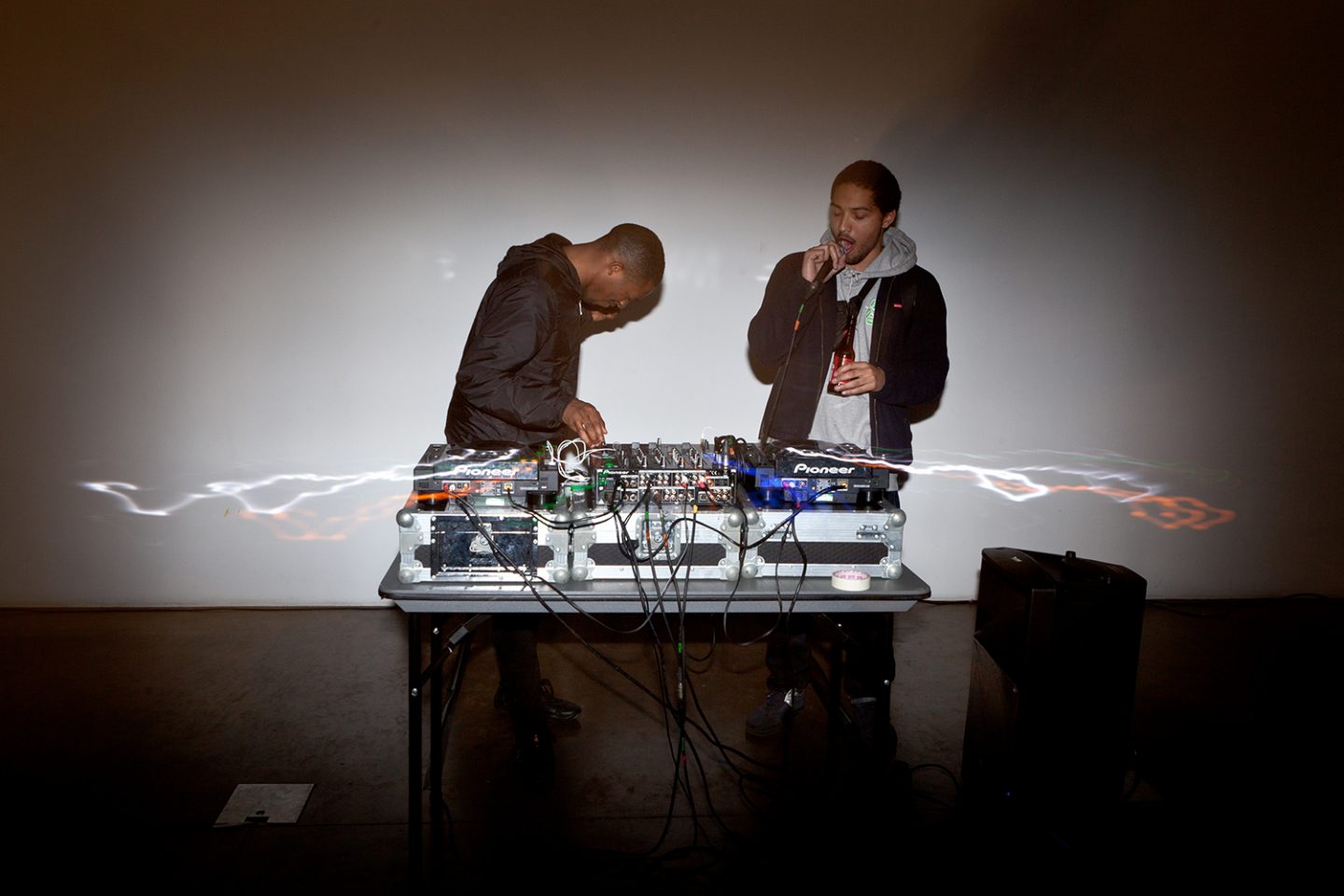 11AM-10.30PM, FREE, CLORE STUDIO, DROP-IN
A free one day event exploring feelings of uncertainty and anxiety in contemporary life through artists' films, discussion and music.
A video screening programme exploring artists' different approaches to anxiety will take place throughout the day. The films being screened are Lucy Beech's PHARMAKON (2016), an interpersonal drama that explores how disease operates in an era of mass communication, Shana Moulton's Restless Leg Saga (2012) where the artist's character Cynthia suffers from Restless Leg Syndrome, and seeks relief in pharmaceutical ads on TV and in health magazines, and Gillian Wearing's iconic Dancing in Peckham (1994) which shows the artist dancing for 25 minutes to music only she can hear in a shopping arcade in south London. William Mackrell's temporary site-specific lighting installation Breaking a Line (Waiting Room, 2017) will also be on view during the event, which hovers between collapse and the possibility to hold a future presence.
Writer and editor Joanna Biggs, founder of gal-dem Liv Little, and poet and musician James Massiah, will discuss the themes of the event in a panel discussion chaired by the REcreative Editorial Board and MA Culture, Criticism and Curation students from Central Saint Martins. DJ and poet James Massiah will close the evening with a live set.
PROGRAMME
11am – 6pm Screening of Lucy Beech, Shana Moulton and Gillian Wearing's films, every hour on the hour. Installation by William Mackrell on view. Drop in, no need to book.
7pm – 8.30pm Panel discussion with Joanna Biggs, Liv Little, and James Massiah. Fully booked
9 – 10.30pm James Massiah live set. No need to book but please arrive promptly as there is limited capacity.
BIOGRAPHIES
Joanna Biggs is an editor at the London Review of Books and a co-founder of Silver Press. Her book on working lives, All Day Long: A Portrait of Britain at Work came out from Serpent's Tail in 2015.
Lucy Beech (born 1985) lives in London. Beech's forthcoming exhibitions in 2018 include solo shows at Tramway Glasgow, De La Warr Pavilion and Lafayette Anticipations – Fondation Galeries Lafayette, Paris (group show). Her work was featured in the Liverpool Biennial 2016; recent solo and collaborative presentations include Tate Britain, London, Maureen Paley, London, Site Gallery, Sheffield, Frieze Live, London, Lisson Gallery, London, James Fuentes, New York, The Harris Museum and Art Gallery, Preston and the Tetley, Leeds. Beech was the recipient of the Paul Hamlyn award 2016 together alongside her long-term collaborator Edward Thomasson, their performance work operates alongside her independent practice.
Liv Little (born 1994) is a writer, editor-in-chief of gal-dem, curator and presenter, born and raised in south east London. She's written for The Guardian, Wonderland Magazine and gal-dem on a range of topics from women seeking asylum in the UK to interviews with women breaking down barriers in politics and the arts. In 2015 she founded online magazine gal-dem – which aims to empower and support the creative work of young women of colour, through breaking down tired stereotypes and pushing their work and thoughts into mainstream discussion. She frequently speaks in public at events (SOAS, UN girls up for School of Doodle, Mumsnet, etc) and has co-hosted radio shows at the Arnolfini. Liv was recently featured as one of the BBC's 100 women and number one BAME future leader of 2016/17.
William Mackrell (born 1983) studied MFA Fine Art at Goldsmiths College (2016) and BA Painting at Chelsea College of Art, London (2005). Mackrell has recently been nominated for the Rose Art Museum Emerging Fund Prize and awarded the Manchester Contemporary Fund with the acquisition of his work to Manchester Art Gallery. Mackrell has recently completed a residency at Krinzinger Projekte, Galerie Krinzinger, Vienna and is preparing a solo booth project in 'Opening' at ARCO Madrid with The RYDER, London in February 2018. William Mackrell is represented by The RYDER, London.
James Massiah is a poet and DJ from south London who shares his work via 'The A & The E', a philosophy and arts project founded in 2012 to explore ideas about sexuality and ethics through performance, writing and visual media. He has been commissioned to produce work for the BBC, the Guardian and Nike, as well as featuring in campaigns for Nike, Levi's and Dr Martens. He has performed readings of his work at the Tate Modern, the Courtauld and the Houses of Parliament.
Shana Moulton (born 1976) lives and works near Yosemite, California. Over the past 15 years she has been developing her ongoing video/performance series Whispering Pines, in which she plays the role of "Cynthia", both a fictional figure and the artist's alter ego. Moulton has had solo exhibitions or performances at MoMA, The New Museum, Performa 2009, The Kitchen, Electronic Arts Intermix, Art in General, SmackMellon, The Andy Warhol Museum, SFMOMA, Yerba Buena Center for the Arts, The Hammer Museum, MOCA Cleveland, The Wexner Center for the Arts, The Museum of Fine Arts in St. Petersburg, Palais De Tokyo in Paris, The Migros Museum in Zurich, Kunsthaus Glarus, Fondazione Morra Greco in Naples and the Times Museum in Guangzhou. Moulton's work has been reviewed in the Village Voice, Artforum, The Brooklyn Rail, The New York Times, Artnet Magazine, Frieze Magazine, Art Review, Artpress, Flash Art and The Fresno Bee. She is a featured artist at Electronic Arts Intermix and Art21
Gillian Wearing was born 1963 in Birmingham. She lives and works in London. Wearing currently has a solo show The National Gallery of Denmark in Copenhagen and has been commissioned to create a statue of suffragist leader Millicent Fawcett in Parliament Square for 2018. Recent solo exhibitions include Behind the mask, another mask: Gillian Wearing and Claude Cahun, National Portrait Gallery, London, 2017; Sandra and Gerald Fineberg Art Wall, ICA Boston, 2016; Instituto Valenciano de Arte Moderno, IVAM, Valencia, 2015; A Real Birmingham Family, Centenary Square, Library of Birmingham. Birmingham, 2014; We Are Here, The New Art Gallery Walsall, Walsall, 2013; Whitechapel Gallery, London, toured to K20, Kunstsammlung Nordrhein-Westfalen, Dusseldorf and Pinakothek der Moderne, Museum Brandhorst, Munich, 2012; A Real Birmingham Family, Ikon Gallery, Birmingham, 2011; Confessions: Portraits, vidéos, Musée Rodin, Paris, 2009; Living Proof, ACCA, Australian Centre for Contemporary Art, Melbourne, 2006.
Gillian Wearing is represented by Maureen Paley, London; Tanya Bonakdar, New York and Regen Projects, Los Angeles.
Gillian Wearing won the Turner Prize in 1997 and was awarded an OBE in 2011.
Waiting Room is the result of a six-month collaboration between the REcreative Editorial Board and students from MA Culture, Criticism and Curation at Central Saint Martins.
To join the REcreative Editorial Board and help organise future events with REcreative, please contact laura@southlondongallery.org
REcreative is a free online network for young artists. For more information please visit REcreativeuk.com
This event is supported by BigFoodie.