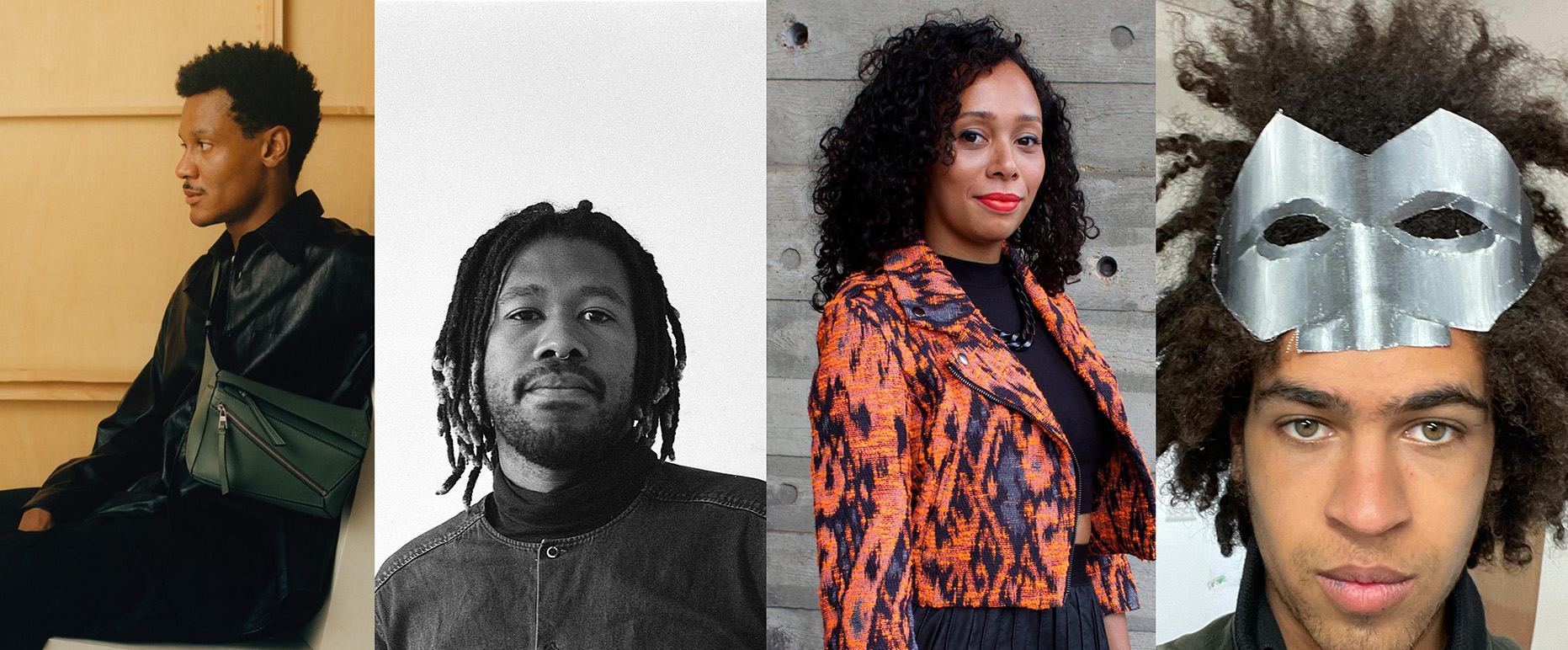 Inspiring young creatives talk about how their Windrush heritage has shaped and influenced their careers and practice. 
Lewis Gilbert, creative director of A Vibe Called Tech, will be in conversation with designer Abi Wright and artists Matthew Arthur Williams and Cato.
This informative event for young people will shed light on the different roles and jobs in the creative sector whilst exploring how the panellists' personal narratives have informed their work. 
There will be an opportunity for you to ask questions and gain insider knowledge and tips for your own career journey. 
Space is limited, book your free ticket online today.
This event is for young people, with priority tickets held for young people who live, work and study in Southwark. 
Part of the South London Gallery's Windrush Weekender.
ABOUT LEWIS DALTON GILBERT
Lewis Dalton Gilbert is an independent curator and the creative director at A Vibe Called Tech, a Black-owned creative agency dedicated to approaching creativity through an intersectional lens. Following his BA in Fine Art at Chelsea College of Art and Design, he coordinated and produced exhibitions and projects for White Cube and Frieze and is currently the associate curator for New Art Centre, where he previously served as creative director. In 2021, he curated the Hackney Windrush Art Commissions with Thomas J Price and Veronica Ryan OBE, for which Ryan won the Turner Prize.
Recent curatorial projects include We share the same sky on Vortic Art (2023), Abstract Colour at Marlborough Gallery (2023) and Peripheral Vision at Anna Schwartz Gallery (2021)
ABOUT ABI WRIGHT
Abi Wright is a creative director, graphic designer and exhibition designer, working independently as Abi Wright Design for 10+ years.
She recently designed Croydon's Caribbean Influencers exhibition, a collaboration between the National Portrait Gallery and the Museum of Croydon; War Inna Babylon: The Community's Struggle for Truths and Rights at the Institute of Contemporary Arts, and co-founded, designed and built the Blk Art Map, an online platform mapping Black visual art and design exhibitions in Britain.
Other projects include; Windrush Stories, The National Windrush Monument, and Open Wounds. She also worked collaboratively with A Vibe Called Tech & Whitechapel Gallery, POCC & Tate Education, Art Fund, Pinterest, Runnymede Trust, as well as UK based and international agencies.
ABOUT MATTHEW ARTHUR WILLIAMS
Matthew Arthur Williams is a visual and sound artist, photographer and DJ. Williams was born in London and now lives and works in Glasgow. He completed his BA at Manchester Metropolitan University in 2012.
His work has recently been exhibited at Dundee Contemporary Arts (2022), Jupiter Artland and Johnson Terrace Gardens both as part of a commission for Edinburgh Art Festival (2021) with forthcoming shows at Govan Project Space (2023) and a solo show at Stills, Edinburgh (2024). He has further developed exhibition projects and commissions with the Gallery of Modern Art Glasgow (2022), Teile2o46, Berlin (2022) Viborg Kunsthal (2021), Street Level Photoworks (2019) and Transmission Gallery (2017).
Recent close collaborations include ongoing work with Ajamu and Alberta Whittle, and Williams' research has recently been supported through programmes at CCA Glasgow, The Bothy Project, Hospitalfield, LUX Scotland and was the 2023 Cove Park Bridge Awards Emerging Artist recipient.
ABOUT CATO
Cato is a London-based artist and musician creating work to reflect parts of his own identity while simultaneously "conjuring up forms from our collective imagination".
ACCESS
This event is seated.

Wheelchair Access and Disabled Toilets are available at this site.

Please contact mail@southlondongallery.org with access requirements.