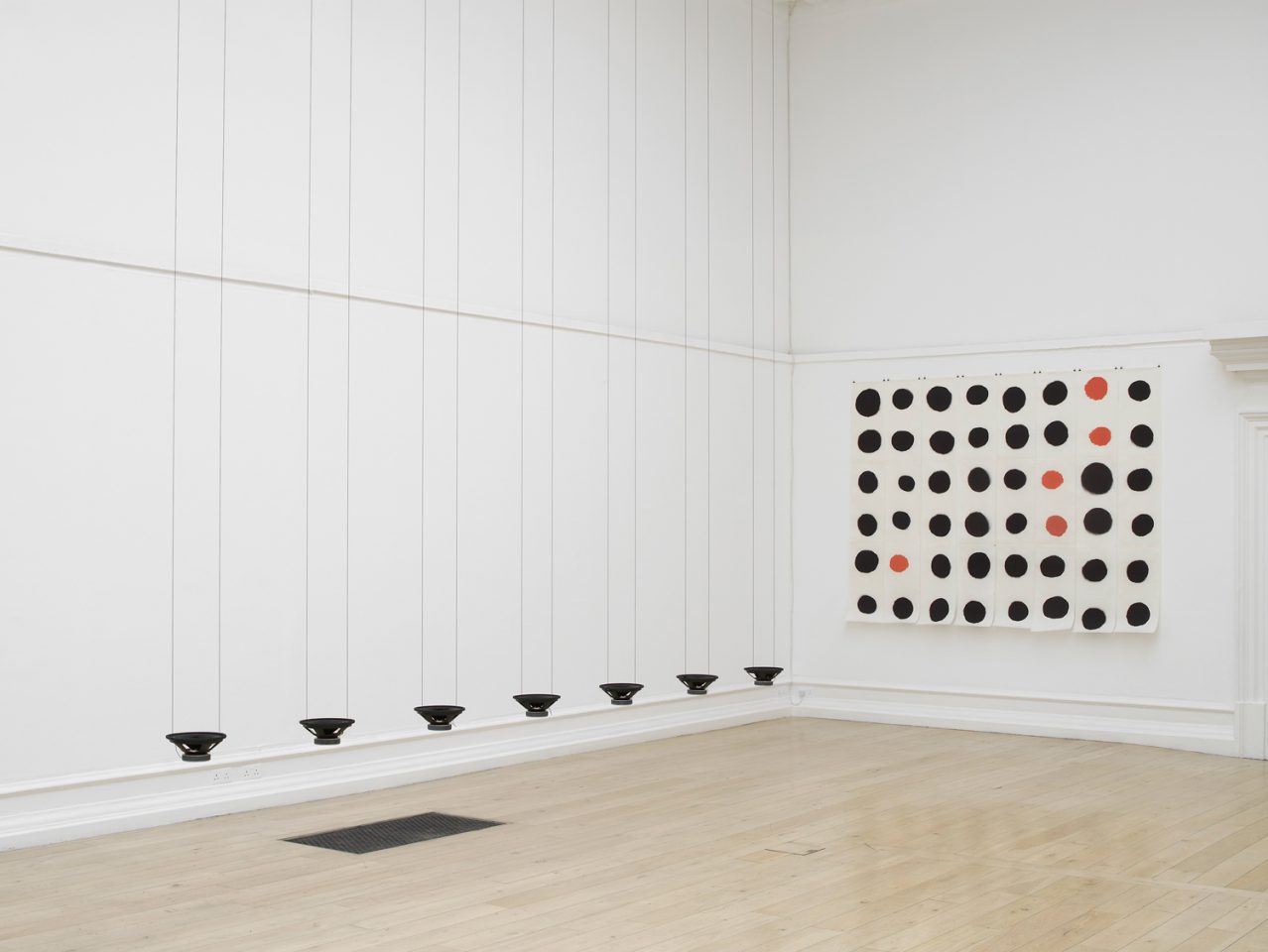 At the moment of being heard rings together works and performances by a group of international artists, musicians and composers engaging with sound and modes of listening. Installed throughout the galleries and connecting spaces, the exhibition is presented in parallel with a series of live performances and special events, both at the South London Gallery SLG and at nearby off-site venues as part of SLG Local.
In the main gallery, works place an emphasis on the act and intimacy of listening. Singing, 2000, by the late sound art pioneer Rolf Julius comprises seven suspended speakers which emanate a low, resonant hum, whilst Julius's large printed 'dot' score and a photograph by Reiner Ruthenbeck showing someone closing the shutters outside a gallery, conjure the gesture of a noise without actually making a sound.
Canadian sound artist crys cole focuses on the delicacy of minimal sonic environments, presenting a sound sculpture, entitled filling a space with salt (in two parts), that is created and located within the gallery floor's vents.
Acting as a metronomic accent amidst a room of otherwise subtle sounds, New York-based artist, composer and multi-instrumentalist Eli Keszler's newly commissioned work using piano wires crisscrosses the gallery, periodically struck by mechanical beaters.
In the first floor galleries, score-drawings documenting moments of silence by avant-garde Belgian sound artist Baudouin Oosterlynck are presented alongside a three-screen video installation by Rolf Julius, entitled Volcanoes II, 2010.
Within the connecting spaces between the galleries are multiple iterations of Swedish composer, writer, performer and conceptual artist Leif Elggren's ongoing project, for which he reappropriates the colour combination of yellow and black, traditionally used to express danger or to demarcate a border.
Artists
crys cole, Leif Elggren, Rolf Julius, Eli Keszler, Baudouin Oosterlynck and Reiner Ruthenbeck