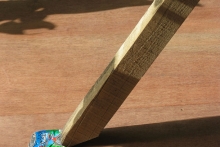 An invitation to mix records for the pleasure of plants and an artist singing like a bird are among works in Beating About The Bush, the first exhibition to take place in the overgrown and previously neglected suburban garden adjacent to the newly refurbished South London Gallery.
Four artists, who in different ways explore the relationship between nature and culture in a mixture of audio visual and sculptural work, have been invited by students of the Goldsmiths College MA Curating programme, to respond to the new and unique outdoor space that has been revealed as part of the SLG's building project.
In Untitled (Greenhouse), Peter Coffin (USA) invites local musicians and visitors to play music for plants in a greenhouse installed with foliage, turntables, synthesiser, mixer and amplifier. The greenhouse is transformed into an unusual live music venue within the garden in an experiment in botanical and social interaction.
A large empty billboard is relocated from its prime street position to the secluded garden by Gabriel Kuri (Mexico). This seemingly absurd move strips the billboard of its commercial function as a promotional medium while emphasising our acceptance and indifference to the products advertised around us.
The bird song in the garden is a recording by Hannah Rickards (UK) of her own voice adjusted back to its 'natural' pitch so that it sounds eerily close to the singing of real birds. Played outside of a gallery for the first time, the work highlights man's interference with the fine balance of our natural eco-systems.
William Speakman (NL) uses natural and artificial materials, combining elements of sculpture, painting and architecture, to initially create a 'studio' in the garden. In turn this facilitates the building of two further structures: one reminiscent of the Tikrit shelter where Saddam Hussein was recently captured and a second contrasting tranquil space.
Free bands will play in Peter Coffin's greenhouse every Friday from 18 June to 30 July. A free evening of performance by juneau/projects/ and screenings of artists' videos by Mark Glassner, Daniel Horn, Torsten Lauschmann, Andrew Mania, Beltran Obregon, Michael Sailstorfer, Richard T. Walker and Mark Aerial Waller will close Beating About The Bush on 30 July.
Beating About The Bush is supported by Eden Greenhouses; The Dutch Fund for Visual Arts, Sculpture and Architecture; The Mexican Embassy; The Royal Netherlands Embassy; Secretaria de Relaciones Exteriores de Mexico and Statement Media Arts Development.