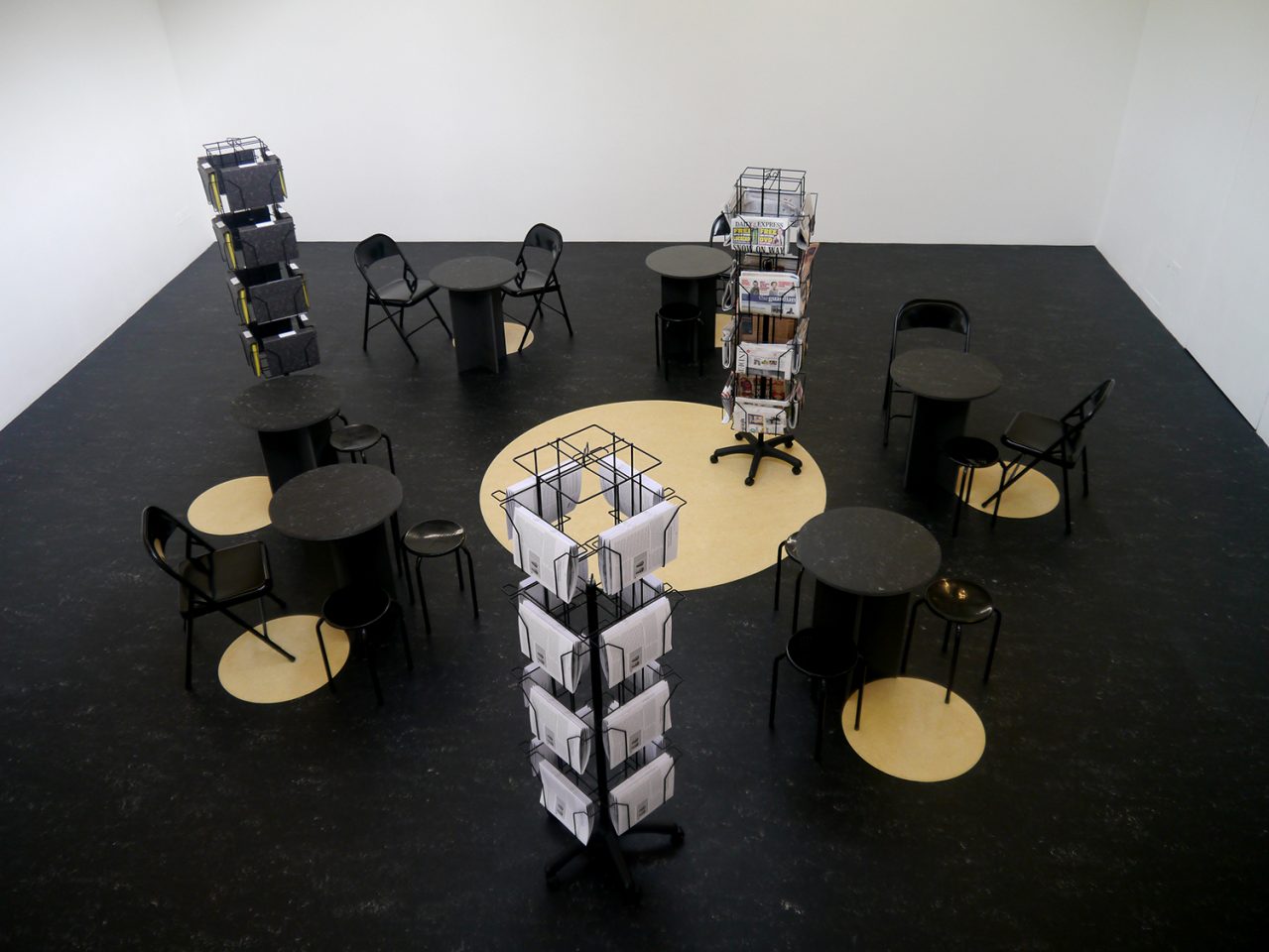 Sat & Sun 4/5, 11/12, 18/19, 25/26 Jan 2014.
This new live work by Becky Beasley is a purposely designed décor which traces her interest in the relationship between literary images and interiors. Evolving over four weekends, visitors are invited to spend time in the space.
Beasley uses this quote by Italian polymath Carlo Mollino to invoke the work, A Slight Nausea:
"If I were left alone I wouldn't move a single chair; the interior is the most 'neutral' I could wish for: it doesn't disturb me, it doesn't wrongly excite me, but it leaves me free to be alone with my imagination, we might called it my inner landscape, one which gives a certain tone to everything. But there does remain a perceptible on-going sense of slight nausea necessary to prevent acceptance, comfort."
The interior undergoes four subtle lighting changes, varying each weekend. The décor incorporates a linoleum floor design, tables and chairs and revolving newspaper racks containing weekend newspapers, take away copies of Carlo Mollino's essay on interiors, Utopia & Setting, and ring binders containing photocopies of Beasley's archive of newspaper cuttings, A Little History of The Interior: A Personal Archive (1994-2014).
The project is explored in a conversation with the artist on Wednesday 29 January. Please note A Slight Nausea is de-installed on 26 January, in advance of the talk.
Becky Beasley (b.1975) lives and works in Hastings. She graduated with an MFA from the Royal College of Art in 2002. Recent solo exhibitions include The Outside at Tate Britain (2012) and Spring Rain at Spike Island Bristol and Leeds Art Gallery (2013). Group exhibitions include The Narrators: Works from the Arts Council Collection, Walker Art Gallery, Liverpool (2013); Think Twice, Whitechapel Gallery (2013); The Imaginary Museum, Kunstverein Munich (2012).