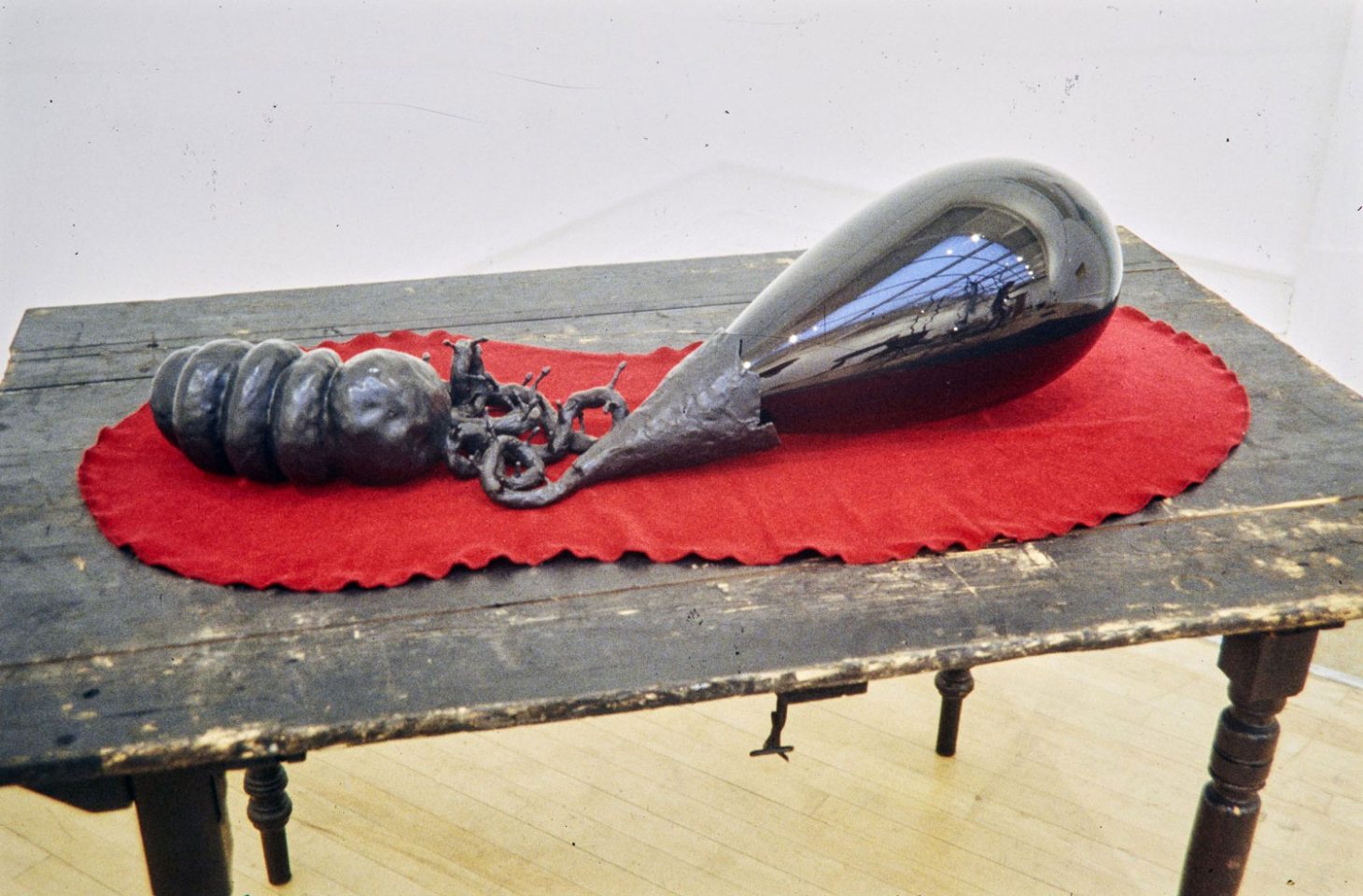 This exhibition, The Beekeeper, consists of a body of work made around the theme of the beekeeper, a mysterious figure in the form of a puppet. The centre piece of the exhibition will be a seven metre long sculpture, Shadow of the Beekeeper, an assemblage in which a giant puppet mutates into the three dimensional shadow of a huge bee. The puppet figure re-emerges throughout the exhibition as part of a series of sculptures that surround the 'Shadow of the Beekeeper' and which present a narrative about a worker whose labour entraps him in a cloying surreal world.
Together, the other beekeeper sculptures create a setting in which the puppet beekeeper grapples with a variety of surreally connected objects, where honey and wax combine with other substances in an environment that is both weird and tragic as the hapless beekeeper tries to work through the bizarre variety of objects and situations in which he finds himself. The realm of the beekeeper includes smaller painted sculptures of pupae and swarms that combine with the larger works to create a complete installation. The Beekeeper represents an interesting development of Woodrow's practice as a sculptor, allowing his poetic sensibility full reign.
Artist
Bill Woodrow is one of the world's foremost sculptors. He has exhibited his work throughout the world for the past twenty five years and has recently mounted a new sculpture Regardless of History on the empty plinth in Trafalgar Square. Woodrow's sculpture features in many major museum collections. In 1996 he exhibited at the Tate Gallery, now Tate Britain, in a major one person show. Since the early stages of his career, when he made sculpture by modifying domestic objects and transforming them into other things, Woodrow has been concerned with the poetic metamorphosis of objects within a narrative. His imaginative juxtaposition of images and objects has established him as an artist who employs potent narrative within the medium of sculpture.