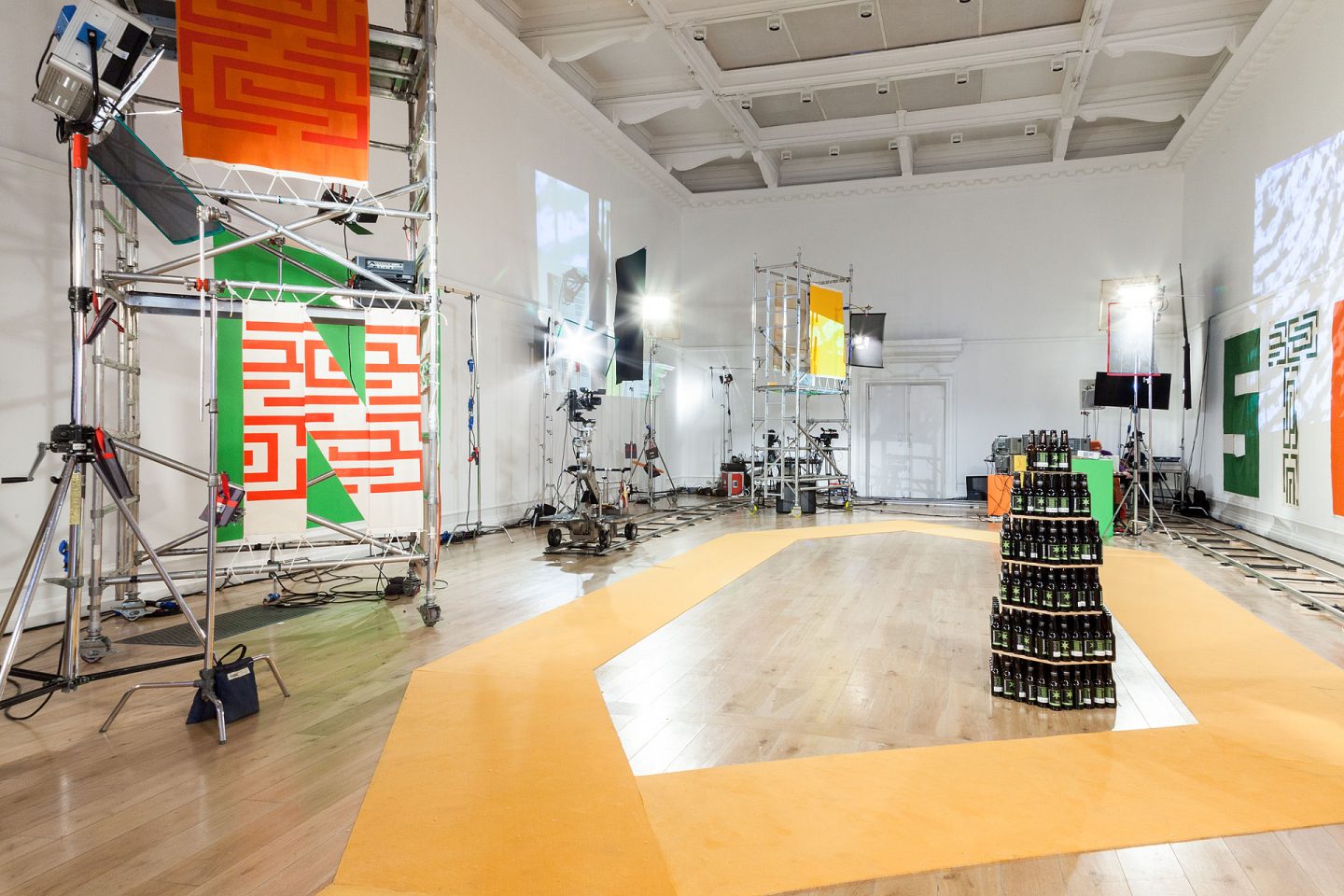 The South London Gallery presents a new collaborative project by New York-based artists Charles Atlas and Mika Tajima. This live art presentation transforms the SLG's main gallery into a hybrid installation/film set featuring a collaboration by Charles Atlas and Mika Tajima with contributions from New Humans, John Smith, Gaby Agis, Les Child, Richard Hornsey, Nina Power and others and others to create a dynamic space for performance, music, video and sculpture.
The Pedestrians examines the act of walking in its various social and political forms: from the march formations in processions and demonstrations, and the idle strolling flâneur, to the choreography of everyday movement in dance. The project traces the politics of this basic bodily movement in its different manifestations and strategies as it negotiates the changing landscape of modernity.
A walkway cuts through the space becoming at once arcade, exhibition, passage, runway and stage. Along the path are various objects and tableaux, including new scaffold sculptures and a selection of object arrangements that have come to be associated with Tajima's collaborative New Humans installations and performances – cinema flats, mirrors, scaffolding, palettes of soft drinks, a junkyard car and a treadmill.
The installation is a fully functioning film set with four events rehearsed and performed within it. All elements relating to the film's production are on display including lighting, film tracks, sound desk and equipment. This scenario becomes both a structure for collaborative activities and the subject of the performances within it.
The installation and preparation for performances are viewable by the public during regular gallery hours until 10 April, after which the installation with edited videos shot during the live period of the project remain open to the public.
Inviting a range of UK-based performers to participate, The Pedestrians becomes a framework for a diverse series of positions and actions working with and against the installation.
Curated by Andrew Bonacina and SLG Associate Curator, Anne-Sophie Dinant
BIOGRAPHY
Charles Atlas (born Missouri, 1949) is an artist living and working in New York. In 2006 Tate Modern, London presented the first UK survey of work by Atlas and he has had retrospectives at: Whitney Museum of Art, New York; Magazin 4, Bregenz; ICA Boston; and Participant Inc., New York. In 2010 Atlas had screenings at: Turbine Hall, Tate Modern, London; MOMA, New York; and Walker Arts Center, Minneapolis. Group exhibitions for Atlas in 2010 included: Hayward Gallery, London; ICA Philadephia (touring to Contemporary Arts Museum, Houston); MIT/LIST Visual Art Center, Cambridge, Massachusetts; Kunstverein Nürnberg, Nürnberg; De Hallen Haarlem, The Netherlands; PS1, New York (touring to Garage Centre for Contemporary Culture, Moscow) and KAde Kunsthal in Amersfoort.
Mika Tajima (born 1975) is an artist living and working in New York. Select solo exhibitions include Bass Museum, Miami; Seattle Art Museum (forthcoming); X Initiative, New York; San Francisco Museum of Modern Art, CA; The Kitchen, New York; RISD Museum, Rhode Island; Circuit, Switzerland; Elizabeth Dee Gallery, New York. Tajima was selected for the 2008 Whitney Biennial.
Founded in 2003 by Tajima, New Humans (Howie Chen, Mika Tajima and Eric Tsai) is known for constructing multimedia installations that typically incorporate live performance elements and experimental music. New Humans performances and recordings incorporate physical materials, piercing drones, sheer static and low bass frequencies. Collaborations include Charles Atlas, Vito Acconci, C. Spencer Yeh, Philippe Decrauzat and United Bamboo among others.