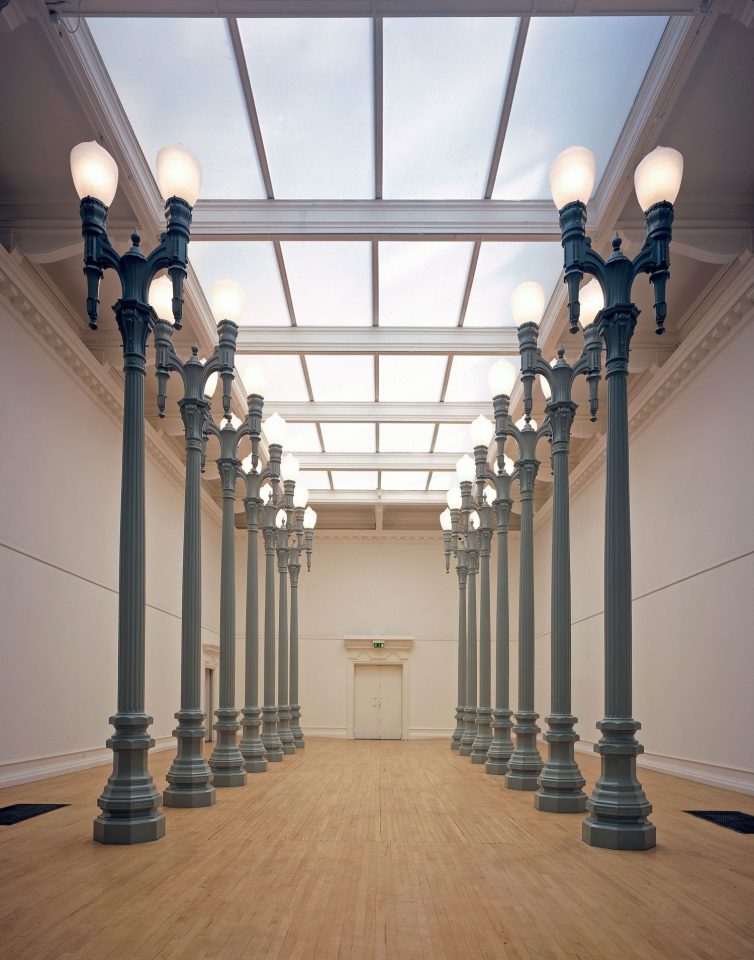 The internationally acclaimed American artist Chris Burden (1946-2015) will present an extraordinary new work for his solo exhibition at the South London Gallery. Fourteen 1920s cast iron lamp posts from Los Angeles, meticulously restored and uniformly painted in battleship grey, will be erected in the SLG's beautiful exhibition space to create a stunning installation which combines architectural intervention with engineering feat.
14 Magnolia Double Lamps, 2006, will emphasise the special qualities of the SLG's main exhibition space. At 625cm high, the lamps will clear the Victorian glass lantern ceiling by less than a metre, and they will be illuminated throughout the show, heightening awareness of the play of light in the space. The apparent simplicity and relative sparseness of the installation will belie its logistical complexity, the sheer weight of each lamp post (each one weighs approximately 1 ½ tons) making their installation within the space a significant technical challenge.
On a purely formal level the installation has the potential to inspire reactions spanning wonder, awe and even delight. Conceptually it refers to wider issues around the impact of the urban infrastructure on a location and on the people who use it, but there is also a sense of irony behind Burden's idea of exporting 'antiques', inspired by European design, from Los Angeles to Europe. These historic lamp posts, in a plethora of different designs, were dotted all over the many smaller cities that make up the megalopolis of Los Angeles and were originally installed as a demonstration of civic wealth and pride. Most of these antique lamps were removed and destroyed in the 1960s and 1970s, and the few remaining clusters have long been subsumed by the broader character of the city, almost to the point of invisibility to those who see them daily. The inextricable link between wealth and the provision of public lighting in urban contexts is clearly referenced by the work, as is the shifting character, significance and role of municipal design, both over time and from the perspective of commissioners, users and visitors. The elaborately decorative and massive street lamps are an ornate totem to industrialism and provide a richness and beauty for urban dwellers.
Born in Boston in 1946, Chris Burden studied architecture, physics, and visual art at Pomona College and the University of California. He completed a series of performance pieces in the 1970s that engaged his own body, as part of his conceptual art practice. In the late 1970s and through the 1980s Burden's practice shifted towards installations with a political theme, such as The Reason for the Neutron Bomb, 1979, in which he used U.S. nickels and wooden matchsticks to represent 50,000 Soviet tanks, or All the Submarines of the United States, 1987, in which he used generic hand-made cardboard models to transform the statistics of launched submarines into a sculptural form. In the 1990s Burden's appreciation of well-engineered structures, coupled with a fascination with technology, led to a number of works in which he rendered fantasy societies in reduced scale, including Medusa's Head, 1990, and Pizza City, 1996. Also in 1996, Burden further developed the fantasy element of his work with The Flying Steamroller, uniting performance and sculpture in a work which explores the relationship between man and machine, and the ability of science and technology to confound our expectations. Burden noted that 'my work has gone from dealing with personal issues of power to external issues of power', and in 2000 Burden became fascinated by bridges and the way in which they function as enquiries into the nature of architecture and technology, while instigating a dialogue between human beings and scientific progress.
Artist
Chris Burden (1946-2015) lived and worked in California for most of his life and is very much associated with the Los Angeles art scene. He exhibited extensively internationally and had major retrospectives at the Newport Harbor Art Museum (1988) and MAK-Austrian Museum of Applied Arts, Vienna (1996). In 1999 Burden exhibited at the 48th Venice Biennale and at the Tate Gallery in London. In 2002 his solo show at Baltic included an extraordinary model of the Tyne Bridge made of Meccano, and in 2006 he produced Ghost Ship, a public art project with Locus+.