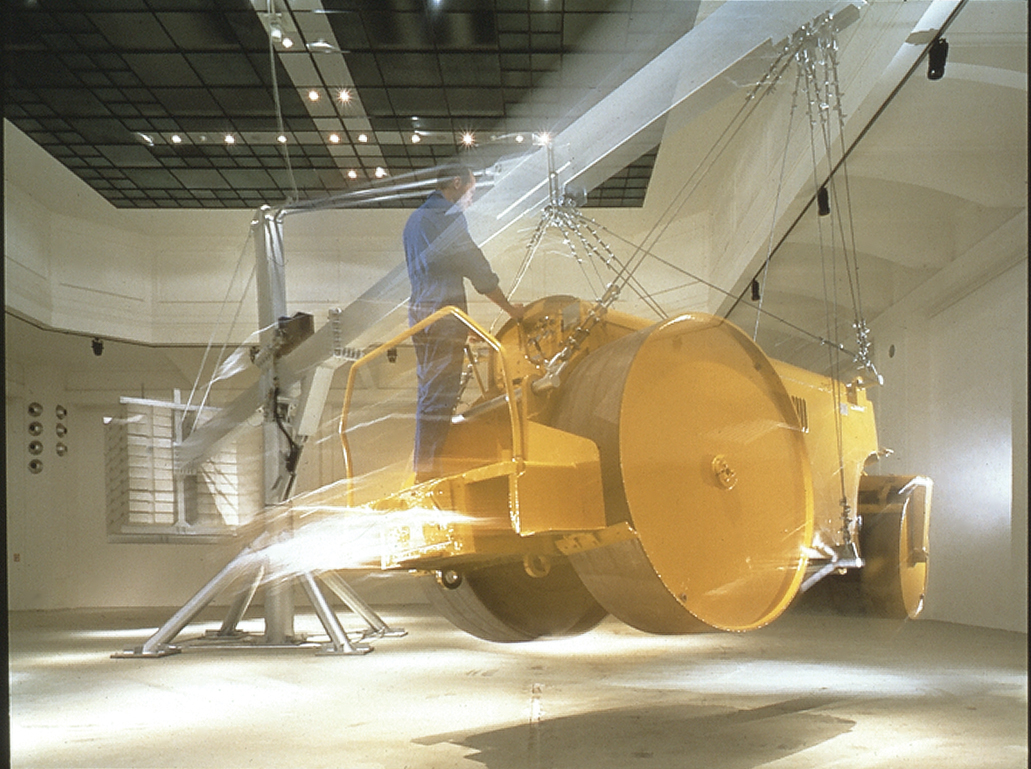 In conjunction with the solo exhibition 14 Magnolia Double Lamps on display at the Gallery, the South London Gallery (SLG) is delighted to present one of Chris Burden's (1946-2015) greatest works, The Flying Steamroller. An off-site project combining sculpture and performance, this magical work will be on display for fourteen days at the Parade Ground in front of Chelsea College of Art & Design, opposite Tate Britain.
The Flying Steamroller, 1996, is a huge sculpture which consists of a twelve ton steamroller that is attached to a pivoting arm with a counterbalance weight. The steamroller is driven in an enormous circle until its maximum speed is reached. At the same time, a hydraulic piston is activated and pushes up the beam from which the steamroller is suspended, causing the steamroller to lift off the ground. Because of the combined weight of the steamroller and the counterbalance, which is approximately 48 tons, the steamroller, once lifted off the ground, continues to spin, or 'fly' for several minutes. As the steamroller nears the end of its circular motion, or when the spinning momentum is exhausted, the hydraulic piston is slowly retracted and the steamroller gently lands.
Burden is well-known for incorporating danger into his performances; while The Flying Steamroller is perhaps one of his more whimsical pieces, it still engages with ideas of power and risk. Staged outside the gallery for the first time, and together with the exhibition 14 Magnolia Double Lamps, The Flying Steamroller prompts consideration of how public space is managed and transformed over time to reflect changes in society. Most strikingly, the work highlights the ability of science and technology to confound expectations.