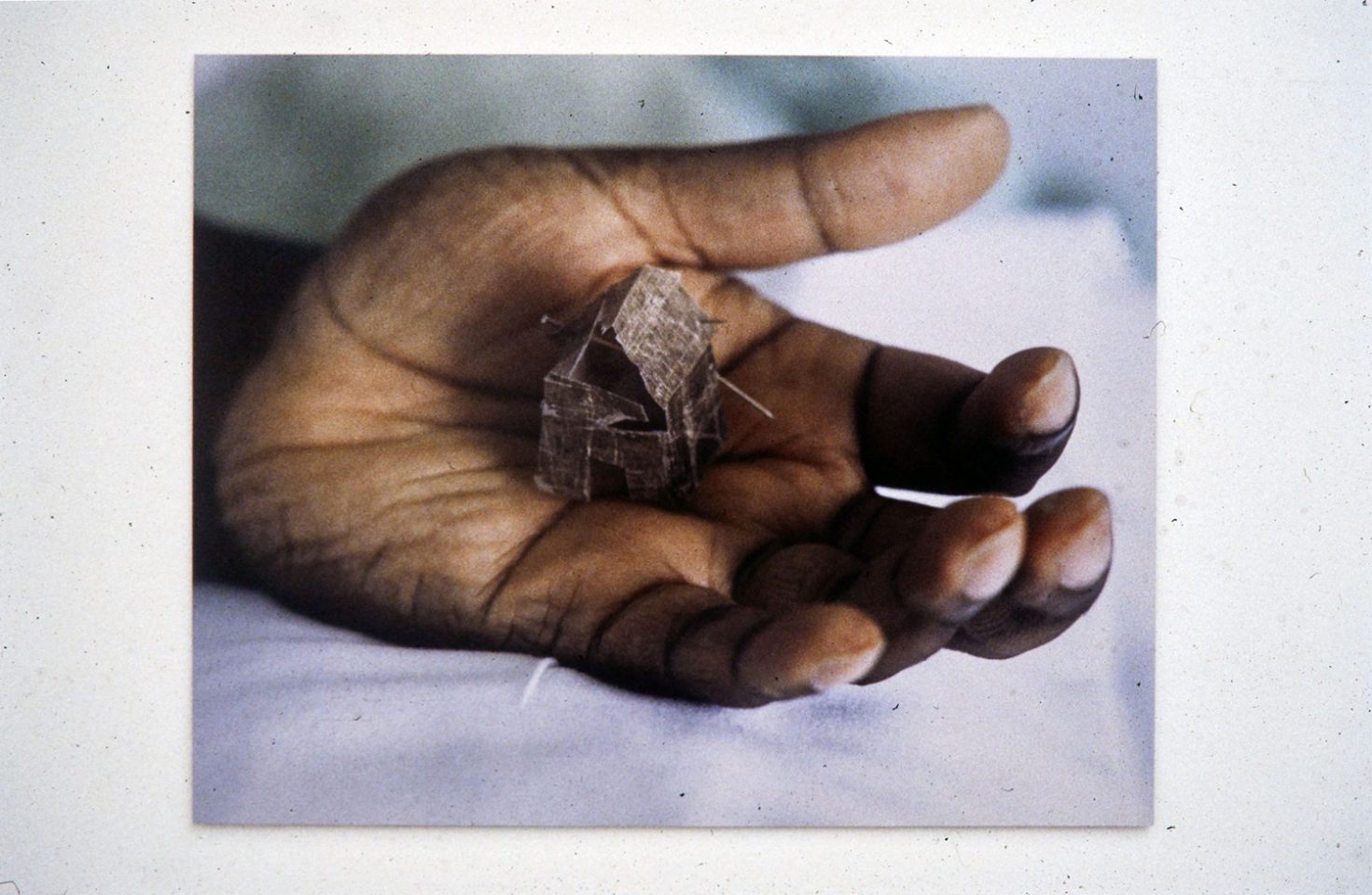 Donald Rodney is showing five new pieces of work at the South London Gallery in his first solo exhibition in the capital since 1989. Nine Night in Eldorado marks an important stage in the development of his work. The exhibition contains new installation, sculpture and photographic pieces, and has a more meditative quality than his earlier work.
'Nine Night' is a traditional Jamaican event that takes place after the death of a family member. The family meet to eat, drink, play cards and reminisce over a period of nine nights. The 'Eldorado' of the title recalls his father's favourite film, and evokes the mythical city of gold, symbolic of the 'land of milk and honey' that Rodney's father believed he would find when travelling to Britain in the 1950s. The souring of such hopes is represented in the artist's large scale sculpture filled with strata of milk, honey and copper coins that have curdled and bled into one another with passing time. This exhibition is the 'Nine Night' that Donald Rodney was unable to attend after the death of his father.
Rodney's Pygmalion consists of an illuminated automata figure like those once popular in seaside arcades and illustrated postcards. Over the carved features of the head is a rough blacked-up mask of pop singer Michael Jackson, a symbol of ambivalence between black and white identity. Also in the exhibition is a sculptural piece that includes a cast of an entire set of the Children's Encyclopedia Britannica and the Arts Council Collection catalogue of 1984. The catalogue is significant as coming from the first year in which the Arts Council bought a work by a black artist, Keith Piper's Black Assassin Saints.
Donald Rodney has suffered from sickle cell anaemia from infancy. His physical condition is present in his work as a metaphor for issues of society and cultural identity.
The exhibition at the South London Gallery is part of Southwark Council's Black History Month, which runs from 1st October to 31st October 1997. Nine Night in Eldorado is accompanied by a full-colour publication and is funded by the Arts Council of England and Canon UK Ltd.