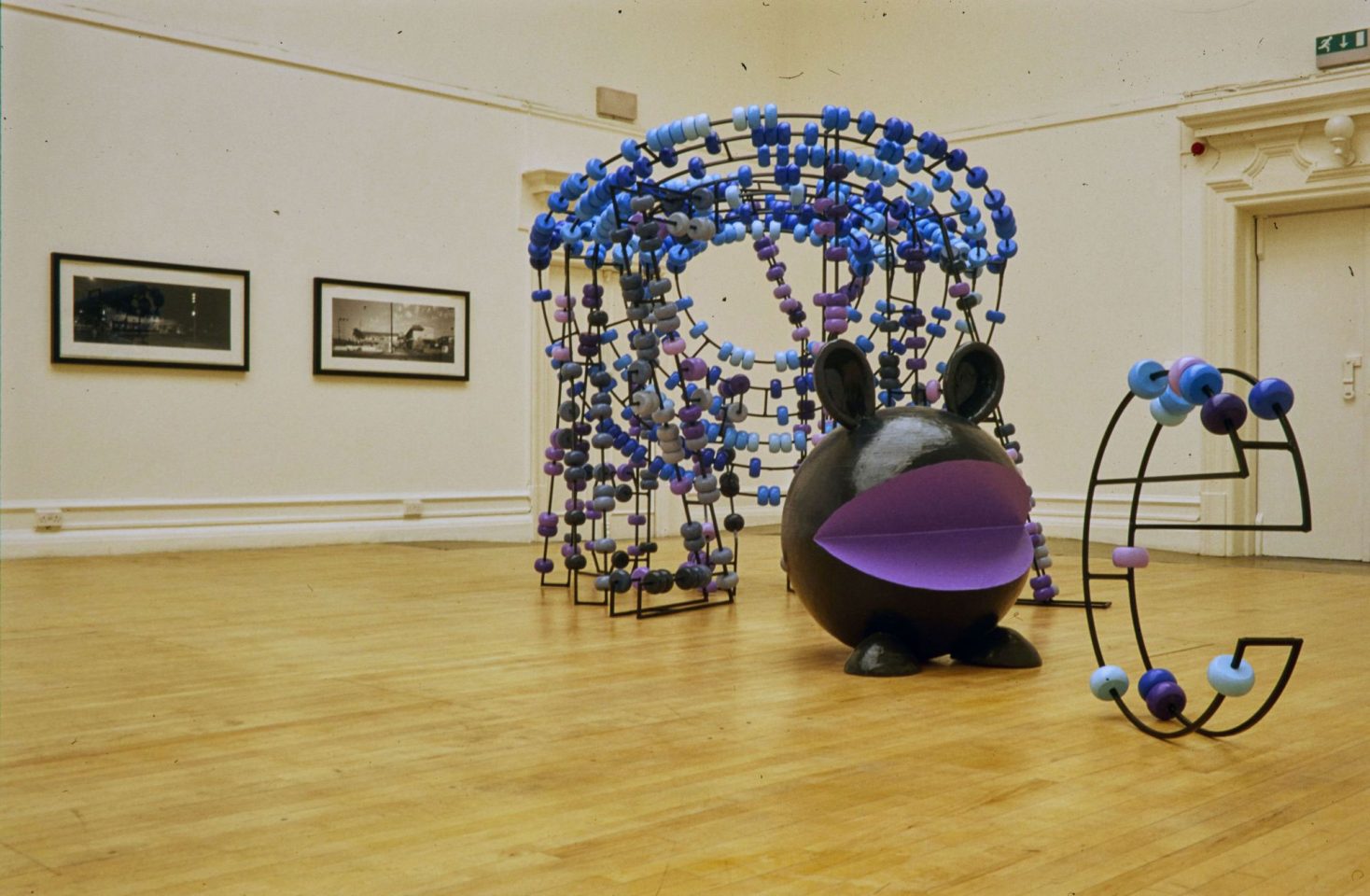 Drive-By: New Art from LA features five artists from Los Angeles whose work playfully examines and extends the visual mythology that is LA. The fathomless freeways and eclectic architecture, the giant advertising billboards and bikini-climate, and most of all, the overwhelming and invasive presence of the film, television and music media form a cliched topography of LA, but it is the combination of these distinctive characteristics that continues to provide a rich source of material for the artists in this exhibition.
The imagery in Kevin Appel's cool, crisp paintings of Modernist interiors is inspired as much by mid-century Southern Californian architecture as by middle-class D-I-Y magazines. Blending aspects of several interiors by scanning magazine photos into a computer, then tracing over the lines of the structural and decorative elements, he creates a printed version that is 'cleared-out', enabling him to 're-decorate' when he eventually paints the canvas.
Jeff Burton's view of the city accepts the promise of 'Hollywood Forever', a place of fantasy where casual groups lounge semi-naked around pools, on Venice Beach and on the exotic porn-movie sets where he works as a stills photographer. Focusing on the mis-en-scéne of the sets themselves, beercans, playing cards and half-eaten sandwiches, instead of the action, Burton resists any suggestion of narrative or explanation. The human limbs are instead half-glimpsed busy on the sidelines, absorbed in their roles of playing out some projected fantasy.
Liz Craft's sculptural installations amalgamate forms that exist in LA's peculiar homogeneity of urban and rural environments, often triggering unexpected associations. Elements, structures and textures are humorously collaged together with the potency of an acid-trip in suburbia, elevating the mundane to the super-real.
Jason Meadows' sculptures reference the geometric structures of outdoor constructions, from the Hollywood sign to the picnic furniture in LA's many parks. Meadows re-arranges the logic of these structures to push a reconsideration of their form and purpose.
Catherine Opie's series of photographs are portraits of LA's mini-malls – convenience stores that service the passer-by car culture so characteristic of the city. The Mini-malls, devoid of people and passing cars, here stand as urban monuments, often ignored but worthy of our close attention. They appear elegant, even grand, despite the manifestly absurd signage hanging outside.
Drive-By: New Art from LA at the South London Gallery is the first exhibition on this scale to show the work of these artists in the UK and has been curated by Sadie Coles.