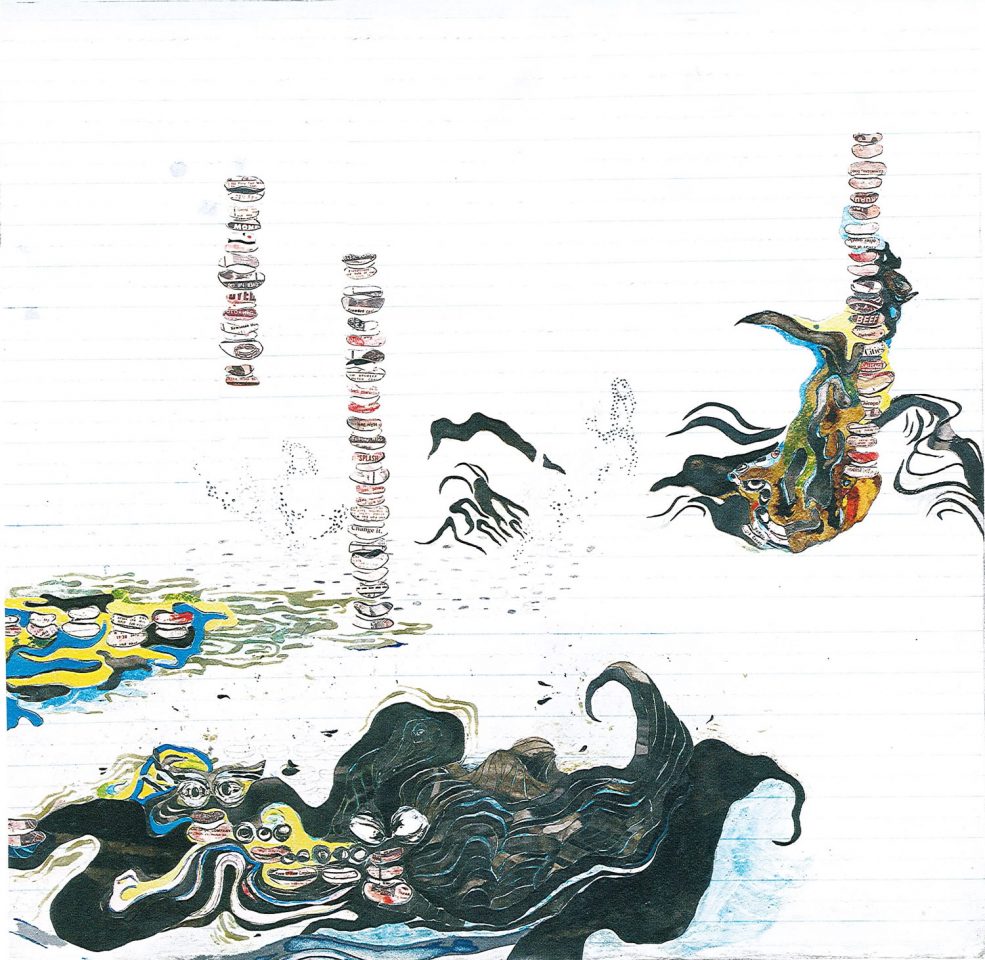 In Ellen Gallagher's exhibition we witness a collapse of time. Fictional and non-fictional characters are merged and reanimated in this new body of works which disrupt our sense of the here and now.
The pulpy ephemera Gallagher selects as support for her paintings and drawings – lined penmanship paper, magazine pages, journals, advertisements – are all subjected to her process of transformation. Only traces of their past life remain, like forensic evidence, the precise measure and significance of which remains unclear. This state of "un-knowing" fascinates Gallagher and is one of the primary themes in her work. The inky saturation, smudges, staining, perforations, punctures, spills, abrasions, printed lettering and marking constitute an evocative testament to the grip of time.
Encountering Gallagher's work at close range is akin to charting unfamiliar territory or ruins. As we navigate between legibility and blankness, corporal features surface out of a sea of abstracted forms. Protagonists recur in various guises, and in An Experiment Of Unusual Opportunity, 2008, a medical report of the Tuskegee Experiment figures as a macabre landscape. A dark brooding configuration unfolds from an ink-stained ground. Fragmentation, cutting, collage and juxtapositions facilitate the meeting of incompatible narratives: fact and fiction merge in a vortex. The silhouetted figures against a bold, geometric gold ground in IGBT, 2008, serve to deny any pictorial illusion, as do the flat fields of colour and grid-like compositional structure of untitled, 1996, an early painting included in the show.
Gallagher's process is one of accumulation and obliteration: her marks intrude and break out over or under surfaces. In this exhibition her process bleeds out from the picture plane to claim the upper walls of the gallery space through a frieze of penmanship paper, heightening our sense of immersion in the mutable realm Gallagher has created.
A family activity guide created by Lyndhurst Primary Dyslexia Centre in collaboration with artist Joanna Brinton will be available free to visitors from 9 April.