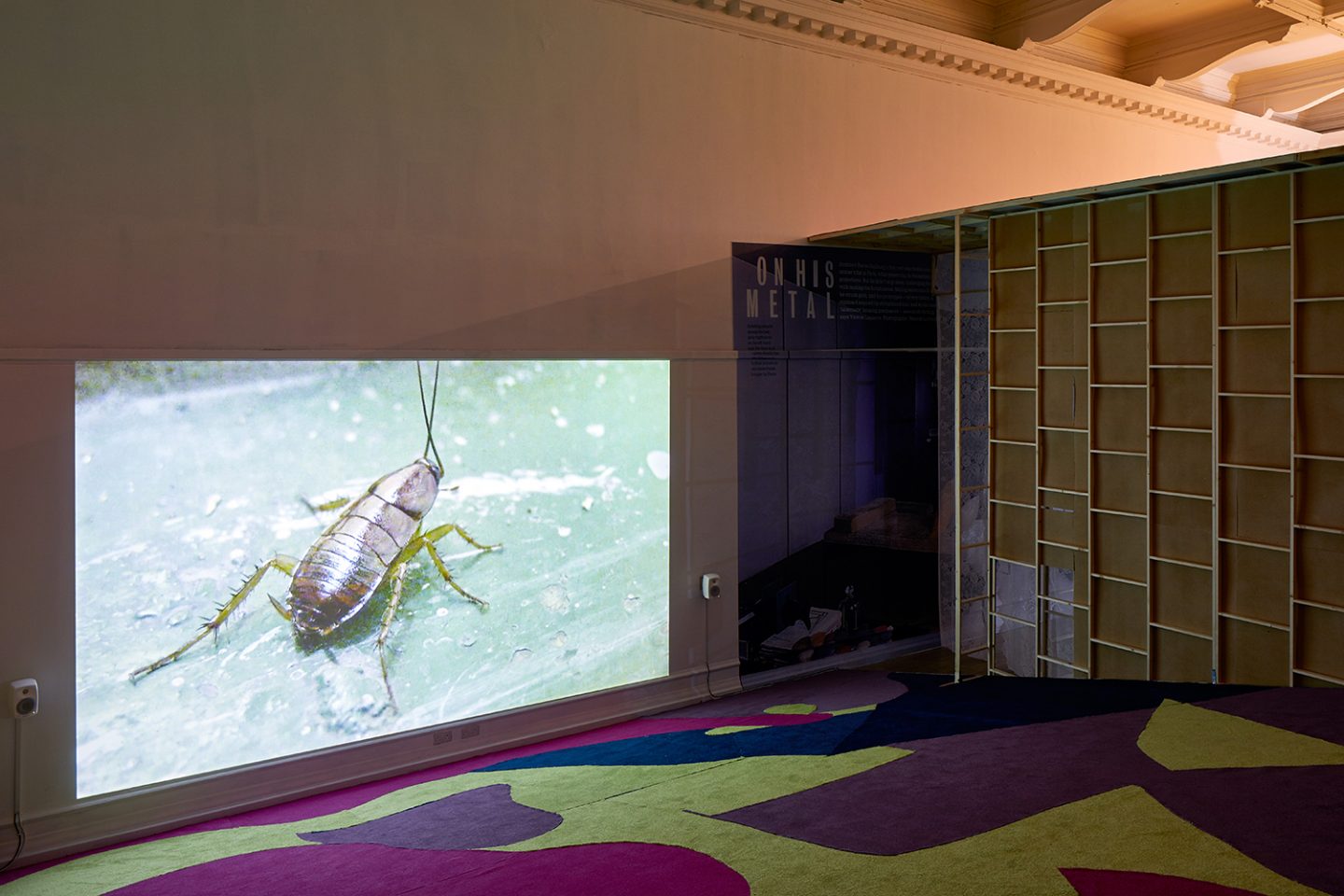 Free exhibition
Main Gallery
"A special glimpse into how other lives are lived" Eddy Frankel for Time Out
"…[the exhibition] prods, with uncommon wit and soul, at the tender spot where art meets daily life." – Tom Morton for Frieze
Erik van Lieshout's work explores themes often rooted in his experience of living and working in the Netherlands but nevertheless relevant to contemporary experience across Europe and beyond. For his solo show at the South London Gallery (SLG), three video works are housed in an immersive architectural environment in the main gallery characterised by an absurdist sense of humour and provocative questioning of the role of art and artists in society.
All three works feature Van Lieshout, whose actions and statements blur performance with reality, dead-pan humour with utmost sincerity, and ambiguity of meaning with a sometimes disarming directness.
The exhibition features Van Lieshout's video works The Basement (2014), a study of cats living in the tunnels underneath St. Petersburg's Hermitage Museum, Ego (2013) which focuses on the artist's family members, and Janus (2012), an investigation into the life of a deceased man and his collection of art and bric-a-brac.
Duration of the video works:
The Basement (2014) – 18mins
Janus (2012) – 50 mins
Ego (2013) – 25mins
The gallery closes at 6pm Tue-Sun, 9pm on Wed and last Fri of the month. If you wish to see the video works in full we would suggest allowing 1.5 hours for your visit.
Please be aware that the video Ego momentarily contains flashing lights.
Artist
Born in Deurne, The Netherlands in 1968, Erik van Lieshout lives and works in Rotterdam. Previous solo exhibitions include The Show Must Ego On, WIELS, Contemporary Art Centre, Brussels, 2016, Delegierte Performance for WWTBD, Marien Jongewaard at Kunsthalle Wien, Vienna, 2013, Commission, MMK Museum Moderne Kunst, Frankfurt, 2012; Erik makes Happy, BAWAG Contemporary, Vienna, 2011; How Can I Help You, Hayward Gallery Project Space, London, 2011; Im Netz, Ludwig Museum, Cologne, 2009; Homeland Security, Projekt am Museumsplatz, Städtische Galerie im Lenbachhaus, Munich, 2007 and Guantanamo Baywatch, Hammer Projects, Hammer Museum, UCLA, Los Angeles, 2007. Recent group exhibitions include Drawing | The Bottom Line, Stedelijk Museum voor Actuele Kunst (S.M.A.K.), Ghent, Belgium, 2015; Political Populism, Kunsthalle Wien, Vienna, Austria, 2015; Celebrate Life!, Kunsthistorisches Museum Vienna, Austria, 2015; Manifesta 10, The European Biennale of Contemporary Art, St. Petersburg, 2014; The Encyclopedic Palace, 55th International Art Exhibition, La Biennale di Venezia, Venice, 2013 and Point de Vue, Stedelijk Museum, Den Bosch, 2012.