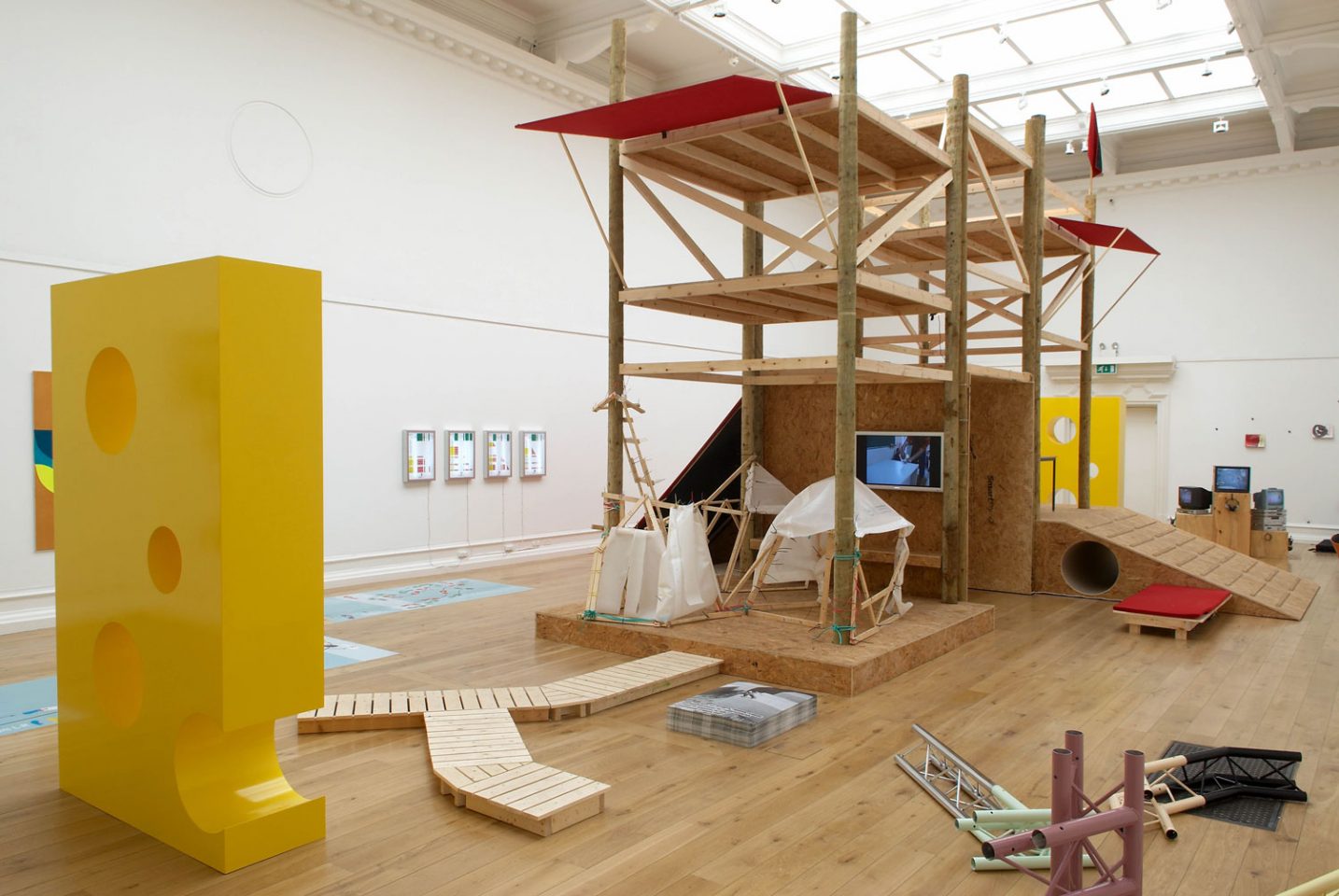 Free exhibition
Main Gallery
Games & Theory brings together the work of international contemporary artists who share interests in play, sports and gaming. With works shown in, on and around Nils Norman's play architecture, viewers are encouraged to become active participants in the exhibition and climb, crawl and experience the gallery in new ways. Taking its cue from Situationist ideologies, Games & Theory explores the radical potential of play as a form of resistance and expression of freedom.
Through references to Batman, skateboarding and New Babylon, the Modernist architectural plan of which was intended as a playground for living in, Jakob Kolding's posters encourage city-dwellers to see their environment as a playground.
Tushar Joag's Dance Your Way Through identifies a rhythm to the movement of people in the bustle of a Mumbai subway creating a fun and practical solution to moving through the crowd. Marc Herbst challenges the order of urban life by inviting people to meet on street corners to throw boxes in the air, seeking to form a community through simple pleasures.
Dan Shipsides's free-climbing performances turn buildings into rock faces, demonstrating a physical engagement with our surroundings. Observations of street life in Brazilian favela form the basis of Lottie Child's latest Street Skills Manual. Child explores The Path to Risk and The Path to Joy, as in the London and Linz editions, through physical activities challenging the use of public space. Kasia Krakowiak's mapping of public space forms the starting point for a treasure hunt in which she makes visible Polish culture in London.
Marta Marc uses semi-random elements from parlour games such as Mikado (pick-up sticks) or puzzles of her own devising to make decisions on composition in her paintings and murals. Gustavo Artigas's video work The Rules of the Game combines a game of football and one of basketball on the same field. Competing simultaneously, Mexican and US high-school teams play out cultural differences. The controlling structure of sports also appears in the sculptures and collages of George Henry Longly. Inspired by HG Wells's Floor Games, Longly explores the ways in which physical activity is used to regiment and control young minds.
Gustavo Artigas (Mexico), Lottie Child (UK), Marc Herbst (US), Tushar Joag (India), Jakob Kolding (Denmark), Kasia Krakowiak (Poland), George Henry Longly (UK), Marta Marc (UK/Spain), Nils Norman (UK), Dan Shipsides (UK).