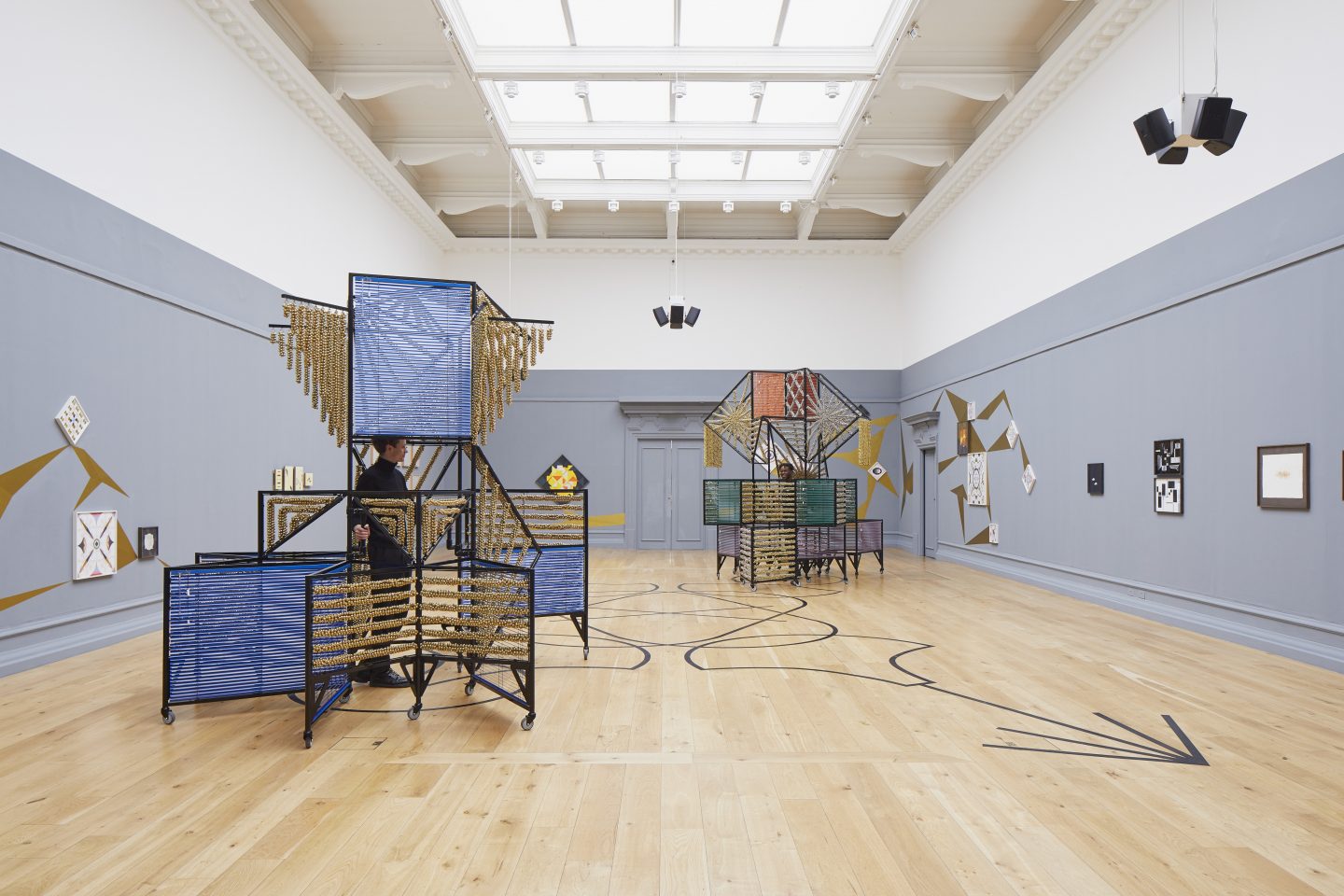 Free exhibition
Main Gallery
Infinitely repeating patterns and bird song combine for an exhibition of gorgeous and unpredictable sculpture and wall pieces.
Sonic Dress Vehicles tinkle as they move over the uneven floor, recalling old shamanic rituals in Korea…carnival floats, palanquins and caravans…. Moving around as they do, they speak to contemporary experiences of travel and relocation, painting them in powerfully ambiguous terms.
The acclaimed South Korean artist Haegue Yang brings together recent works with new pieces conceived especially for her exhibition in the South London Gallery's main space.
On the walls, large-scale works from Yang's Trustworthies series (ongoing since 2010) are shown alongside new Hardware Store Collages (2012- ) and Lacquer Paintings (1994- ), creating a visual dialogue between familiar household objects and abstraction.
These works provide the setting for two large, wheeled sculptures developed from the Dress Vehicles series (2011- ): Sonic Dress Vehicle – Hulky Head and Sonic Dress Vehicle – Bulky Birdy (both 2018). Their powder-coated aluminium frames dressed with venetian blinds and brass- and nickel-plated bells create a quiet yet distinctive rattle when activated by performers who periodically move them around the space. The rattling of the moving vehicles traces the unevenness of the floor and intermingles with sounds emanating from clusters of speakers positioned around the space.
Yang's interest in identity politics, movement and dance is inherent in the Dress Vehicle series. Her wider practice has been informed by the life and work of historic figures, such as Dadaist Sophie Taeuber-Arp and the spiritualist
George I. Gurdjieff, albeit in often hidden ways, contributing additional layers to her exploration of ideas around migration.
The Sonic Dress Vehicles are activated daily at 12pm, 2pm, 4pm, and every Wed and last Fri at 7pm.
BIOGRAPHY
Haegue Yang (b. 1971, South Korea) lives and works in Berlin and Seoul. Her colourful installations and performative sculptures frequently combine domestic and industrial materials with sound and light. Yang's work has been exhibited internationally since the mid-1990s. Recent solo exhibitions include La Panacée – MoCo, Montpellier, France, 2018/19; La Triennale di Milano, Italy, 2018; Museum Ludwig, Cologne, Germany, 2018; Kunsthaus Graz, Austria, 2017-18; Serralves Museum, Porto, Portugal, 2016; and the Centre Pompidou, Paris, France, 2016. She represented South Korea at the Venice Biennale in 2009, and took part in dOCUMENTA (13), Kassel in 2012. Her works are in the collections of major institutions, including MoMA, New York; Centre Pompidou, Paris; Walker Art Center, Minneapolis; Solomon R. Guggenheim Museum, New York; and Tate Modern, London. She is Professor of Fine Arts at the Städelschule, Frankfurt, Germany, and recipient of the 2018 Wolfgang Hahn Prize.