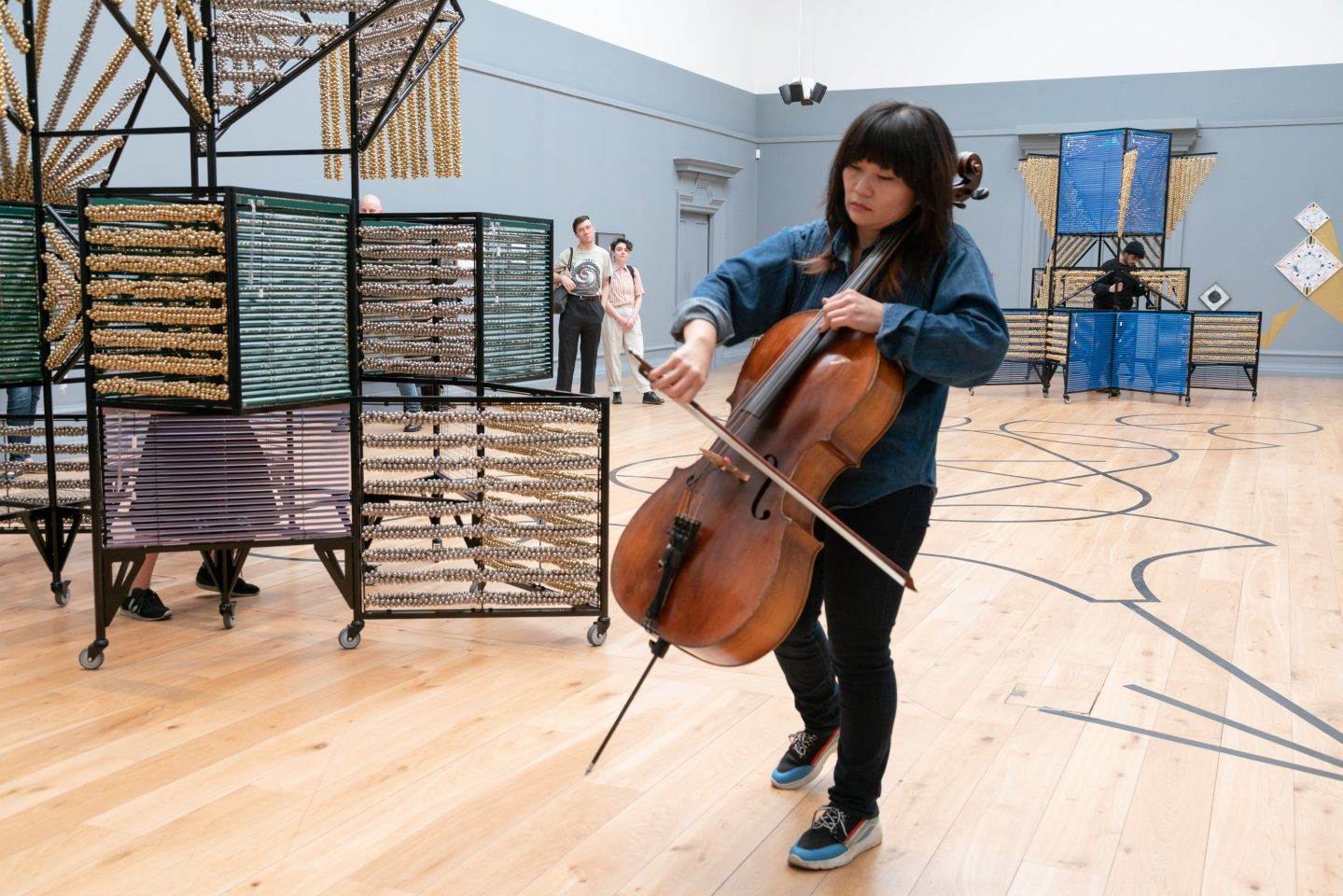 Cellist, composer and improviser Okkyung Lee presents a solo performance dedicated to the music of twentieth century Korean composer Isang Yun. Her improvisations depart from motifs and gestures from Yun's compositions as well as the works in Haegue Yang's show, within which it is presented.
BIOGRAPHIES
Korean-born composer Isang Yun's (1917–1995) life and work are an important ongoing influence for Haegue Yang. Isang Yun is celebrated for his compositions which combine East Asian musical traditions and European avant-garde techniques. Yun gained international acclaim working in West Germany, before his abduction and imprisonment alongside hundreds of Korean intellectuals and musicians in the notorious 1967 East Berlin Incident. Yun's contentious life symbolises the ongoing ideological divisions of the peninsula, while his work translates impressions from his turbulent transnational biography into a distinctive musical language.
Okkyung Lee is a cellist, composer, and improviser who moves freely between of artistic disciples and contingencies. Since moving to New York in 2000 she has worked in disparate contexts as a solo artist and collaborator with creators in a wide range of disciplines. A native of South Korea, Lee has taken a broad array of inspirations—including noise, improvisation, jazz, western classical, and the traditional and popular music of her homeland—and used them to forge a highly distinctive approach. Her curiosity and a determined sense of exploration guide the work she has made in disparate contexts. Even though Lee is probably known best for her improvisational work utilizing visceral extended techniques for more than a decade, from 2010 Lee started developing many site-specific works, responding to its architecture, audience, or objects surrounding her, producing an immersive experience.
She has appeared on more than 30 albums, including a diverse variety of recordings as a leader. In 2018 she released Cheol-Kkot-Sae (Steel Flower Bird), an ambitious piece drawing upon free improvisation and traditional Korean music that was commissioned for the 2016 Donaueschingen Festival by SWR2, where she collaborated with western improvisers Marhaug, John Butcher, Ches Smith, and John Edwards along with Pansori vocalist Song-Hee Kwon and traditional percussionist Jae-Hyo Chang.
Over the last two decades, Lee has collaborated with Arca, David Behrman, Chris Corsano, Mark Fell, Ellen Fullman, Douglas Gordon, Jenny Hval, Vijay Iyer, Christian Marclay, Ikue Mori, Bill Orcutt, Marina Rosenfeld, and John Zorn among others. In recent years she's performed in equally varied contexts, whether embarking on an extended tour with the legendary experimental rock band Swans or performing in many museums and galleries such as Whitney Museums of American Art (New York, USA), Met Breuer (New York, USA), Tinguley Museum (Basel, Switzerland), Museo del Novecento (Milan, Italy), Serpentine Galleries (London, UK), White Cube Galleries (London, UK) and many others.