Heather and Ivan Morison's exhibition documents their 2013-15 project Shadow Curriculum, initiated as part of SLG Local. Over the two year period, the artists worked in close partnership with teachers and students at Highshore School, a mixed needs special secondary school in south London, to transform a Douglas fir tree into a permanent work for the school's new premises, which opened in June 2014.
The central preoccupations of Heather and Ivan Morison's practice are how we navigate catastrophe and the essential struggle with change, from a wider social view to how individuals transcend moments of personal calamity. The period of transition for Highshore School presented the opportunity for the artists to investigate ideas around rootedness and transformation further, as well as to engage explicitly in a dialogue about redefining the limitations of where, and how, it is possible for artists to work.
The exhibition in the first-floor galleries features a filmed documentary of the work and process of Shadow Curriculum, shot and edited by Pete Telfer. Also on display are specific objects which document the two-year-long project and the range of materials and outcomes created with the pupils at Highshore School.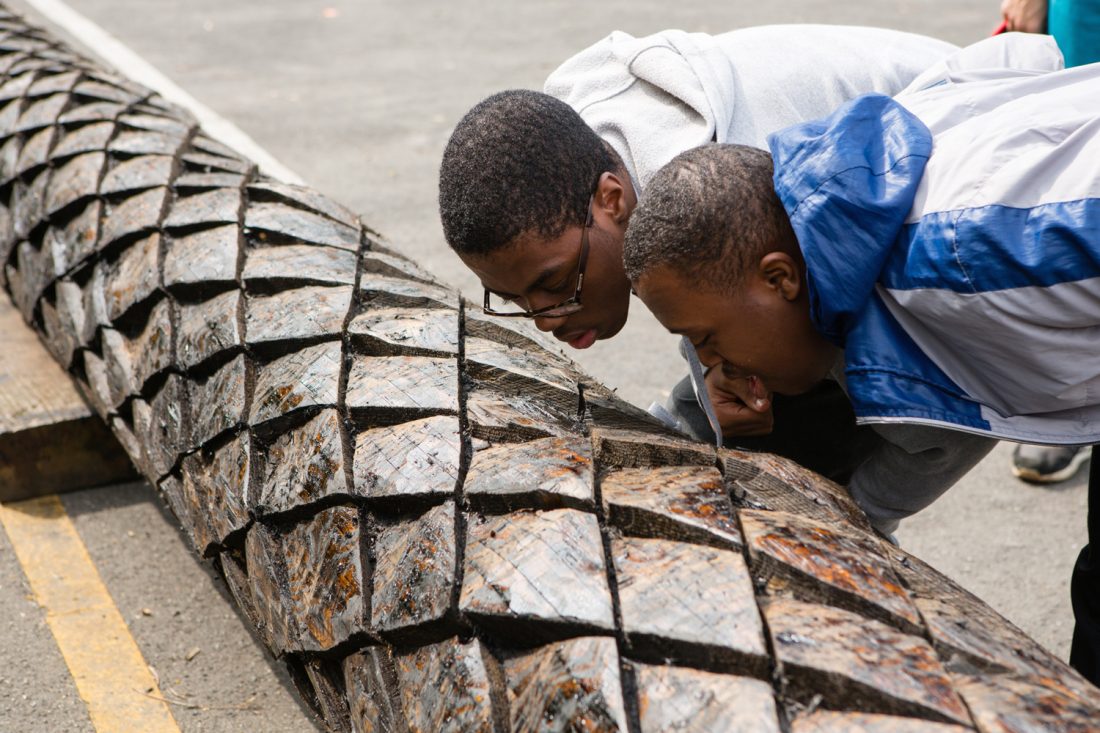 Artists'
Heather and Ivan Morison (born UK, 1973 and Turkey, 1974 respectively) have established an ambitious collaborative practice over the past decade that transcends the divisions between art, architecture and theatre.
They have exhibited widely across UK, Europe, Australia, Canada and the USA. Key projects include Sleepers Awake, Museum of Contemporary Art, Sydney, 2014; All's Well That Ends, Schauspielhaus Bochum, Germany; Smile All the While, Whitechapel Art Gallery, London, 2014; Shadow Curriculum, South London Gallery, London, 2013-15; Skirt of the Black Mouth, Tate Modern, London, 2012-15; Nuclear Family, National Theatre of Wales, 2013; Black Pleasure, Eastside Projects, Birmingham 2013; Anna, The Hepworth, Wakefield, 2012; Cave, MK Gallery, Milton Keynes, 2012; Black Pig Lodge, Southbank Centre, London, 2011; Mr. Clevver, Contemporary Art Spaces Tasmania, Australia, 2011; Plaza, Vancouver Art Gallery, Canada, 2010; The Black Line Void, Derry, Northern Ireland, 2009; Black Cloud, Situations, Bristol, 2009; Journée des Barricades, One Day Sculpture, Wellington, New Zealand, 2008; And So it Goes, representing Wales at the 52nd Venice Biennial, 2007. Their book, Falling into Place, a fictionalised account of their large architectural shelter works, was published by Bookworks in 2009 and is currently being made into an audiobook by Palaver Press, New York.
Heather and Ivan Morison are represented by Works|Projects, Bristol, UK and Clint Roenisch, Toronto, Canada.