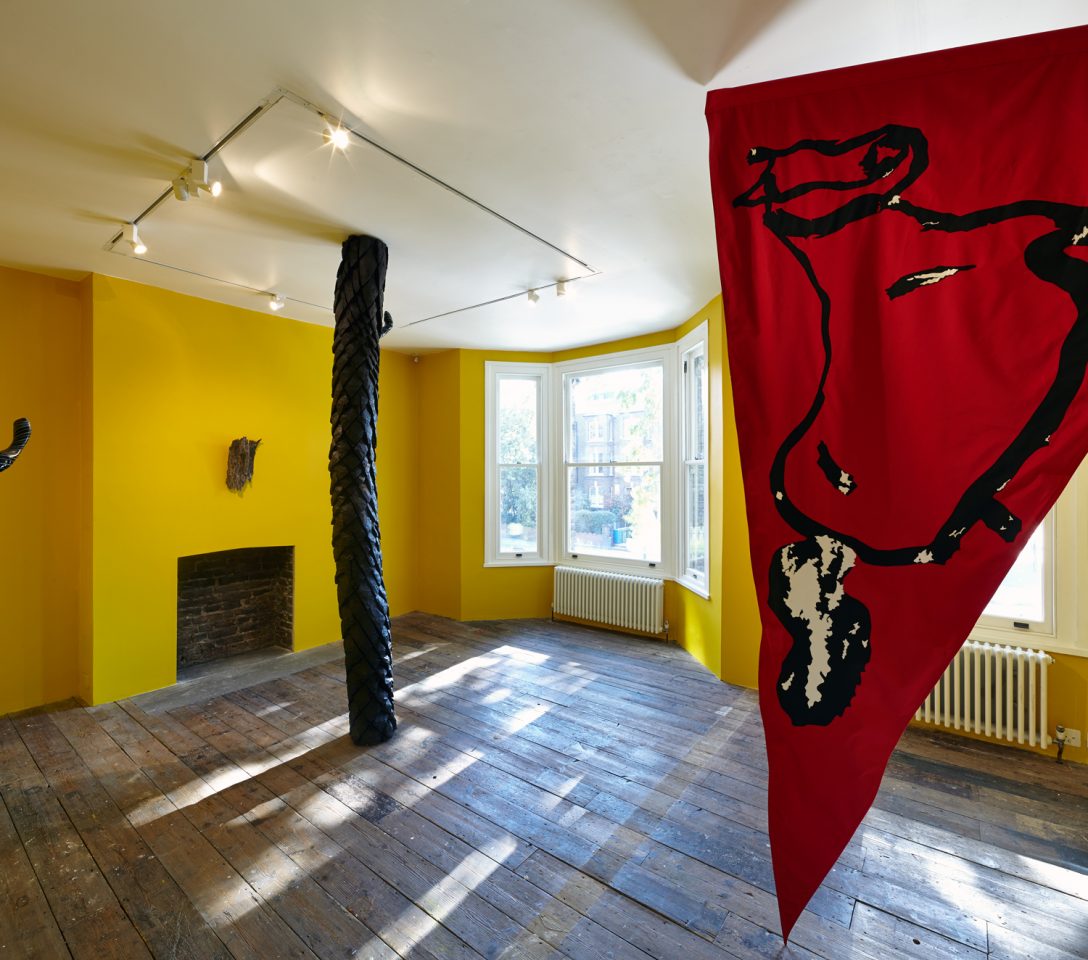 Heather and Ivan Morison's exhibition documents their 2013-15 project Shadow Curriculum, initiated as part of SLG Local. Over the two year period, the artists worked in close partnership with teachers and students at Highshore School, a mixed needs special secondary school in south London, to transform a Douglas fir tree into a permanent work for the school's new premises, which opened in June 2014.
The central preoccupations of Heather and Ivan Morison's practice are how we navigate catastrophe and the essential struggle with change, from a wider social view to how individuals transcend moments of personal calamity. The period of transition for Highshore School presented the opportunity for the artists to investigate ideas around rootedness and transformation further, as well as to engage explicitly in a dialogue about redefining the limitations of where, and how, it is possible for artists to work.
The exhibition in the first-floor galleries features a filmed documentary of the work and process of Shadow Curriculum, shot and edited by Pete Telfer. Also on display are specific objects which document the two-year-long project and the range of materials and outcomes created with the pupils at Highshore School.
An overview of Shadow Curriculum by Nicola Sim, doctoral researcher, Tate/The University of Nottingham
This exhibition tells the story of a two-year exchange between artists Heather and Ivan Morison, and students and teachers from Highshore School, a mixed needs special secondary school in south London. The central character of this story is a 34m high Douglas fir tree, which would be felled from a forest and brought to live with the school, as an agitating focus for making, playing and debate about the future. The film and artefacts on display are records of the tree's journey from Sussex woodland to Peckham, where it provided physical and imaginative material for the school to weave through its curriculum.
Work began in 2013, when Highshore was on the verge of major change, with a move to a new school site planned for the following year. Heather and Ivan Morison collaborated with the art department and the wider school in this daunting period of transition to realise their bold idea. They were inspired by the community tree-felling traditions of southern Italy, where villagers participate in ritualistic celebrations of the tree as a symbol of renewal. Their idea held particular resonance for Highshore students and staff, who would be leaving behind a much-loved weeping willow in the playground of their old school.
The film witnesses key milestones in the project: the spectacular tree-felling presided over by 150 pupils and teachers; the transportation of the tree to Highshore; the carving and painting of the bark and the final movement of the work on horse-drawn carts for installation at the new school site where it stands today. While the work itself is contained within Highshore's grounds, passers-by can peer up and see the towering Lightning Tree from the street. According to the artists, its name is a nod to a type of tree that grows in the Amazon, taller than any other, which acts as a guiding landmark, or natural lighthouse for people navigating the rivers.
This new public commission is part of a rich history of works in art, design and literature, which take the tree as a potent metaphor for life, growth and learning. From the Tree of Life motif of the Arts and Crafts movement, to more contemporary examples by the likes of Joseph Beuys and Gustav Metzger, tree imagery has long been associated with utopian ideals and calls for social change. For Shadow Curriculum, the tree is a catalyst for an ambitious venture and a generator for creative pedagogies, which are central to Highshore's own curriculum, yet can be undervalued in the wider secondary school system.
Under the custodianship of Highshore School, the curious tree and the story of its appearance may eventually become part of school folklore. For now it stands as a reminder of a period of transition and change, and signifies a flag in the ground for the school community, as they claim the new site as their own.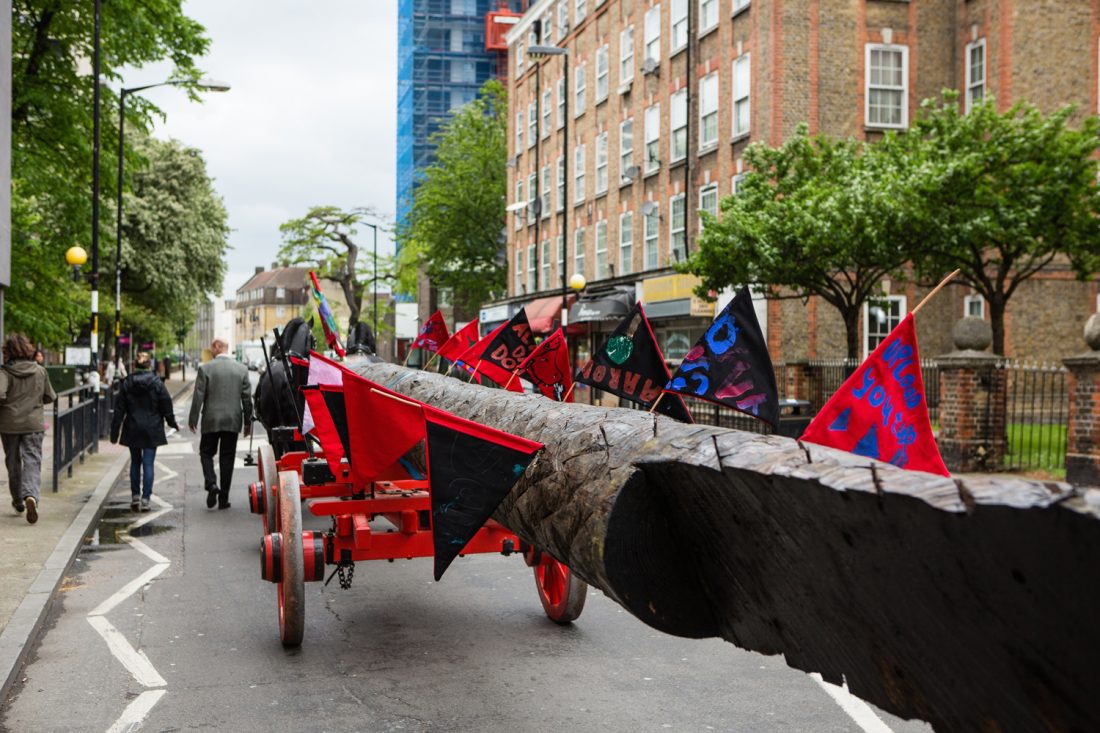 Artists
Heather and Ivan Morison (born UK, 1973 and Turkey, 1974 respectively) have established an ambitious collaborative practice over the past decade that transcends the divisions between art, architecture and theatre.
They have exhibited widely across UK, Europe, Australia, Canada and the USA. Key projects include Sleepers Awake, Museum of Contemporary Art, Sydney, 2014; All's Well That Ends, Schauspielhaus Bochum, Germany; Smile All the While, Whitechapel Art Gallery, London, 2014; Shadow Curriculum, South London Gallery, London, 2013-15; Skirt of the Black Mouth, Tate Modern, London, 2012-15; Nuclear Family, National Theatre of Wales, 2013; Black Pleasure, Eastside Projects, Birmingham 2013; Anna, The Hepworth, Wakefield, 2012; Cave, MK Gallery, Milton Keynes, 2012; Black Pig Lodge, Southbank Centre, London, 2011; Mr. Clevver, Contemporary Art Spaces Tasmania, Australia, 2011; Plaza, Vancouver Art Gallery, Canada, 2010; The Black Line Void, Derry, Northern Ireland, 2009; Black Cloud, Situations, Bristol, 2009; Journée des Barricades, One Day Sculpture, Wellington, New Zealand, 2008; And So it Goes, representing Wales at the 52nd Venice Biennial, 2007. Their book, Falling into Place, a fictionalised account of their large architectural shelter works, was published by Bookworks in 2009 and is currently being made into an audiobook by Palaver Press, New York.
Heather and Ivan Morison are represented by Works|Projects, Bristol, UK and Clint Roenisch, Toronto, Canada.