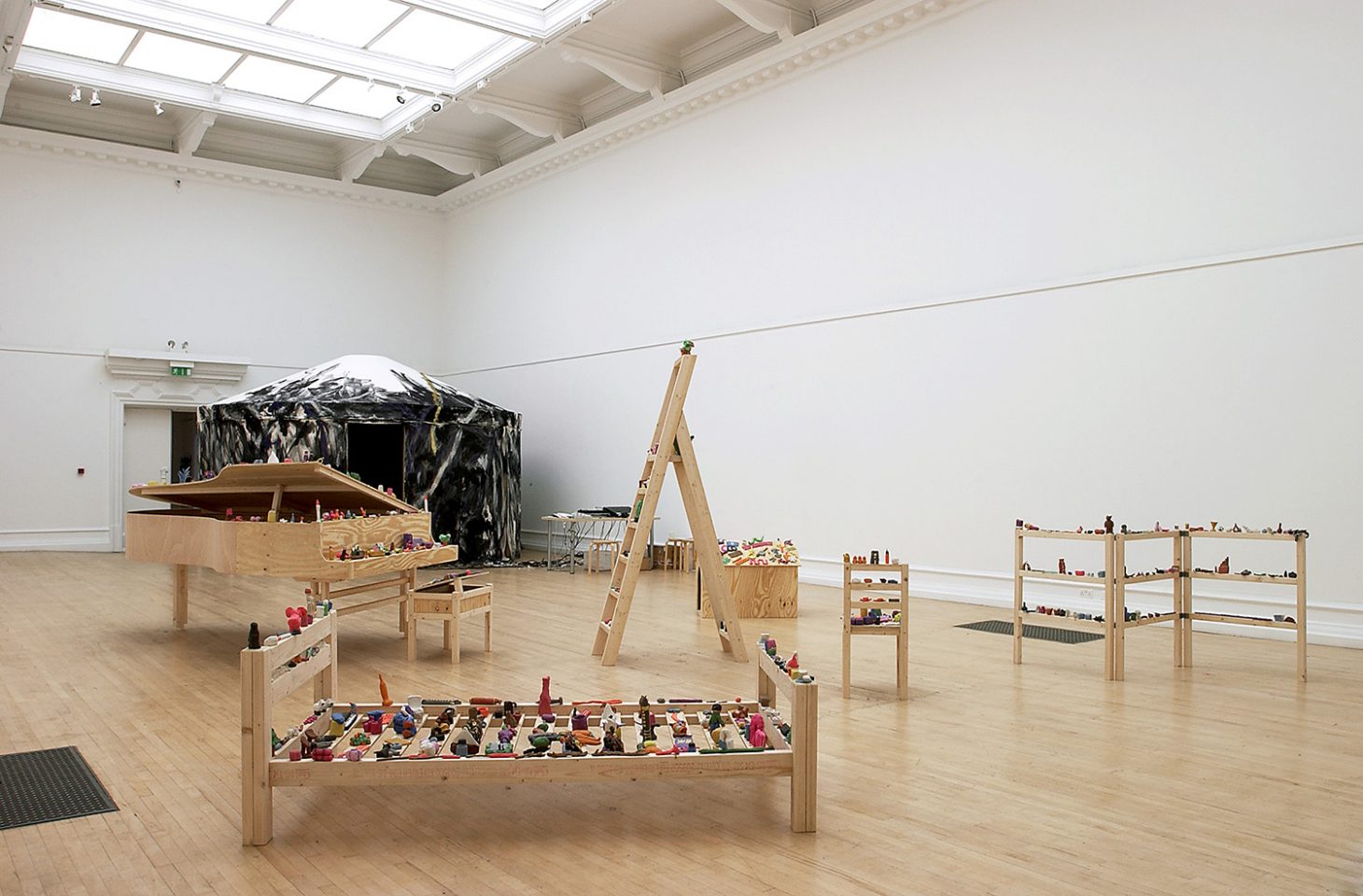 Come and record music on the spot using the voice of Sonic Youth's Kim Gordon, and experience the vibrations of a sensuous sonic bed in the exhibition Her Noise at the South London Gallery from 10 November 2005.
Her Noise is an exhibition featuring five newly commissioned installations by international artists whose practice shares the use of sound as a medium to investigate social relations, inspire action or uncover hidden soundscapes. New installations by Kim Gordon; Emma Hedditch; Christina Kubisch; Kaffe Matthews and Haley Newman all involve high levels of participation and are set in motion only when used by visitors or performers forming a base of events, live music and performances.
Kim Gordon aims to demystify the process of music making. Drawing on the DIY nature of her musical history with her band Sonic Youth, Gordon invites visitors to record their own track using samples of her voice and music.
British artist Hayley Newman reproduces, in miniature, every object ever used in the Sixties Fluxus movement's musical scores. The installation becomes a score in itself through Newman's invitation to guest artists to host impromptu performances using the objects.
Berlin based Christina Kubisch has for many years been developing 'electrical walks' which make audible the otherwise undetectable sound waves generated by the electromagnetic signals that surround us. Visitors are invited to put on Kubisch's headphones and walk in order to experience the hidden soundscapes of the area.
While lying on Kaffe Matthews' Sonic Bed: Menu Of Five Pleasures the visitor becomes physically affected by a spectrum of sound vibrations emanating from above and below and selected from five different sensual modes on offer.
In We're Alive, Let's Meet, London based Emma Hedditch uses the spaces in the exhibition as meeting points to discuss and explore the relationships between historical acts, ways of forming collaborations, and ways in which we are inspired to perform and record sound.
This exhibition is the largest component of a Her Noise programme of installations, events, performances and screenings by a wide network of artists whose practice involves the use of sound as a medium.Her Noise opens with Marina Rosenfeld's project Emotional Orchestra at Tate Modern on 23 September 2005 and continues throughout this year and next at venues across the UK and internationally. A catalogue to accompany the exhibition will be published by Forma.
Her Noise is curated by Lina Dzuverovic Russell and Anne Hilde Neset of Electra, www.electra-productions.com, and is produced by Electra in association with Forma, www.forma.org.uk. The exhibition is supported by Arts Council England, PRSF, The Henry Moore Foundation, The Elephant Trust, The Mondriaan Foundation, Women in Music and Feminist Review Trust. Elements of the SLG's exhibition will tour to venues across the UK and internationally.
ARTISTS
Kim Gordon; Emma Hedditch; Christina Kubisch; Kaffe Matthews and Haley Newman